After winning kudos from audiences and critics alike for their inaugural programme in 2017, Directors of the Abbey Theatre Graham McLaren and Neil Murray have announced an ambitious and eclectic slate for the year ahead, with ten world premieres, a new community-led initiative for developing work, and a welcome focus on gender equality on the stage of the national theatre. 
Highlights include Come On Home, a new work from Phillip McMahon (Town Is Dead, Alice In Funderland, RIOT), a new production of Marina Carr's powerful On Rafferty's Hill and The Unmanageable Sisters, Deirdre Kinahan's new version of Michel Tremblay's feted Québécois comedy, Les Belles Soeurs and an adaptation of Louise O'Neill's acclaimed novel Asking For It, presented in association with Landmark Productions and Cork's Everyman Theatre.
We need your consent to load this YouTube contentWe use YouTube to manage extra content that can set cookies on your device and collect data about your activity. Please review their details and accept them to load the content.Manage Preferences
The line-up also includes collaborations with a number of Ireland's leading companies, among them Fishamble (Deirdre Kinahan's Rathmines Road, a new play that challenges our cultural response to sexual assault) Pan Pan (The Patient Gloria, a timely meditation on female desire by Gina Moxley), ANU (The Lost O'Casey, which reframes Sean O'Casey's 1924 play Nannies Night Out as a searing call to action), THISISPOBBABY (comedian and author Tara Flynn's account of having to travel out of Ireland for an abortion, Not a Funny Word), Theatre Lovett (FRNKSTN by Michael West, a 'mutation' of Mary Shelley's Frankenstein), Gare St Lazare Ireland (Here All Night, a 'hypnotic journey' into the musical mind of Samuel Beckett) and Belfast's Lyric Theatre, who will co-produce Thomas Kilroy's seminal '80s play Double Cross, receiving its first major Irish revival. 
Margaret Perry's new play Porcelain, due in February, will be the first world premiere of the year. Discovered via the Abbey's Scripts and Ideas year round open call, Porcelain weaves past and present, myth and fact to explore the parallel stories of two Irish women.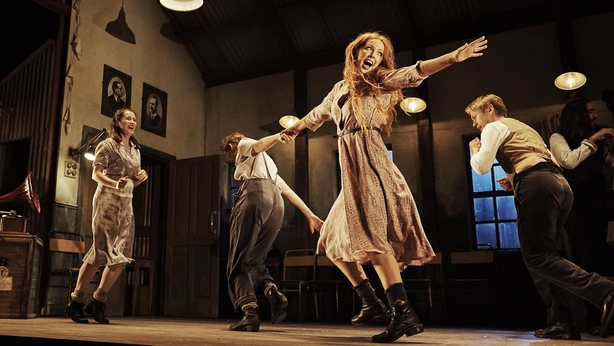 A number of acclaimed Irish productions will return to the Abbey in 2018, among them choreographer Michael Keegan-Dolan reimagining of the classic ballet, Swan Lake/Loch na hEala, the Abbey's own adaptation of Ken Loach's film Jimmy Hall, which played to sold out houses this summer, and Dermot Bolger's take on James Joyce's Ulysses, back in time for Bloomsday 2018.
Pleased and proud that my new play #ComeOnHome will premiere as part of the @AbbeyTheatre's 2018 season. It's in great company. Tix on sale this Friday. #Abbey2018 https://t.co/V5NqfuYdiO pic.twitter.com/kDyPPOlubl

— Philly McMahon (@McMahonPhilly) November 29, 2017
Elsewhere, trailblazing dancer and choreographer Oona Doherty, in collaboration with renowned DJ and composer David Holmes, will present Hard to Be Soft – A Belfast Prayer, a reflection on their hometown, while 5 x 5 is a new Abbey Theatre initiative, inviting underrepresented communities to submit an idea or project they want to develop. The popular Free First Previews initiative, which gives away free tickets to a number of productions on a first-come, first-served basis, will continue through 2018.
"We are excited by the energy created by our first year of programming and our desire to create a national theatre that is also a resource for the nation's theatre makers," said McLaren and Murray in a joint statement. "We're looking forward to working with ANU, Gare St Lazare, Gina Moxley, Iseult Golden and David Horan, Louise O'Neill and Meadhbh McHugh, Margaret Perry, MusicTown, Teac Damsa, The Everyman, The Gaiety for the first time in 2018, and to welcoming back Annabelle Comyn, Caitríona McLaughlin, Dublin Dance Festival, Fishamble, Landmark Productions, Lyric Hammersmith, Lyric Belfast, Marina Carr, Oona Doherty, Phillip McMahon, Tara Flynn, The Lir, Theatre Lovett and THISISPOPBABY. We will have more to announce early next year!"
Find out more about the Abbey Theatre's 2018 programme here.