Read an extract from the late Dorothy Macardle's novel, The Unforeseen, first published in 1946, and now reissued by Tramp Press.
---
In 1938, Virgilia Wilde, an Irish writer, leaves England to begin a new life in the tranquil setting of Wicklow with her daughter Nan. As strange visions threaten those around her, Virgilia must decide if she can intervene and prevent tragedies to come, or if her worst fears must play out as she helplessly looks on…
---
The small loch, hidden away in its hollow and often dark, was shining blue in the noon light when she reached it. She settled herself on the rough grassy margin, a boulder at her back, her camera on its tripod near at hand and her sketch-book beside her, and let her problems slide away from her mind. A few willow warblers flickered about, dipping their wings in the water. They were the only living creatures in sight, for the larks were lost in the light of the sky. On the far side of the water the Eagle Rock was in shadow and Kippure Mountain loomed up. A shining castle of cloud was being slowly piled up on its summit. There was movement, apparently, in the upper air, but in this sheltered and secret place no wind stirred.
Virgilia sat quiescent, knowing that soon there would come to her the blissful sense of release and extension of being that timeless and solitary places gave. One lost one's separateness at those moments and individual troubles were no more. To be alive was to be filled with a sweet elation. Nothing was necessary for happiness except health. A water wagtail visited the loch for a while and flew away. Among the pines, magpies went in and out. Once, a stark silence fell; the small birds disappeared; the very air seemed immobile; a kestrel was circling overhead. He flew off and the small stir of life was renewed.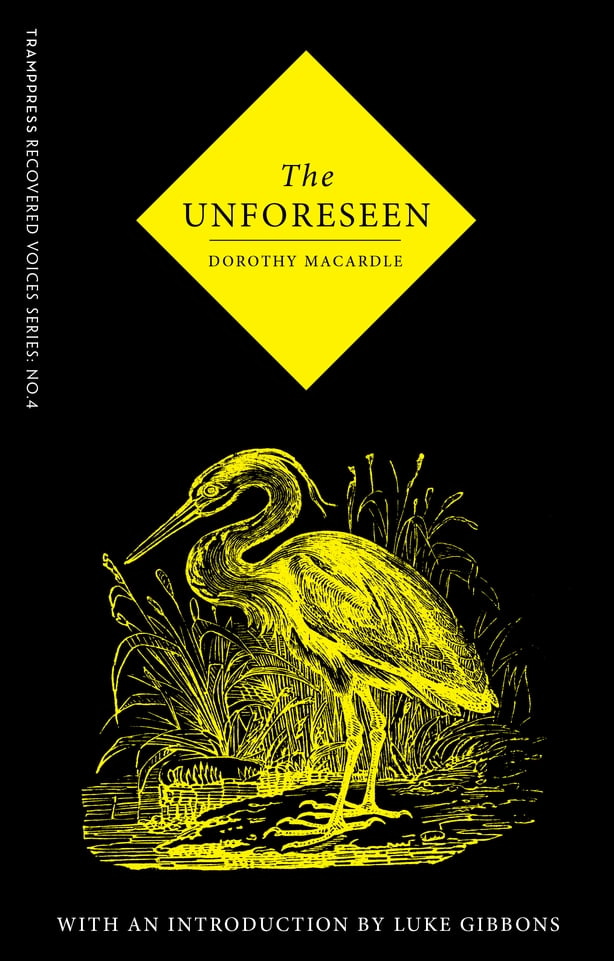 Now she felt hungry and ate her lunch and scattered crumbs for the birds. She sat so relaxed and idle that soon they were pecking from the palm of her hand. She saw the shining castle change to a giant's anvil, darken, and drift. A ragged cavalcade of clouds began to travel low over the sky. There would be rain over the Sally Gap. Virgilia waited, care-free and content. The heat ebbed from the air as the sun declined and the shadow of Kippure crawled towards her over the water. A grouse started up crying harshly, 'Go back! Go back!' She waited. The loch was half in shade when the heron came. He rose, beating his great wings, out of the gap, then sank, to sail smoothly close to the water; he held his neck curved proudly, his long legs streaming out straight behind him; his black plume swung; his wings were a drooping mantle, richly fringed. Virgilia's finger and thumb were on the bulb of her camera when he flapped across her view-finder, his image trailing under him in the loch. She caught him then, and, again, as with slow beats he landed on the shore.
He strode on his stilt-like legs into the shallows where the water rippled, sunlit still. Standing there, he hunched his head down between his shoulders and became as lifeless an object as any weathered old stone.
Virgilia took her last photograph, made a few notes and sketches, glanced at the marching clouds and began to pack up. At least two of the pictures ought to be beautiful, she believed – the stately bird defined sharply between the glinting water and the dark cliff. She was amused in her mind at the buoyancy that so small an adventure could produce.
She was soon on the road again and, turning into the glen, found it still unshadowed, the river glimmering in its bed. The clouds would not close over for a while yet, she thought. Presently, ahead, at the end of the long valley, she would see the Sugar Loaf rise, aspiring and shapely, taking the sunset glow. There was a primrose softness in the light already; even the old reformatory was mellowed by it. She walked lightly for a mile or so, then paused on the little stone-walled bridge. The small torrent that fell down a craggy bank and ran under the bridge had gold in its shallows and diamonds in its foam.
There was not much water falling, but it made a great jubilation, leaping down the steep zig-zagging cleft. I must have been an Irish bard in my past life, Virgilia was thinking frivolously as she leaned on the parapet, entranced by the whorls and arches of water, ever dissolving, ever renewed. They had lived by running water; it was their rule. One could understand how the sound woke the lyric mood. The rhythm of it entered one's senses; your pulses seemed to beat in time. Had there been a great torrent here once? Big boulders, worn smooth as pebbles, some green with moss, crowded the bed and the sides of the stream.
Always there had been this continuing murmur here ... It was a droning, ominous sound; it was like a wicked whispering, now, in the dark. Under the arches the darkness was very deep. The rain was blinding. Giddiness overcame her, and deathly weakness, as she peered down. She could only see where the white disc of light fell ... What she saw made her run down, scrambling frantically over boulders and slipping on mossy stones. She discarded her rucksack and camera as she ran. It was Timeen down there.
It startled her, it made her dizzy, when she stood under the archway, to see him no longer. The water ran shallow and clear. She clambered up and down, peering and calling, until at last she was convinced that no child lay in the water, stunned or dead.
He's alive, was her first thought. I was mistaken. Timeen's all right. She sat on a stone and hung her head down and splashed water on her face and neck. If one fainted here one might not be found. She was shivering as she made her way up to the road again and collected her things. The road was dry still. There was no cloud over the sun. It had all been a hallucination: the darkness and the rain and everything. It had been a prevision. It was something that she was going to see. Timeen would be there, under the arch, his body twisted, his limbs limp in the flow. How long would he lie there, drowned or dying? It would happen, and she knew that it would happen, and no one else did or could know, and what could she do?
I prevented an accident with the car, she told herself, trying to control her shuddering, as she strode on into a mountain shower. A thin drizzle was driving against her face, now. There was not a soul to be seen on the long road. She had certainly prevented a collision that time, but then she hadn't seen an accident: she had seen only the cause of danger, the dog; and so it had been possible to prepare. But there was nothing to be done about this ... warn Timeen? He would immediately want to look at the place. Warn Sal? Sal could not keep him beside her; she never knew where the child was. Besides, that was not possible: anything except that. Sal could keep nothing to herself; the story would be told at every door in the glen and Nan would hear it. Nan would have to live with this misery, this load of useless knowledge on her heart. Not for anything or anyone should Nan be dragged under the shadow of this appalling abnormality.
The rain blurred everything. Virgilia struggled on through it, wondering how far she still had to go. She had lost all sense of time.
The Unforeseen (published by Tramp Press) is out now.
---
About The Author: Dorothy Macardle (1889-1958), an Irish novelist, playwright, journalist and historian, was born in Dundalk in 1889 to a wealthy brewing family, and educated at Alexandra College and University College, Dublin. A Republican and member of Cumann na mBan, Macardle was imprisoned for her activities during the Irish Civil War, and later worked as a journalist with The Irish Press. Her monumental history, The Irish Republic, was published in 1937, and her account of the plight of children in war-torn Europe, Children of Europe, in 1949. Her plays were produced at the Abbey and Gate theatres, and among her works of fiction are Earth-Bound: Nine Stories of Ireland (1924), Uneasy Freehold/The Uninvited (1942, and republished by Tramp Press in 2015), and Fantastic Summer/The Unforeseen (1946). She died in Drogheda in 1958.