To mark the opening of Dublin Book Festival, students from Ballyfermot College are displaying three-dimensional artworks inspired by their favourite books at Smock Alley Theatre throughout the Festival.
The artworks on show at this free exhibition include a particularly alluring, full-sized dress created from pages of books, fabricated in the main from paper, the work of Ballyfermot student, Morgan Rafferty.
Morgan was inspired by the costumes from Chitty Chitty Bang Bang and Mary Poppins but she also has a Pride and Prejudice thing going on. "But I wanted to go for more of a Victorian-style ball gown," she explains. 
"I'm dyslexic so that's why I think I went for a more visual work. I wouldn't have been able to read the novels, so I wanted to make a 3-D piece because I'm really good with my hands. It's all origami, I did it in two weeks."
So she worked night and day? "Night and day, a lot of paper cuts," she laughs. Did she labour long into the small hours? "Yes, I would have had to, but only two nights I did that. It was all assembled in school, but I had to do the little pieces at home."
Some of the material is sewn, some is bonded with glue, cable ties are employed and the dress is mounted on a frame doing duty for classic bone corsetry. "It's a bit of a mish-mash but it's all recyclable materials," says Morgan, who would love to become a costume or set designer in the future.
Charity shops gave her the eight novels she used to make the piece and she pulled out all the pages herself. "Some of them are romance novels, " she says, amused at her own determination to have pages with text that chimed with the spirit of the dress-making.
All the creative work was done by the artist herself, and she had assistance from the course director, Brian Walsh, who bent the tubular frame into shape using power tools. The creation was not easy to transport, given the elaborate light paper superstructure.
"When I was making it, I thought, yea, big is better, but I didn't realise I wouldn't be able to get it out of the classroom, so it took a few of us to squeeze it out." A van transported the dress, seated on its maker's lap, into Smock Alley from Ballyfermot.
Over the course of two weeks, Zoe Barron masterminded a fine paper-and-card piece based on the Herman Hesse novel, Steppenwolf. "I read it three times when I was 18, " she says of the fantastical mid-twentieth century tale.
She talks of Hesse's decidedly eccentric protagonist. "The man has psychological problems, he thinks he is half-man, half-wolf, a wolf of the Steppes, so he calls himself Steppenwolf. I envisaged the wolf coming out of the book and prowling over a city, being apart from it and not being understood."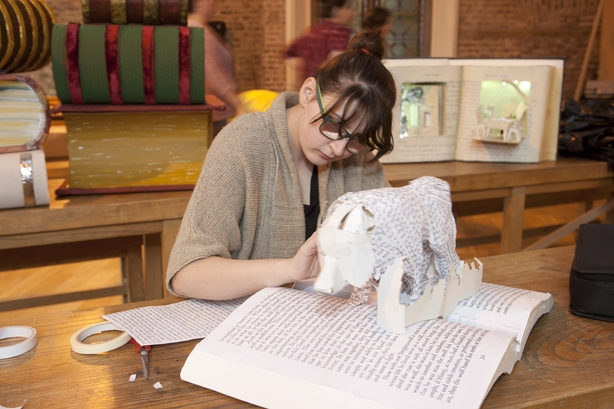 Jocelyn Goggins's work (paper, poster-board, Fabriano paper, cardboard) was inspired by The Coraline, Neil Gaiman's children's book. "I saw the movie first, then I got the graphic novel, and I read the book. I fell in love with it, I loved its abstractedness, the parallel universe and stuff.
"There is this other mother who creates this world for the Coraline because she is unhappy with her parents and brings her over and has everything she wants. She wants her to stay with her but she is actually a monster and wants to eat her. So it's quite a scary childhood book."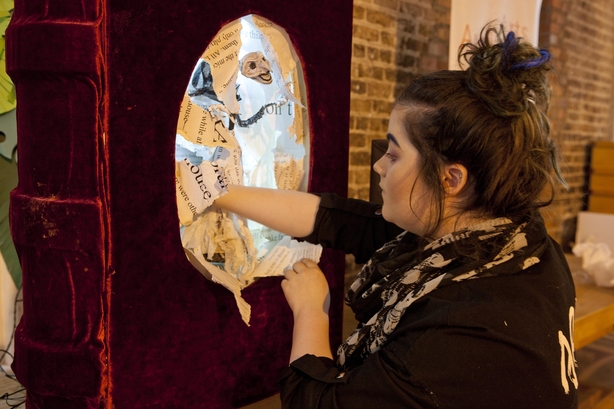 Suzie McBride's work, built with papers of different strengths and utilising LED lights, was inspired by Alice and Wonderland. Suzie's mother used to read the book to her as a child and the Lewis Carroll story was her favourite childhood book. 
"I've read it five or six times probably," says Suzie. "And I love the Tim Burton movie." Her adventurous piece illustrates both the tea party, as seen in the image below and the scene where she meets the Cheshire cat in the accompanying tableau.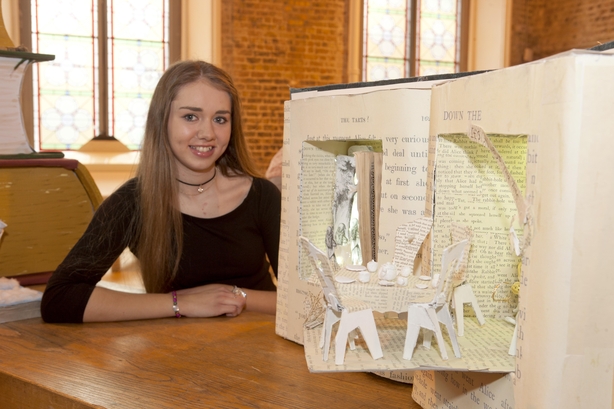 Amy Doyle actually hails from Ballyfermot so she can walk into college every morning which is neat and presumably saved some time in the construction of her Harry Potter Deathly Hollows opus, as pictured below.
"It's from The Tale of the Three Brothers, a story within the story. They, the brothers, are walking along and they come to a river - people usually drown in the river, so they make a bridge and they come across Death who is is trying to trick them."
Death is represented by a fearful claw-like hand in the left of the image. She chose the silhouette format because the opportunity to work with lighting was available to the students. For her creation, she used tissue-like paper, tracing paper and card.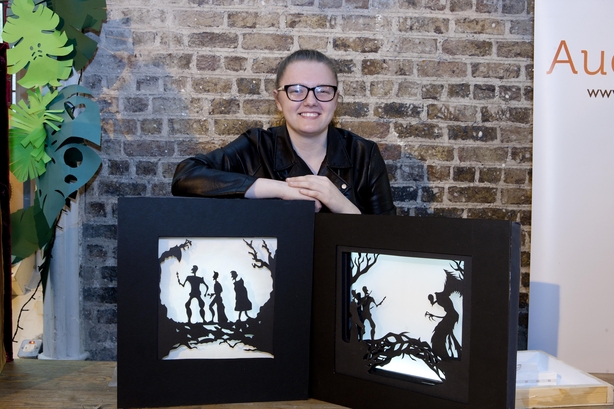 Keri Moore's piece, Sport (below) is based on a Paul Durcan poem which she studied at school and each of the verses are represented on the piece. "The poem is basically about this Gaelic Football match that he is playing to impress his dad, but his dad doesn't seem to be bothered by it." 
One of Keri's images depicts the reflection of the poet as young man who is standing behind a glass door in the mental hospital,with his hands on the glass, while the hospital itself is also modelled in paper. Keri, who comes from Celbridge ,would love to be an art teacher and would like to eventually make bigger sculptures for theatre productions.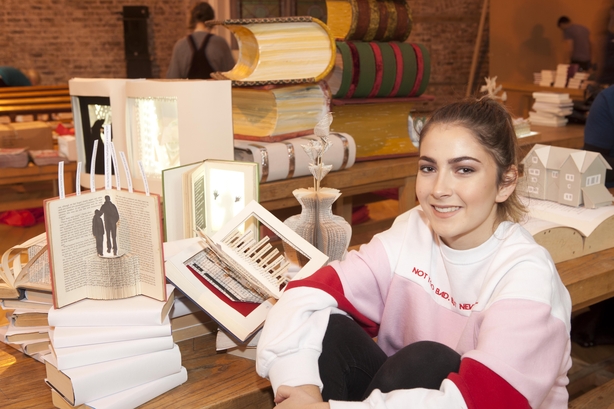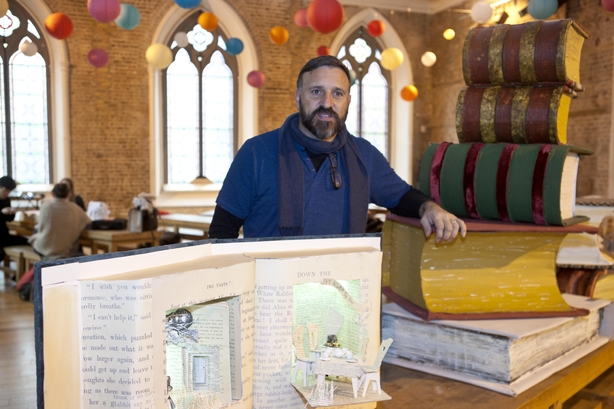 Brian Walsh is course co-ordinator at Ballyfermot College. Dublin Book Festival organisers approached him looking for something visual from his students to enhance this year's festival.
He says that the students came up with their own ideas for the pieces. "They (the students) have some sort of connection with the books, rather than giving them a synopsis of a book to work with."
The future too looks bright for these young women. "Most of the students on the year-long programme will progress on to Level 8 courses in IADT, Dun Laoghaire, or NCAD."
Watch this space, or better still, go to the Smock Alley space, a venerable period theatre, on the Southside quays of the Liffey, and see for yourself.
Now in its 11th year, Dublin Book Festival celebrates Irish writers and Irish publishing, from politics to literary fiction, business, illustration and children's literature, to poetry and Irish language events. The festival will run this year from 2 to 9 November www.dublinbookfestival.com
Paddy Kehoe