Michael O'Loughlin
On a dark, wet night in the late 1970s, I ventured across the dual carriageway which divided Finglas West from Finglas East, a crossing which loomed as large in our teenage minds as the Berlin Wall. I had heard that in the East there was a guy called Dermot Bolger, who had started a community arts group, or something like that, called Raven Arts. 
Nervous of entering enemy territory, I was accompanied by a phalanx of thuggish friends from Dunsink. As we sat and talked poetry in Dermot's living room, they smirked threateningly at him. Gradually, Raven Arts Press unfurled its wings.
The name was a gift for sub-editors, in the days when newspapers had such things: 'A nest of poets in Finglas!' 'Raven takes off!' Raven Arts Press immediately received plenty of media attention: we were young, photogenic, loudly opinionated, and to the features writers, a poet from Finglas was as interesting as a dog who could talk. Not much changes.
Soon, Raven Arts press would publish my first poems in a pamphlet called Urban Voices, the blurb of which grandly declared that most contemporary poetry in the English language was 'pretty redundant'. Self-consciously, grittily urban and internationalist, we were against the poetry establishment. What we didn't realise was that there wasn't really any establishment – at best there was a bunch of poor auld fellahs sipping pints in Grogan's, and a few eccentrics with printing presses in basements off Baggot Street.
Raven Arts Press couldn't stay in the nest of Finglas forever, and soon it had a claw-hold in the crumbling Georgian building of the Grapevine Arts Centre on North Great Frederick Street, convenient to the Finglas busses. Back in the 20th Century publishing was a laborious business, and I remember the vast wooden floors covered with folios as we spent days and nights collating the folios for Philip Casey's first collection, Those Distant Summers.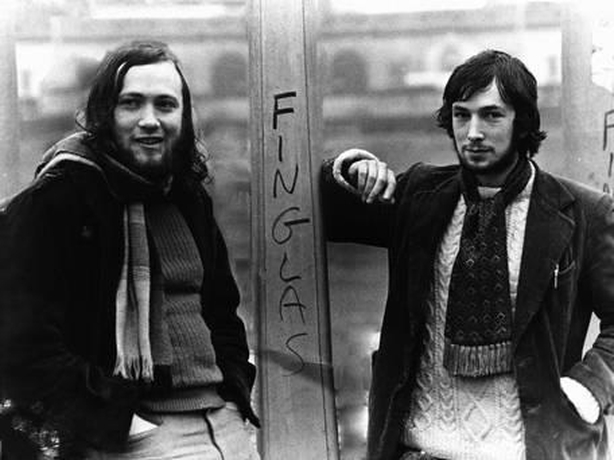 Raven Arts Press would become the spiritual home of an older generation of writers like Francis Stuart, Anthony Cronin, Paul Durcan, and Michael Hartnett, but above all it would publish first or early books by the likes of Pat MacCabe, Fintan O'Toole and Colm Toibin, as well as ourselves, not to mention the first book of English translations of Nuala Ní Dhomhnaill.
In retrospect, Raven Arts Press was giving a voice to the first generation of Irish citizens to have access to higher education as a consequence of the introduction of free secondary schools in the 1960s, a huge release of battened-down energies.
By the early 1990s and more than a hundred publications later, Dermot was redirecting his titanic energies to the production of an impressive ouevre of novels and plays, and passed the baton of radical publishing on to New Island Books. I had left Ireland for good in 1982, and absorbed by different struggles in Amsterdam, had little input into the press. Or so I thought.
Throughout those years, on occasional trips back to Ireland, sitting with friends in pubs like O'Neill's and Mulligans, I noticed that I was the recipient of dirty, sometimes threatening looks from a large proportion of the young poets sitting there clutching the infamous beige cardboard folder.
Occasionally I'd be jostled en route to the bar or jakes. It took me years to figure out why. During my long sojourn in Amsterdam, Dermot had taken to signing his sometimes harsh if accurate rejection letters with the name: Michael O'Loughlin, European Editor.
Michael O'Loughlin with Dermot Bolger Event Details
When: Saturday, 4th of November from 2:00pm-3:00pm
Where: Boys' School, Smock Alley Theatre
Cost: €7/€5 Concession
For more info and to book your tickets visit Dublin Book Festival's website here.