When it comes to considering the career of the late Sean Hughes, who tragically passed away in 2017, it becomes rapidly apparent how versatile and downright prolific the London-born, Dublin-raised comedian and author was over his 25-year plus career. Here, we take a moment to salute - and celebrate - his many incarnations.
Sean The Stand-Up Genius
First and foremost, Sean Hughes was a funny fecker, and one of the most influential stand-up comedians of his generation, winning the Perrier award in Edinburgh at 24 (he was the youngest winner of the prize) and blazing a trail for future generations Irish funny people like David O'Doherty, Dara Ó Briain and Aisling Bea. Here he is onstage at The Olympia, Dublin in 1990, every bit the indie rock star:
After a self-imposed hiatus, he returned to stand-up in more recent years with a series of revelatory, soul-searching shows that included Life Becomes Noises, which dissected his relationship with his late father, and Penguins, which explored the events that shape a man's life. In recent months, he hosted Sean Hughes's Blank Book, a popular improvised live storytelling show that played this year's Edinburgh Festival.
Sean The TV Innovator
When Sean's Show landed on Channel 4 in 1992, a TV star was born overnight. Viewed today, Sean's amiably deconstructed sitcom owes a massive debt - acknowledged by Hughes himself - to the late great Garry Shandling's classic It's Garry Shandling Show, and there's a clear influence to be felt on later surreal comedy gems like The Mighty Boosh - Hughes and the Boosh's Noel Fielding were good mates. Here was an Irishman headlining a UK sitcom at a time when Irish comedy wasn't really a thing. And, in his own amiable way, absolutely smashing it. Author Paul Howard put it best:
Irish comedy in the 1990s. Linehan and Mathews were Lennon and McCartney to me. D'Unbelievables were the Kinks. But Sean Hughes was Elvis.

— Paul Howard (@AkaPaulHoward) October 16, 2017
While you can watch the first series of Sean's Show via Channel 4's 4OD service, they never released the second one, so Hughes posted the episodes on his YouTube page, a veritable treasure trove of Sean stuff:
He followed Sean's Show with Sean's Shorts, a series of quirky travelogues that firmly establish his comedy-as-new indie-rock credentials, with an appearance from grebo faves Carter: The Unstoppable Sex Machine:
Sean The Actor
While Hughes never quite found another vehicle as perfect for his talents as the one that launched him to TV stardom in the first place, he carved quite a career for himself as a jobbing actor over the past two decades, bagging film roles in Snakes And Ladders, Puckoon and Round Ireland With A Fridge and popping up all over the box, in everything from Casualty and Coronation Street to Agatha Christie's Miss Marple. His finest hour came as Mod Lewis, the unlikely sidekick to Peter Davidson's copper Dangerous Davies in ITV's popular drama The Last Detective, which ran for four series from 2003-07.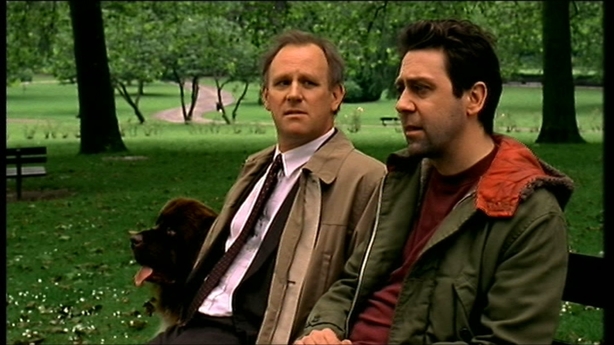 Sean The Scene Stealer
One of the most touching tributes of the many posted to Sean online was a Greatest Hits selection of his finest moments as a Team Captain on the BBC's Never Mind The Buzzcocks, a role he played between 1996 - 2002. While Hughes was never entirely comfortable with the role of TV personality - "I certainly didn't want to be remembered as the guy on the Buzzcocks," he once told an interviewer - the oft-tangible frisson that resulted often (and ironically) made him all the better at being one. See for yourself:
Sean The Pop Star (Not Really)
At the height of his Sean's Show success, Sean formed a band with another Irish legend, Cathal Coughlan, of Microdisney and Fatima Mansions - they'd already shared the cover of indie bible The NME.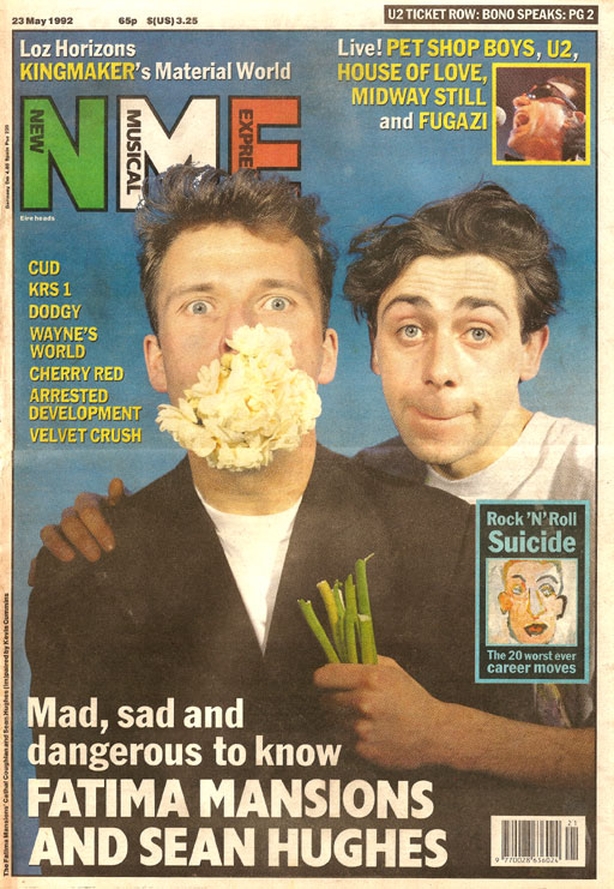 The resulting collaboration, Bubonique, sounded exactly like you might have anticipated - two witty messers holed up in a studio, having a bit of a laugh. Here's a choice highlight from their 20 Golden Showers album.
Sean The Podcaster
If you want to hear Hughes at his most candid and comfortable, then dig deep into Under The Radar, the podcast series he hosted between 2014-2016. Podcasting afforded him the perfect opportunity to talk about pretty much anything he fancied, from football to education to politics, while roping his old comedy mates for a natter - listen to an enlightening (and highly enjoyable) chat with fellow comedy god Stewart Lee - the mutual respect the two have for each other is tangible, and the constant subtle mickey-taking an absolute joy.
Sean The Author
One thing that Sean Hughes did take very seriously was his writing, essentially stepping back from his stand-up career at the height of his fame to concentrate on his literary efforts, following two well-received essay collections (Sean's Book and The Grey Area) with a pair of ambitious, blackly comedic novels, It's What He Would Have Wanted and The Detainees. His last published work was a poetry collection, My Struggle to Be Decent and Poems of Sadness and Light.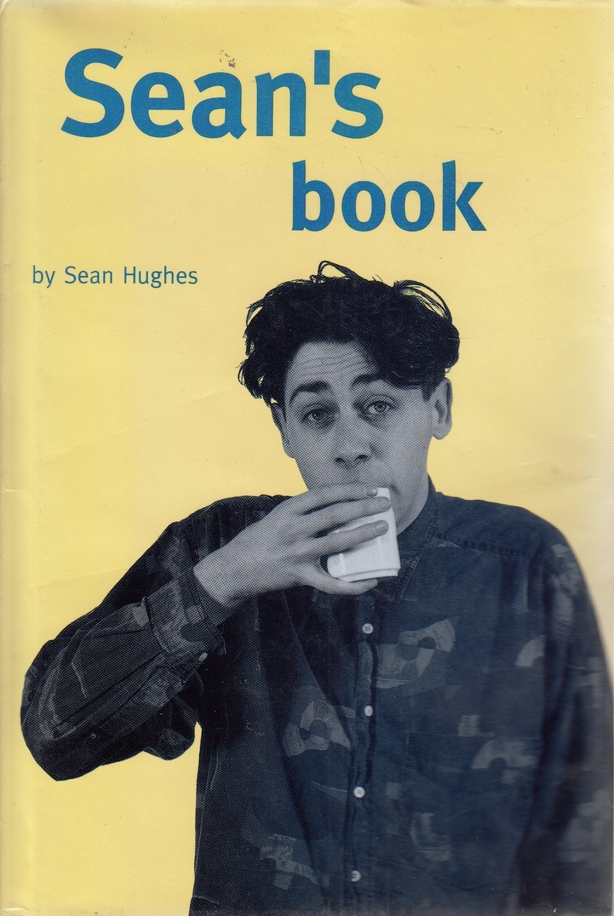 It's probably best to leave the last word to the man himself, via a poem he penned a quarter-century ago for his literary debut, Sean's Book.
Death by Sean Hughes
I want to be cremated
I know how boring funerals can be
I want people to gather
meet new people
have a laugh, a dance, meet a loved one.
I want people to have free drink all night.
I want people to patch together, half truths.
I want people to contradict each other
I want them to say 'I didn't know him but cheers'
I want my parents there,
adding more pain to their life.
I want the Guardian to mis-sprint three lines about me
or to be mentioned on the news
Just before the 'parrot who loves Brookside' story.
I want to have my ashes scattered in a bar,
on the floor, mingle with sawdust,
a bar where beautiful trendy people
Will trample over me… again
From Sean's Book by Sean Hughes, published by Pavilion Books