Norwegian writer Kjersti Skomsvold's books are translated into more than twenty languages, and this is not surprising. Monsterhuman, her second novel, is an autobiographical tale of a seven-year struggle with ME and mental health.
Kjersti's sparkling intellect resonates beautifully but painfully through a crisp and unprocessed writing style, always candid and totally illuminating in this new novel from the writer, which has been translated by Becky L Crook. At times we are fighting Kjersti's torpor with her, the heavy thoughts and paranoia, but she buoys us along with her anecdotes and antidotes. Care about what others think, and you'll forever be their slave, she writes.
Witty and uncommonly wise, Kjersti is just 17 and about to study Engineering when she is laid low, 'flailing in bottomless depths' and spending '80%-90% of her time thinking painful thoughts'. Camping out in her parents cellar, she ponders the riddles of life, how to be successful, valuable and most elusively, happy. She compiles a pithy list of goals, and sets out on a journey back to herself.
Erik, her patient boyfriend, breaks it off because he's not 'happy anymore' and Kjersti realistically acknowledges there is a finite period for happiness after all. When she looks for a birthday greeting from him he coldly writes 'best wishes' – these paltry few words his only response after a seven-year relationship. The cruel fall-out of their break-up is mercilessly probed, in the midst of which her own parents suddenly separate. To compound her misery further, she discovers Erik has been seeing someone, and her jealousy cuts like a knife. Stick a tampon in my heart, it bleeds and bleeds.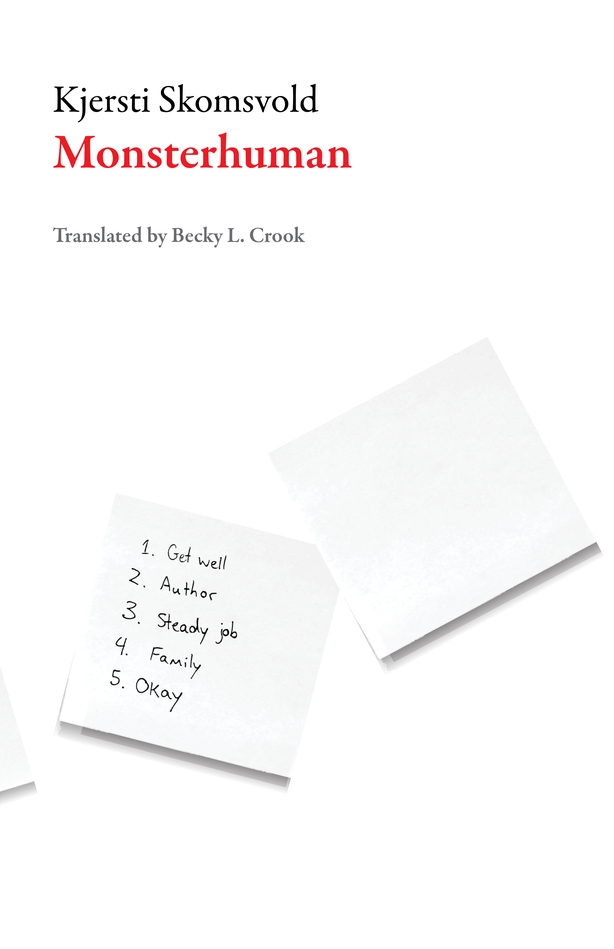 Monsterhuman is also a book within a book. Kjersti talks about writing the story of Mathea, the old lady in the author's debut work, The Faster I Walk the Smaller I Am, her IMPAC-shortlisted novella whose theme was loneliness - Mathea wears her late husband's watch, and hopes people will ask her the time.
Fragile Kjersti is well placed to write on the weariness of life, but it is her search for remedies for her own soul's malaise that bring zest to her narrative. Coping mechanisms must kick in: We all create delusions in order to survive, we have to embellish things somewhat. Defiantly, in the midst of her despair, she reminds herself that life 'must be lived to the fullest' and, although she is completely lost, she discovers writing is key to her healing.
A unique novel, spirited and true, in Monsterhuman Kjersti's perceptive and stirring voice imparts hard-earned wisdom. Her journey back to herself after eight years of 'slow going' is itself slow going at times, but it is bravely and humorously described in these 448 pages - as Kjersti herself would say: 'You shouldn't give up'.
This is a noble and gracious account of what it means to be human.
Abigail Tuite