In an ongoing series of articles, critic and broadcaster Cristín Leach selects 21 artworks for RTÉ Culture that define Modern Ireland.
Number Seventeen: Alice Maher – L'Université (2012)
When the artist Alice Maher came to Earlsfort Terrace in Dublin's city centre to put together a retrospective of her work in 2012, she entered a temporary space being used by the Irish Museum of Modern Art to hold exhibitions during an unexpectedly prolonged period of refurbishment. Into the former university building, Maher placed works spanning two and a half decades, among them her iconic Berry Dress (1994), Nettle Coat (1996), and art made from brambles, ice, rose thorns, snail shells, charcoal and hair.
The endpapers of the catalogue for that show, Becoming, featured full page photographic close-ups of words carved as graffiti into a wooden surface: inside the front cover, lyrics from a Pixies song, ending with the phrase, 'And while we're at it baby, why don't you tell me one of your biggest fears?'; at the back, two sets of dates with the words 'I miss her' and 'I still miss her', all of it dug with biro tip into desks in Lecture Theatre 2. The images were shots taken by the artist of one of the most unexpected, and slow-burn impactful elements of her Becoming show: an installation made in-situ entitled L'Université.
Between 1883 and 2007, Earlsfort Terrace was home to various faculties of University College Dublin. Repurposed as a series of exhibition spaces for the Dublin Contemporary international art exhibition in 2011, the rooms and corridors in the building still retain signage evidence of former functions. Part of it was used for a time by the Garda Forensics Laboratory. Since 1981, a large section has housed the National Concert Hall.
Maher's grasping of the opportunity to show here, rather than wait for IMMA to return to its Royal Hospital Kilmainham home, was inspired. The building matched themes in her work, of process and change, history and memory, time passing, preservation and decay.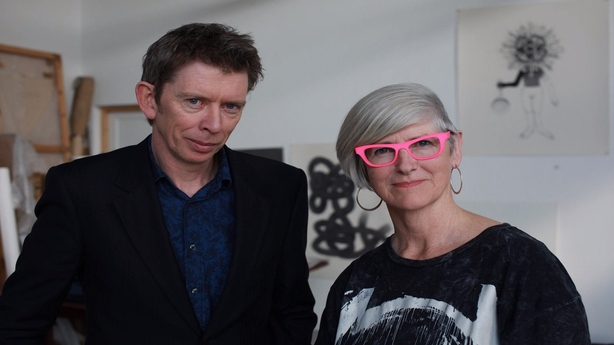 In Lecture Room 2, Maher attached spotlights to the ends of long wires hanging from the ceiling, above the 60-year-old fixed, tiered benches and desks. The tip of each light highlighted only the spot below, picking out a single piece of graffiti, 120 in all. There were references to the 1981 Hunger Strikes, the 1995 Divorce Referendum, names (Jean, Brónagh, Jordi, Noel…), emphatic statements of boredom and enthusiasm ('I love maths') and lyrics: 'The girl is a fool she broke the rule'. Phrases scratched and etched into the wood by students, learning, waiting, passing time, wanting to leave their mark. The personal and the political layered and co-existing, as they do in life.
Here were the voices of invisible, missing, but real people, who could become proxies for characters and protagonists in the rest of her art. L'Université fitted with the argument that runs throughout Maher's work, that we are all young protagonists inside, perhaps always even versions of our childhood selves, damaged and curious, braving the present, making our way forward with the baggage of the past, learning as we go along. It was also a grittier gesture on the part of Maher, whose work has often been reduced to its fairy-tale and mythological fascinations and associations.
Watch: The Works Presents: Alice Maher
With L'Université, she elevated the tamely (as it was clearly tolerated) subversive act of leaving an everyday mark on a desk, to the significance of art, without ever trying to overwhelm or own it. Her gesture with the lights, and the hushed, dark, theatricality of the room, was one of respect for antecedent and for those who have tread the floors before us, as much as it was a call to pay attention to messages from the past and what they might tell us about who we are now. The graffiti on the Earlsfort desks is both public and anonymous, secret and overt, significant and dismissible. Maher raised its importance simply by drawing our attention.
'L'Université' by Alice Maher in the lecture room @IMMAIreland -something magic about this work. pic.twitter.com/nZDE7O3E

— Lucy McKenna (@Lucy_McKenna) October 5, 2012
Becoming was a career-defining show that received international reviews. That it did not tour was a missed opportunity for Maher and for the reputation of contemporary Irish art abroad. But her gesture in Lecture Room 2 cannot be repeated elsewhere. It served to honour the building, and democratise the show by shifting presumptions about what kind of mark-making has value, and how we assign it. L'Université embraced one of the primary, universal functions of art: to say not only "I was here" but this is how I felt.