The National Library of Ireland has announced details of a number of major new Yeats acquisitions. These acquisitions include the purchase from the Yeats family, via Sotheby's, of more than 500 letters between WB Yeats and his wife George.
The letters between WB and George Yeats had been due to be auctioned by Sotheby's in London on 27th September. The National Library was offered the opportunity to acquire them for the national collection several months prior to the auction taking place.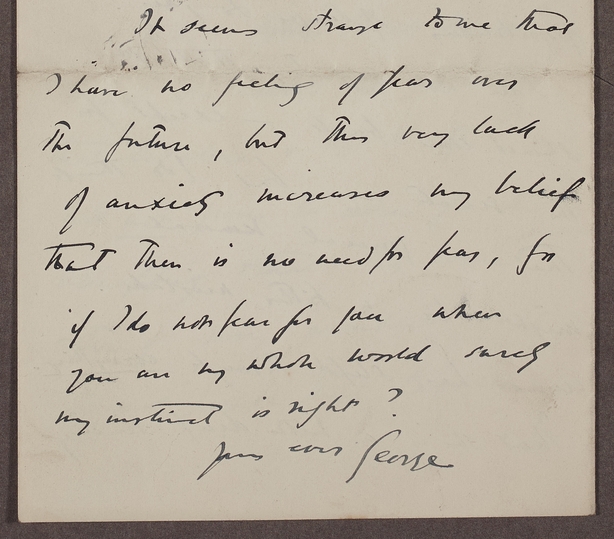 The letters between WB and George Yeats, spanning more than two decades, show many facets of their relationship. They begin with passionate love letters written in the days before their marriage on 20th October 1917, with Yeats writing to George Hyde Lees on 5th October: 'My thoughts are always with you – at first you were but a plan & a dream & then you became a real woman, & then all in a moment that real woman became very dear. And now I watch every post for your first letter. I keep wondering how you will begin it, what you will say.
Most of the correspondence was penned by Yeats written during stays in England and elsewhere, including visits to the USA and with poet Ezra Pound in Rapallo. Later letters – both affectionate and practical – discuss Yeats' movements, meetings, work (writing, theatrical work, collaborations, occult activities) and the domestic realities of daily life, such as a letter to 'My dear George', saying 'This morning when the Valet was setting out my shirt etc we discovered that I had only one vest which is in need of a wash. Can you send me one – if not wire and I will buy one.'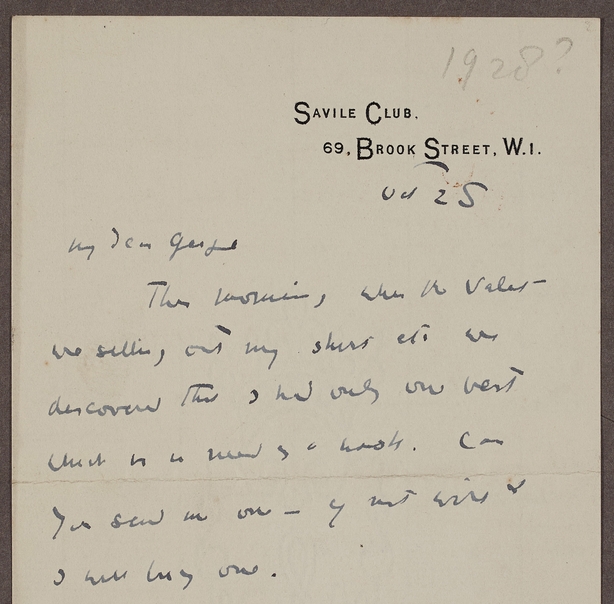 Correspondence from George Yeats to her husband includes noteworthy letters written during the Irish Civil War, as well as missives discussing the Abbey Theatre, publications, and access for scholars to WB Yeats' papers. Together with the marital letters, there is a small group of other Yeats family letters.
Agreement was reached that the letters should not be included in the sale; they are now being purchased privately for €725,000, a purchase made possible by special allocation funding of €500,000 provided by Minister for Culture, Heritage and the Gaeltacht, Heather Humphreys, with the balance covered from the NLI's own resources.
In addition to the advance purchase of the Yeats letters, the National Library has additionally purchased a number of artworks by the poet's artist father, John Butler Yeats, for €72,675, supported by funding of approximately €50,000 from a family charitable trust.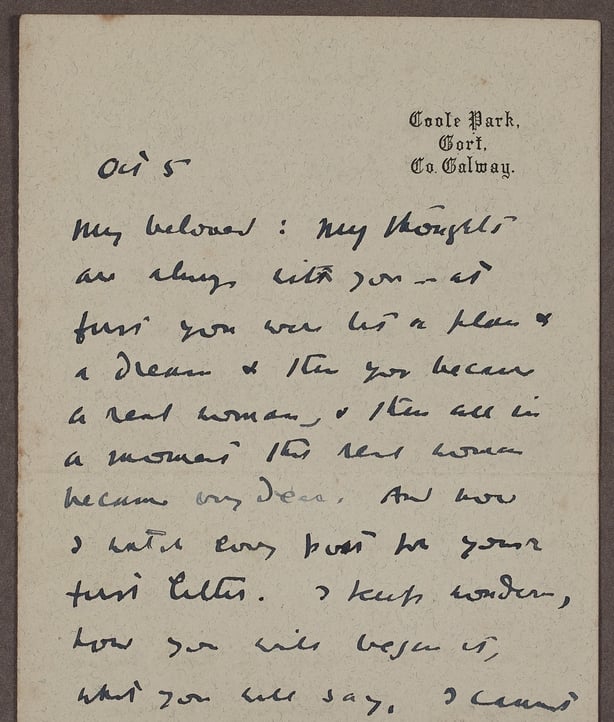 These letters and objects are the latest treasures in a series of remarkable WB Yeats materials acquired by the NLI from the Yeats family over almost 80 years, since George Yeats donated original manuscripts of the poems Oisin and the Wanderings of Usheen in 1939.
The NLI has also announced the forthcoming donation by the Yeats family of both the remaining Yeats family archive and items currently on loan to the NLI for its popular Yeats exhibition. The donation includes more than 700 letters written by John Butler Yeats to his children, many illustrated with drawings and sketches, and more than 600 letters received by WB Yeats from a wide circle of friends and acquaintances, including many fellow writers such as TS Eliot, Ezra Pound, George Moore, Sean O'Casey, GK Chesterton, and Cecil Day Lewis. Items currently on display in the NLI's WB Yeats exhibition, including pictures and other significant items which belonged to WB Yeats, will now be donated to become part of the NLI's permanent collection.
Speaking on behalf of the Yeats family, Caitríona Yeats said: "The Yeats Family are delighted that the largest Yeats Collection in the world is housed in the National Library of Ireland. The Nobel Medal he received in 1923, and a vast quantity of Yeats Family papers and books, are now in the Library. We are pleased that this material is in the safe hands of the Library's archivists and that it is available to those interested in studying and writing about one of Ireland's great poets WB Yeats."
We need your consent to load this YouTube contentWe use YouTube to manage extra content that can set cookies on your device and collect data about your activity. Please review their details and accept them to load the content.Manage Preferences
Find out more about The National Library of Ireland's WB Yeats exhibition here.