In an ongoing series of articles, critic and broadcaster Cristín Leach selects 21 artworks for RTÉ Culture that define Modern Ireland.
Number Sixteen: Dorothy Cross - Heron (2010)
On 13 August 2017, the artist Dorothy Cross made an unusual radio appearance. For regular listeners to the Second Captains sports show on RTE Radio 1, hers was an unexpected voice, but she revealed a past of youthful sporting glory as an almost Olympic swimmer. She spoke about the connections between art, sport, and her own love of the sea, and placed a succinct definition on one of the philosophies that drives her work: "When art is good...when you take time...it actually shifts you, the way you are in the world."
Listen: Dorothy Cross talks to Second Captains.
Cross has been making art that does something to "shift" how those who encounter it feel about the world, and their place in it, for more than three decades now. In 2011, her gravity-defying Heron (2010) appeared in in a show called Gravity at the Crawford Art Gallery in Cork. It was a group show filled with art that explored ways in which our individual relationships with the space around us may or may not be anchored in the laws of physics.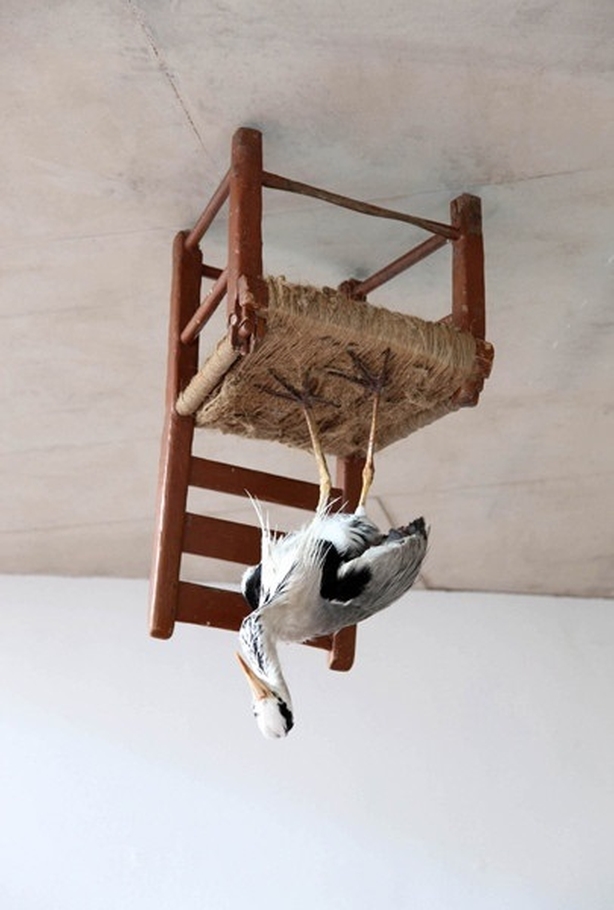 Heron is made from a taxidermied heron and an antique sugán chair: a traditional type of Irish chair, with a handwoven straw seat. Much of Cross's work is tied to her relationship with the sea. She makes film, sculpture and found object works that incorporate images of jellyfish and crabs, as well as sharks, ship and submarine forms. She works with dead animals, using fish carcasses, skins and bones in her work. She has known for a series of pieces using cowhides and teats; birds, less so.
Herons have always had a special significance in Ireland. Pre-historic settlers once cooked and ate them, but somewhere along the way our ancestors put in place a taboo that has survived to this day: the Irish do not eat the flesh of the majestic heron. They appear in Celtic mythology as symbols of death, transformation and wisdom.
Cross's Heron hangs from the ceiling, upside-down. The feet of the chair are affixed to the roof, everything inverted. This well-worn pew, and its domestic, traditional, historical associations, combined with the strange, stuffed, wise avian figure and the entire artwork's odd introversion results in a sculptural object that is disconcerting and homey at once.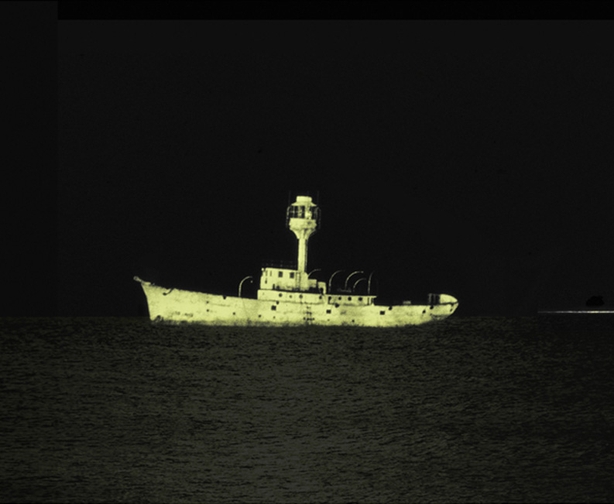 You could easily miss it if you didn't look up, but once you've seen it you won't forget. Cross has a talent for siting her work in locations that amplify their meaning. She was widely celebrated for her Ghost Ship, a luminous paint covered former lightship that remained anchored in Dublin bay for weeks during 1998, and in the public imagination for much longer.
Her Heron acts to shift our perception and adjust our ideas of what is fixed, given or inalterable. It's also a call to look up, feel suddenly connected to, and therefore really see, the world around us. Like its sister piece, Cross's 2004 Sugán Chair which features a golden phallus poking out from its straw seat, Heron operates as a visual shove to knock viewers out of tired or habitual modes of looking, feeling and thinking.
We need your consent to load this YouTube contentWe use YouTube to manage extra content that can set cookies on your device and collect data about your activity. Please review their details and accept them to load the content.Manage Preferences
This is what Cross does for us as a nation. She forces us to look from a different angle, to look again, to investigate our emotional and habitual reactions to objects, visual triggers and physical presences, and to understand how our reactions are intertwined with memory, both cultural and personal. One of the jobs of an artist is to turn our perceptions, and gut reactions, upside-down, to alter our relationship with the world around us, and therefore to change us, slightly, to shift how we are in the world.