In an ongoing series of articles, critic and broadcaster Cristín Leach selects 21 artworks for RTÉ Culture that define Modern Ireland.
Number Fifteen: Mick O'Dea - The Britannia (2015)
The hundred-year anniversary of the 1916 Easter Rising produced all kinds of commemorative art, from artists as diverse as Alan Phelan, Elizabeth Magill, Jaki Irvine, Alice Maher, Robert Ballagh, Rita Duffy, Sean Hillen, Sonja Landweer, Abigail O'Brien, John Behan, Blaise Smith, Jesse Jones and Sarah Browne. 2016 was a year of performances, exhibitions, discussions and celebrations as the country made a collective effort to take ownership of a particular portion of our history, in all its complexity. Chief among those making their mark was painter Mick O'Dea.
We need your consent to load this Vimeo contentWe use Vimeo to manage extra content that can set cookies on your device and collect data about your activity. Please review their details and accept them to load the content.Manage Preferences
O'Dea had been working since 2009 on an enormous body of work, elements of which had already been shown in three exhibitions held at the Kevin Kavanagh Gallery in 2010, 2012 and 2014, entitled Black and Tan, Trouble and The Split. These paintings were based on historical photos reimagined in charcoal and oil in a style O'Dea has made his own. The final show, The Foggy Dew, filled the main gallery and stairwell lobby at the Royal Hibernian Academy (RHA) for five weeks at the start of 2016.
It has taken ages for artists to figure out how best to use @rhagallery space My god but @MickODeaArtist has done it pic.twitter.com/o10HvO0BdV

— Cristín Leach (@cristinleach) February 4, 2016
It included 1916 street-scenes and portraits of the republican leaders. Taken as a whole, the entire project represents a thorough, intelligent and highly successful artistic interrogation of the origins of Irish independence.
This body of work has unabashed legacy ambitions. Paintings, if valued and preserved, outlast their maker, particularly paintings with historical significance.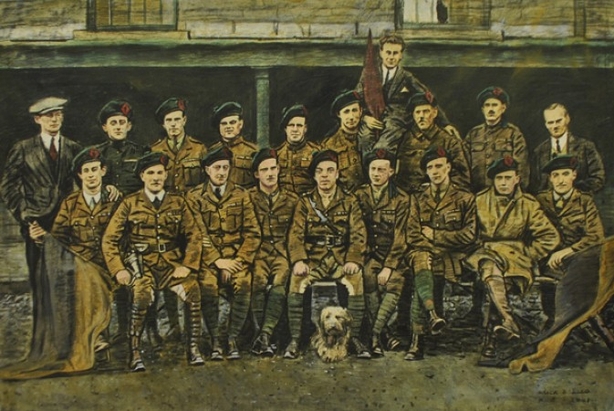 It was unexpected then that the really high impact element of O'Dea's show at the RHA was sculptural, and that it was predominantly made from one of the least robust substances a sculptor could choose: cardboard. His 2016 exhibition featured life-sized human figures suspended from the ceiling, their limbs spread-eagled as though they had just been flung into the air as a bomb went off. The main installation, The Britannia (2015) was made of cardboard, rough wooden struts and old doors.
The armoured and blank-faced symbolic figure at its centre was O'Dea's representation of the might of the British Empire, the gunboat that advanced on Dublin city, via the Liffey that Easter week: The Britannia. This female figure - the only woman in the show, apart from a portrait of Constance Markievicz – advances, ominously with sword held high on a ship of battered down domestic front doors.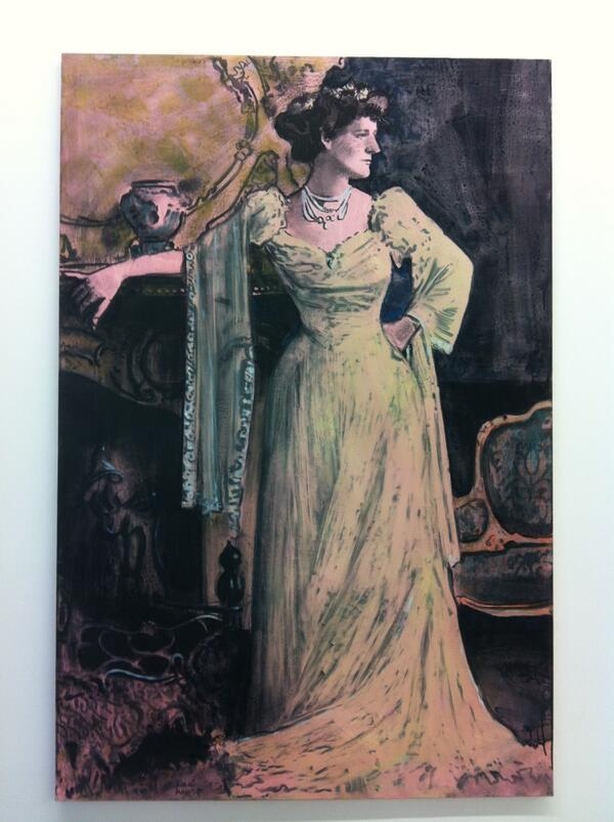 O'Dea trained as a sculptor. Cardboard is a medium he hasn't used since his student days, but he is extremely skilled at working with it. His cardboard figures are beautifully made and anatomically convincing. They have strips of torn canvas for belts, wooden skeleton insides, and are tied together with tape and glue, brown paper and string, like packages.
DANIEL O'CONNELL
Check him out at#TheFoggyDew @rhagallery @MickODeaArtist @KevKavGallery @1916walkingtour pic.twitter.com/8Gw7o2aj5C

— Póló (@irlpol) January 25, 2016
What a resonant choice. Cardboard melts in the rain and crumples under pressure. In 21st century Ireland, it is also a material associated with street homelessness. O'Dea's historical sculptures ask questions too about 21st century Irish citizenry, and what has become, so far, of the ambitions of the proclamation signatories.
O'Dea was a child when the 50th anniversary of the Rising came around in 1966. He remembers the art competitions held to encourage the production of commemorative works, learning the words to The Foggy Dew in his hometown of Ennis, and drawing pictures of the leaders in his copybooks.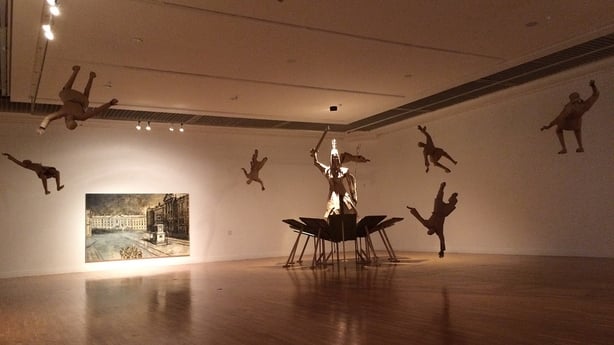 He made his cardboard figures, of which The Britannia was the theatrical centrepiece, in acknowledgement of the difficulties inherent in the very idea of permanence and commemoration, and to remind us of the mutability of memory, legacy, and our constantly evolving relationship with the past.