In a piece entitled Guerillas Of the Imagination, author Pat McCabe writes about the return of his character Francie Brady, immortalized in his novel The Butcher Boy and now back in the Co-Motion Media production of his plays Frank Pig Says Hello and its companion piece The Leaves Of Heaven, coming to this year's Dublin Theatre Festival.
I have no inclination to be offensive but I genuinely would rather eat a handful of wasps than read another of these books with prose that is characterised by 'splendid' passages of laconic, pared-back grace and filled with minute comic and observational touches purported to be 'rich in detail', not to mention concluding with insights as 'devastating' as they are 'humane.'
So, please will you stop it, Guardian-type people and go off now and write books where people have no problem punching each other and saying things like: 'Take that,you great big gulpin!'
On a somewhat lighter note, some of my more recent reading, happily, has included a number of articles concerning the subject of Irish identity and whether it can be said to exist anymore what with all these new people coming to live in this country and there being, at the last count, at least approximately 188 different types of identity here now altogether.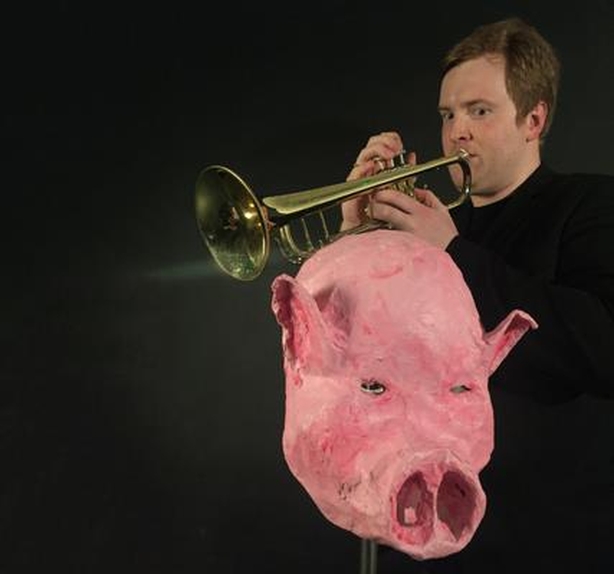 I have noted also a lot of discussion in these pieces about how whether or not this whole fractious business of identity was something made up by the men who took over the GPO in 1916.
With the counter-argument being advanced that no there has always been something different about what one opinion piece in particular described as the essential 'Celtic and Catholic essentially prehistoric fluidity of mind'.
And which, it contended, was an inevitable evolutionary consequence entirely explicable by the the fact that the Romans couldn't be bothered their Ciceroesque backsides getting on a boat and paddling it over to Dun Laoghaire or wherever it was boats used to paddle to back in them times.
Well, to be honest with you now, I don't really know if there is a great deal of truth in this hypothesis regarding the inherent 'prehistoric fludity' of the Irish mind and its congenital objections to the imperatives of quintessentially Roman but perhaps later Norman and British notions of the well-organised, industrialised and matter-of-fact civilisation.
But I can say this-that when I first met the theatre director Joe O' Byrne of the Co-Motion play company, back in 1993, in the lounge bar of the Tricyle Theatre situated in London NW9, there most absolutely and definitively was a of of prehistoric fluidity in my mind, chiefly for the reason that for some days previous, I had been on the beer with a number of associates - not all of them artistic, I hasten to add, with a number of them being of a football and gambling caste of mind.
Which was something that writers thought nothing of in those pre-sparkling (or still) water days - in fact when it was perceived as a positive feather in your cap.
So, fluidity - whether prehistoric or otherwise - was definitely all in - and, to tell you the God's honest truth, I could hardly make out whether it was Joe who was sitting there in front of me or not. And would probably be still sitting there staring at drip mats and ashtrays trying to work it out, but for the fact that he was wearing his roundy specs at the time along with the regulation livery of the average beatnik theatre practitioner at the time, namely altar boy slippers and a chunky black knitted polo-neck jumper.
But I haven't quite finished with this fluidity thing, because after I'd rubbed my eyes for a good four or five minutes solid didn't I look up then and what did I see only a gorilla climbing up on a balcony and shouting down: Derek, I think,might have the keys!
With it turning out that there happened to be a production of The Island Of Dr Moreau by H.G Wells playing that week in the celebrated auditorium.
And which I never got to see - because I was too busy signing the contract with Joe. What contract is this, do I hear you ask shrilly, well no contract at all but more the back page of a blue-lined copybook. Which Joe had said would probably be legal and to which I didn't object because no matter how I tried, I couldn't for the life of me see how Joe was going to be able to put on any play by me - certainly not of the manuscript I had given him - and which, at the time, was entitled Munch Munch (Pig Nuts). I kid you not.
Nobody ever says it, but after the first outing of Frank Pig Says Hello, everywhere you went in Dublin theatreland, you were assaulted by pared-down colorful monologues, and men pretending to be women and women pretending to be the rest of the cast, usually around three hundred people.
Because, you see, I was a great man back in them days for mixing up George Buchner, Dennis The Menace and Korky the Cat - yes, and Keyhole Kate and Katherine Mansfield - if I could happen to get them in.
And if you think I am joking about this,then that's alright, you can e-mail Joe.
Because it's true.
O aye - and Yogi Bear.
And Elvis, John Wayne and Franz Wedekind too.
All them boys.
And girls.
I had always been a fan of the Co Motion Theatre Group - ever since a friend of mine,whose career in theatre I had been assiduously encouraging, but who, in spite of my best efforts on the phone to Broadway etc., had never managed to actually secure any form of onstage role.
Unless you count me and him crawling around the living room of the little house we used to own in Balbriggan and singing all of Bob Dylan's Street Legal.
Which I don't think you could.
But then the next thing I met him and he declared to me that he was in 'three plays!', no less.
Which I took at the time to be an elaborate,overwrought fiction of the character to which he was habitually disposed - until I happened along to see The Freedom Of The City by Brian Friel, The Song Of The White Man's Burden and some other one which I now forget - with all of them directed by one 'Joe O' Byrne', no less.
Nobody ever says it, but after the first outing of Frank Pig Says Hello, everywhere you went in Dublin theatreland, you were assaulted by pared-down colorful monologues, and men pretending to be women and women pretending to be the rest of the cast, usually around three hundred people.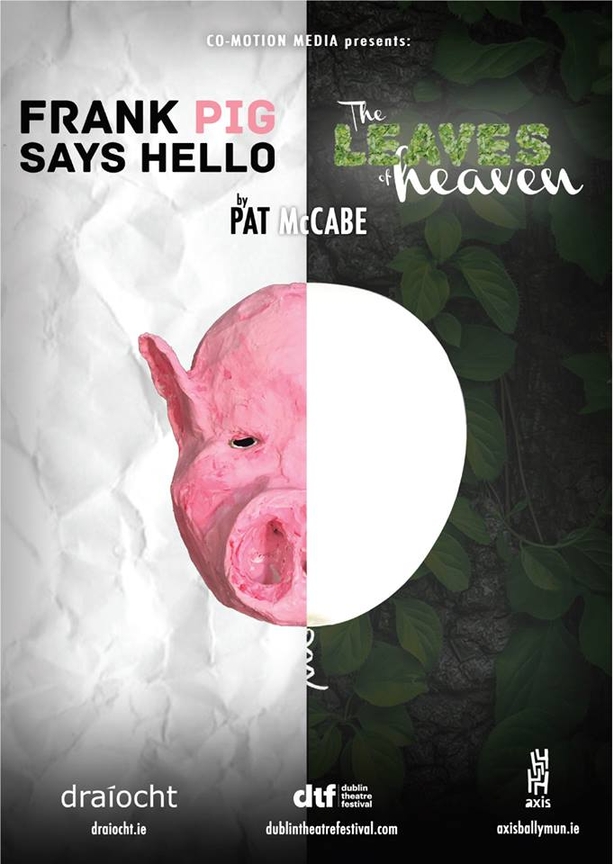 The play's success is now the stuff of legend. And that's all to the good - but I'll tell you this, its companion piece Leaves Of Heaven,with Brian Mallon and the great Mairead Devlin, is ten times better.
And I ought to know because it was me what writted it.
If you want to know what it is about, then I suggest that you listen to some of the lieder by Franz Schubert and then maybe have a read of a couple of old Catholic magazines, mixed in with a couple of paperbacks authored by Jackie Collins - because her sister is in it, yes, Joan Collins.
O and there's an explosion at the end of, of Leaves Of Heaven, I mean.
No, I'm not kidding. Because there really is an atomic blast - only this time of a psychiatric nature.
Francie Brady this time is interpreted by Brian and the whole mental hospital is played by the extraordinary Mairead,
She's a wonder and so is Brian Mallon, I have 322 tickets bough - and if you haven't then I am sorry to have to say that you're stuck in the new dull Norman/British methodical way of thinking and are in severe need of some seriously Catholic 'prehistoric fluidity.'
So pick up your digital doodly doodly or get along to the Theatre Festival office fast, in order to have your mind seriously busted and opened up by skyscraper-scaling gorillas of the imagination.
Sorry, I mean 'guerillas.'
Frank Pig Says Hello and The Leaves Of Heaven play at this year's Dublin Theatre Festival, at axis:Ballymun and Draíocht Blanchardstown from Oct 4-13 - details here.