The street artist (or artists) known as Banksy has been sneakily painting images on walls since 1997.
Even if you don't know his (or her, or their) name, you'll be familiar with some of the work: Girl with a Balloon, Flower Chucker, Maid Sweeping – the titles (if that's what they are) may be more on the purely descriptive rather than the poetic side, but they are undoubtedly effective. But, as far as we know, he/she/it didn't call them that. We don't know what Banksy called them because we don't know anything about Banksy.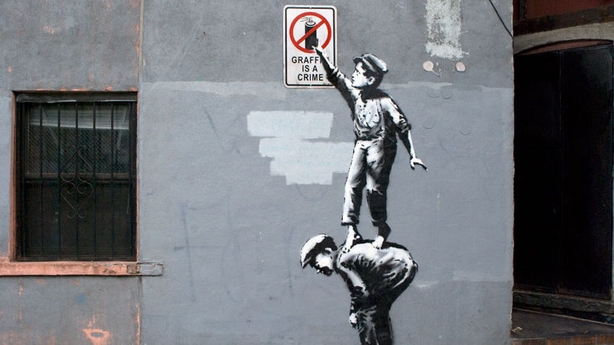 Art critic (and regular RTÉ Culture contributor) Cristín Leach joined Seán Rocks on Monday night's Arena to discuss the anonymous street artist's 20-year career. Banksy's work often has a strong political message, which Cristín tells Seán, is not something that's in any way hidden:
"It's very straightforward. I don't think there's any difficulty in understanding the message behind Banksy's work."
When asked by Seán how she would rate Banksy's art, Cristín has to qualify her answer by saying that it has to be taken into account that the work is street art – graffiti, essentially – and as graffiti is illegal, it's usually done in a hurry and in the dark.
"Banksy uses stencils, spray paint – as graffiti artists do – and also I think some of the work might be actually pasted as well."
So the work is essentially spray paint and stencils, Cristín concludes, without saying one way or another if it's good or not. So Seán tries again, this time asking if the work is good "at what it is". Is Banksy as good as, or better than other street artists? Cristín's answer: "he's definitely the most famous". Turning dodging the question into an art, you might say.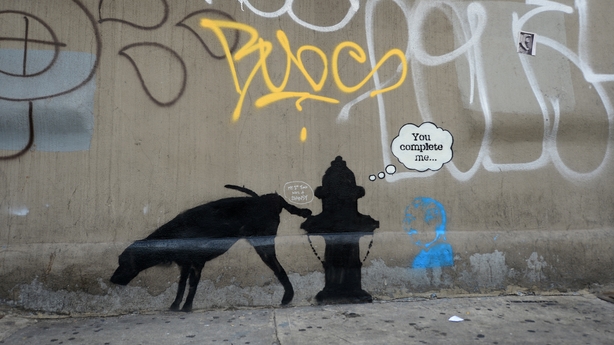 Well, then why is he the most famous street artists? The work has humour, Cristín says, and this increases its appeal. The other factor in Banksy's fame is, ironically, his anonymity:
"No one really knows who Banksy is, which makes him, her or them and intriguing figure."
Banksy doesn't exhibit and when his work is sold, he doesn't profit from the sale. How does this work? As he is a graffiti artist, Banksy paints on public spaces. So if you're lucky enough to own the wall that he's used as his canvas, you can sell it at your leisure and keep the proceeds without any input from the anonymous artist. And you can even do more than that, according to Cristín:
"If you own the wall, you own the image and you own the copyright of the image and then you could licence it to someone to be added to products."
Banksy, if you're reading this, I have a nice Irish brick wall that's looking awful blank right now…
You can hear the full discussion of Banksy's anniversary and work and listen back to the rest of Arena here.