Filmmaker Nick Kelly writes for RTÉ Culture about his award-winning new film The Drummer and the Keeper, now on general release, the film's Dublin premiere, and the joys - and terrors - of finally watching your movie with an audience.
I am crawling on my belly into the dusty enclosed storage space in the eaves of the attic.
As I struggle to pull clear the unwieldy bulk of my badly-packed tent (still sodden from last weekend's Electric Picnic), crushing my fingers against the low rafters in the process, I find myself wondering how Steven Spielberg spends his movie premiere mornings.
I finally haul away an awkwardly-wedged box of Christmas decorations to reveal the object of my search: hidden from prying children in my home's very most inaccessible corner sits a partially dissembled six-foot tall Lego mansion - a key prop from The Drummer And Keeper.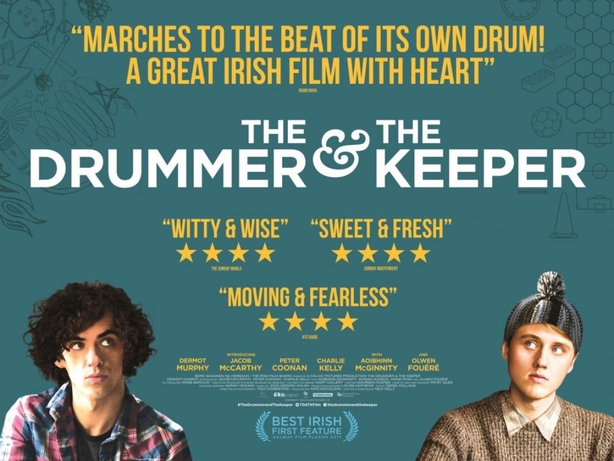 Painstakingly built over three long weeks by our genius Production Designer Louise's equally gifted brother Shane, It's now housed in four large and deliberately anonymous cardboard boxes, which I drag carefully out, brush clear of indignant spiders, and gingerly carry down four flights of narrow stairs, the image of Sesame Street's famously accident-prone custard pie-bearing chef in the forefront of my mind.
It is my terrifying duty to transfer these four precious and delicate boxes from my house to the Lighthouse Cinema where they are to be reassembled for the first time since we wrapped production back in March.
We designed + built this #lego mansion for the new Irish film #TheDrummerandTheKeeper
See it at the @LightHouseD7https://t.co/5QrDpC067I pic.twitter.com/jPfj1QJTMw

— Adrian+Shane (@AdrianAndShane) September 10, 2017
Such is my relief at safely delivering the lego mansion to the saintly Shane, who has turned up to put it together again in time for our movie's first official Dublin screening, that I manage to misplace my phone, rendering me incommunicado for the next two hours.
Which is perhaps no harm.
Not since the heady days of the release of The Fat Lady Sings' debut album 25 years ago have I had such a sense of momentum building around a creative project. And back then we didn't have social media to check into and feel an obligation to update on a minute-by-minute basis.
So many people say so many nice things to me at the drink reception afterwards that I start to feel like I'm actually attending my own fantasy funeral.
Feeling guilty but also strangely free, I take the LUAS east to my dental hygienist who blasts my teeth (and much of my face) with a powdery, weirdly fizzy substance. It feels like being showered with sherbert, As I settle the bill she gently suggests I may want to visit the bathroom "just to look after your nose". It's only when I'm standing in front of the mirror that I realise that my upper lip is sprinkled with the white detritus of my treatment, something that could be disastrously misinterpreted at my next appointment.
Having rendered myself respectable, I hurry to meet the RTE TV News crew who have asked to film myself, and our movie's stars Dermot and Jacob, in the fabulously grafitti-ed laneway off Camden Street where we shot several key scenes.
I arrive to discover that in the past week this previously peaceful urban backwater has turned into a building site, massive skips and shrieking angle grinders forcing a swift change of location. Luckily Whelans promoter Dave Allen is about, and kindly lets us into their somewhat more film-friendly interior where we do our interview for the 9.00 O'Clock News.
I hurtle home on my trusty bike, snatch 15 minutes to choose and iron a nice shirt, then we're on our way to the first of our two screenings.
The Drummer And The Keeper is a buddy movie about an unlikely friendship between a rock drummer with Bipolar disorder and a young goalkeeper with Aspergers Syndrome.
We had a huge amount of support from the Autism community in our preparation and rehearsal phase, and many of our featured extras were actually people with Autism from the Aspire drama group, so we felt it was important that our launch would not just recognize their important contribution to our movie but also be as accessible as possible to people with Autism.
Hence we're actually running two premieres back to back, with an earlier Autism-friendly screening preceding the main event.
At 4.00pm our featured extras (which also include footballers from Dyspraxia Ireland) plus family members and representatives of various groups from around Ireland, gather in the Lighthouse's largest screen. The main difference to our later screening is that we've deliberately left plenty of vacant seats so nobody feels crowded in, the lights aren't turned down quite so dark, the sound isn't quite as loud, and instead of clapping the audience express their appreciation by waving their hands.
People ask me why I sit in on screenings of a film I've seen (I would conservatively estimate) 200 times already. But viewing it with an audience is a totally different experience to watching it in an edit suite: far more terrifying and exhilarating, and surprisingly… surprising.
The Drummer and the Keeper director Nick Kelly on finally watching the film with audiences - incredible & scary! @TDATKFilm @nickgestation pic.twitter.com/gXh1VjwUn1

— Irish Film Institute (@IFI_Dub) September 11, 2017
Each of the handful of times I've viewed The Drummer And The Keeper in an auditorium since our debut screening at the Galway Film Fleadh has been unique. People laugh – or don't – in different places. And you feel the pacing quite differently with each group.
Today, I'm incredibly conscious that – although we're not pretending to be a documentary or setting out to make any big political or sociological statements – our movie portrays fictional characters with challenges that are experienced in real life by many in the room. Almost nobody laughs at even the funniest bits. I have a sense of incredible concentration and focus throughout – and therefore a huge sense of relief when the lights finally go up to a sea of enthusiastically waving hands.
Viewing it with an audience is a totally different experience to watching it in an edit suite: far more terrifying and exhilarating, and surprisingly… surprising.
There's also a meaty question-and-answer session, which means that by the time our first audience are filing out the red carpet is already filling with cast, crew, celebrities and photographers for the later screening.
The next 30 minutes is a blur. Ralph Rolle, drummer with Chic, has his picture taken with our star-struck star Dermot Murphy. A friend turns up with some professional footballers in tow. Tall and beautiful women I know arrive, even taller and more beautiful than usual. I take to hugging everybody, just because it's easier.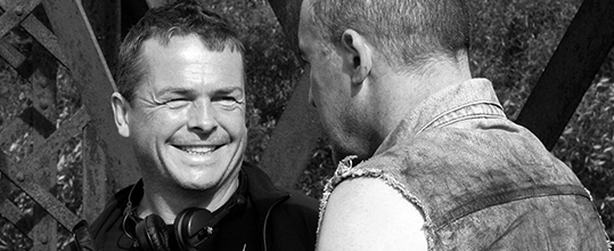 I sit in for the first 25 minutes – a completely packed auditorium this time. They're laughing at every joke, even the ones I'd forgotten I'd made. Then I discreetly sneak off for my first bite of food since breakfast.
I return for the final ten minutes – in my absence, the room has turned into an emotional basket case. So many people say so many nice things to me at the drink reception afterwards that I start to feel like I'm actually attending my own fantasy funeral.
I finally sneak away when I realize that I'm now bloated on affirmation to the point of semi-queaziness, like a child gorged on Easter eggs, and am starting to thank people by rote.
I pad up the stairs from the still-thronged basement party, pausing only to sneak a quick selfie against the Lego mansion now standing proud – and safely walled with Perspex - in the foyer.
The Drummer and the Keeper is on general release in Irish cinemas nationwide.