Pavel Barter, documentary maker, writes about his Documentary On One production The Brigadier, about Eric Dorman O'Gowan, an Irish general who played a decisive role in stopping Rommel in North Africa during World War II, before turning his back on the British Army to become an Irish nationalist.
Eric Dorman O'Gowan was a fascinating bunch of people. A British general and a fervent Irish nationalist. An architect of the Rommel's defeat at Alamein, during the Desert War of World War II, who was fired by Winston Churchill. One of the 20th Century's greatest military strategists who planned raids against the British Army during the 1950's. A friend of Ernest Hemingway and an enemy of Bernard Montgomery.
Listen to Documentary On One: The Brigadier below: 
We need your consent to load this SoundCloud contentWe use SoundCloud to manage extra content that can set cookies on your device and collect data about your activity. Please review their details and accept them to load the content.Manage Preferences
When my father gave me a copy of Chink: A Biography, Lavinia Greacen's 1989 book about the man, I could not foresee that it would take me on a two-year journey into the life and times of one of Ireland's most controversial, yet least remembered, 20th Century figures.
But when I learned that my grandfather had taught him prior to World War One, I set out to learn more about this enigmatic maverick. I wanted to know why his life was so full of conflict; why he was loathed and loved in equal measure.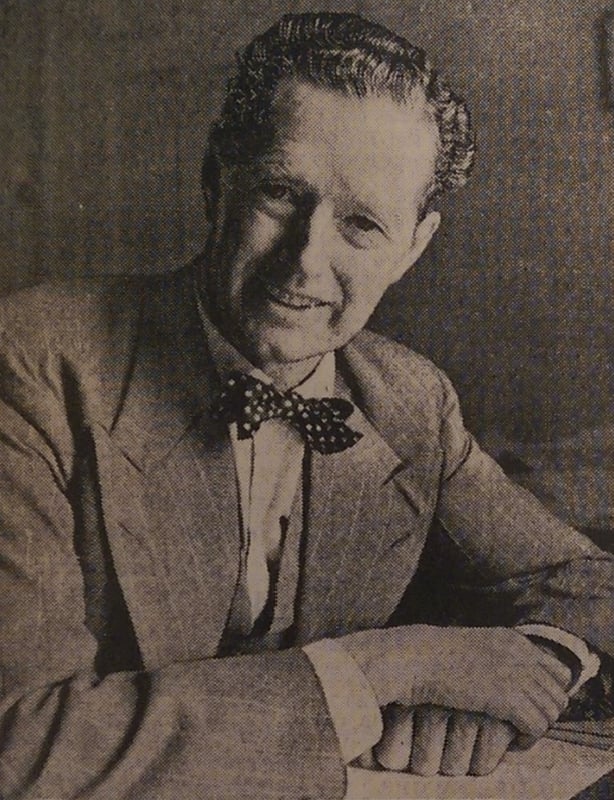 Eric Dorman O'Gowan (1895-1969) - or Eric Dorman-Smith as he was known before he changed his name to its pre-Anglicised origin - had a foot in many different worlds. I took it upon myself to visit some of those worlds and meet people who frequented them.
My journey began with a visit to the place O'Gowan was born: Bellamont House in Cootehill, Co Cavan. Noel Carney, tasked with restoring the property, took me on a tour of this Palladian villa, which was constructed in the 1720's by architect Edward Lovett Pearce. Standing on a hill, overlooking lakes on either side, the home captures O'Gowan's personality: masterly yet isolated.
I visited Hugh B. O'Brien, an historian in Cootehill, who talked about the role Bellamont played in local history. To my surprise, O'Gowan's grandfather hailed from the same region of Co Down as myself - Rostrevor, at the foot of the Mourne Mountains - before he purchased Bellamont in 1874.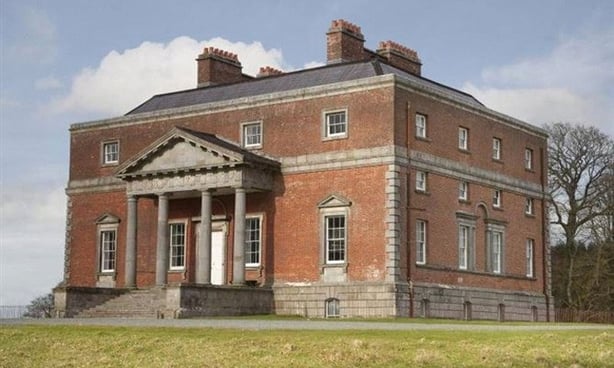 I met Lavinia Greacen, who interviewed my grandfather for her book. O'Gowan was nicknamed Chink, after his regimental mascot, the chinkara antelope. Christopher Dorman O'Gowan, Eric's son, showed me his father's Military Cross, the highest accolade in the British Army, which he won for his efforts in the trenches of Ypres during World War One.
I spoke to Jeffrey Meyers, Ernest Hemingway's biographer. O'Gowan and Hemingway met in Italy at the end of the First World War. Hemingway, then 19 and yet to become a literary sensation, was working for the Red Cross on the front line when he met O'Gowan. The pair became lifelong friends and O'Gowan influenced much of the writer's work.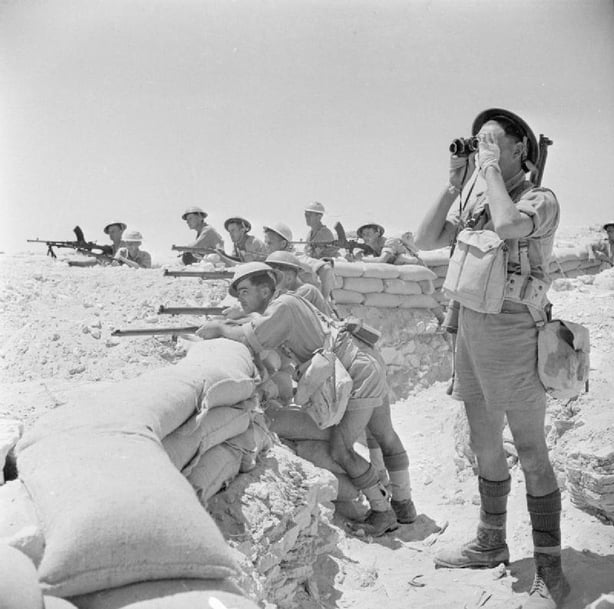 My journey took me to England, to the home of Correlli Barnett, a military historian who talked about the development of O'Gowan's approach to military strategy and how he clashed with fellow officers. Barnett talked about O'Gowan's success at Alamein, during World War II in 1942, why Churchill fired him and how Montgomery took all the credit.
I visited the John Ryland Library in Manchester, where O'Gowan bequeathed boxes of letters, notes and documents, leaving a thorough representation of his thoughts once he had returned to Bellamont in the late 1940's. For him, the new battleground became righting his reputation. There were many fronts. There was a fight with the Sunday Times, which published excerpts from the memoirs of Field Marshal Harold Alexander, who supposedly denigrated O'Gowan's role in the Desert War. O'Gowan sicced his lawyers onto the newspaper immediately.
He threatened to sue Churchill over an entry in the former PM's memoirs, which described his actions as disastrous. In fact, his lawyers were employed all over the place, sent out for everything from slight disappointments in newspaper articles, to local affairs, such as destruction of heritage sites and water pollution in Cootehill.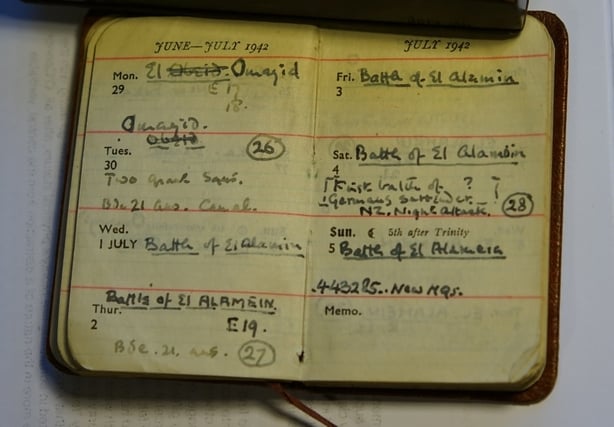 In Ireland's National Archives, I read about O'Gowan's 1950 tour of the United States, which he took at the behest of Seán MacBride, the IRA veteran turned politician, calling for an end to Irish partition. At the same as O'Gowan visited cities such as Chicago, Boston, and Los Angeles, Basil Brooke, then Prime Minister for Northern Ireland, was touring America shouting about preservation of the union. O'Gowan, naturally, was ready for the rumble.
Throughout my research, I heard varied reports about the extent of O'Gowan's involvement with the IRA during the Border Campaign of the 1950's. The truth, revealed to me by one of the organisation's leaders at the time, is in my documentary.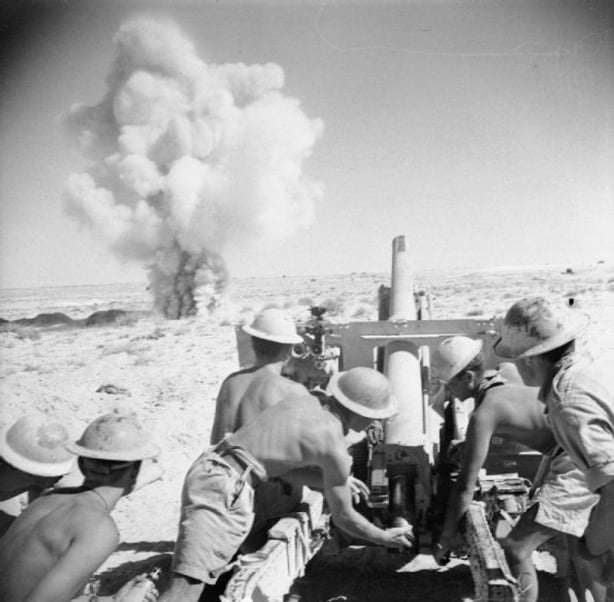 I also took a trip to the Churchill Archive Centre at Churchill College, Cambridge, to read Correlli Barnett's correspondence with O'Gowan in the late 1950's. At the time, Barnett was a young historian hoping to make a name for himself. His book about Alamein, The Desert Generals (1960), did just that. The book challenged the widely held myth that Montgomery was a victor and O'Gowan was a disaster. In fact, Barnett suggested, Montgomery used O'Gowan's plans for defeating the Nazis.
The Desert Generals created controversy in the British press upon its release in 1960. Montgomery remained tight-lipped, but Alan Packwood, director of the Churchill Archives, told me "it may be one of the reasons why we don't have the Montgomery papers in our archives. He left them to the Imperial War Museum in London." You see, Correlli Barnett, who cast doubt on Montgomery's integrity, founded the Churchill Archives.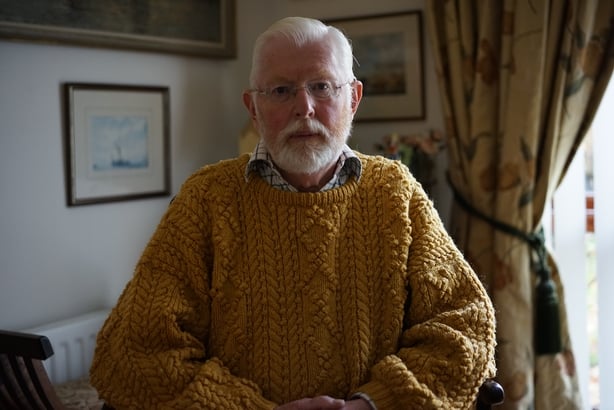 Eric Dorman O'Gowan might be forgotten by Irish history, but the ripples he created can still be felt at the upper echelons of Irish society. I visited Aogán Ó Fearghaíl, President of the GAA, who grew up near Cootehill and has studied O'Gowan's life.
"It's very difficult for anyone to imagine a major general of the British Army becoming, within a few years, an advisor to the IRA," he told me at his office in Croke Park. "This was complicated, complex, individual. A man who loved archaeology, heritage, the history of Ireland, but who still kept some of the trappings of British aristocracy. A complex character."
Documentary On One: The Brigadier, RTÉ Radio 1, Saturday September 9th @ 1pm, with a repeat on Sunday September 10th @ 7pm.