In an ongoing series of articles, critic and broadcaster Cristín Leach selects 21 artworks for RTÉ Culture that define Modern Ireland.
Number Fourteen: Colin Davidson - Her Majesty Queen Elizabeth II (2016)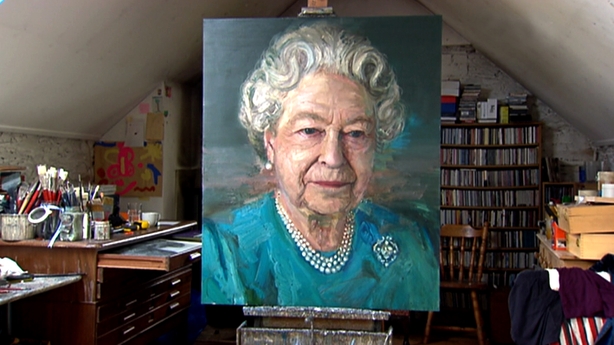 In 2010, Belfast painter Colin Davidson produced an image that marked a turning point in his career. Just Sharp Reminding (Portrait of Duke Special) was the first large scale portrait the artist, then known for his urban scenes, had exhibited. It won a prize at the Royal Hibernian Academy. Later that year, Thread the Light (Portrait of Glen Hansard) won another at the Royal Ulster Academy, and the following year his portrait in the same style, of Brian Kennedy, won again at the RUA. Davidson had begun with Irish musicians, but a 2012 exhibition at the Oliver Sears Gallery in Dublin revealed the scope and scale of the growing series: four-foot wide portraits of magnified faces, some famous, some not, rendered in slightly blurred, dynamic brushstrokes. In each, the eyes mark a point of stillness as the subject stares into the middle distance, lost in private reverie.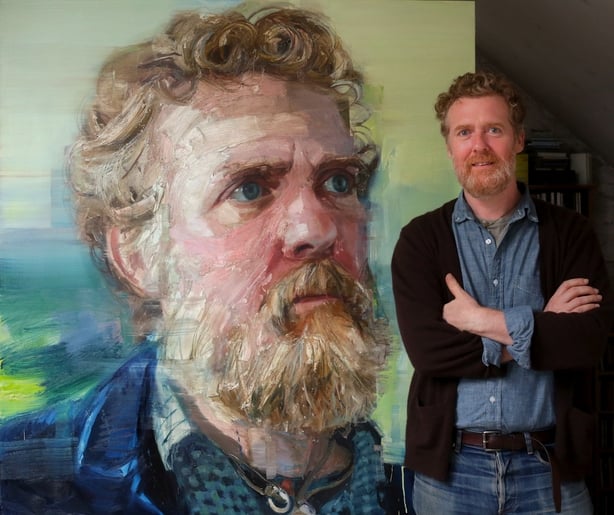 Six years on, Davidson's 2016 Co-operation Ireland commission to produce a painting of Queen Elizabeth II, came after Hollywood actor Brad Pitt had spotted his Hansard on an album cover, resulting in a 2013 portrait of Pitt, now in the Smithsonian National Portrait Gallery collection in Washington DC; and Time Magazine called, commissioning his only in absentia portrait, of German Chancellor Angela Merkel for the cover of its 2015 Person of the Year edition. By the time Davidson came to paint the Queen, he had also produced the last portrait of poet Seamus Heaney, as well as portraits of Liam Neeson, Kenneth Branagh, Mark Knopfler, Jennifer Johnston, Brian Friel, Paul Muldoon, Sinead Morrissey, Marie Jones, Michael Longley, Jamie Dornan, Gavin Friday, Lisa Hannigan, Ciarán Hinds, Markéta Irglová, Roddy Doyle, Basil Blackshaw, and more.
We need your consent to load this YouTube contentWe use YouTube to manage extra content that can set cookies on your device and collect data about your activity. Please review their details and accept them to load the content.Manage Preferences
Each painting is almost square, and large, at 117cm wide by 127cm tall, except for his portrait of the Queen, which stands a little taller. It stands out, not only amongst the predominantly male gallery of faces captured so far, but as the signifier of another gear-change. Based on a single sitting session with the then 90-year-old, of just under two hours, at Buckingham Palace, it took five months to complete, and it is a political painting, as much as a royal commission. Davidson has described it as an acknowledgement of the Queen's role in "advancing healing in the Anglo-Irish relationship."
Davidson works at a scale that offers no room to shy away from wrinkles or blemishes, and yet, these portraits appear affectionate, not brutal in their scrutiny. Flesh-tones seep into the nondescript background, a touch of one of the colours worn by the sitter escapes into the space next to or behind them.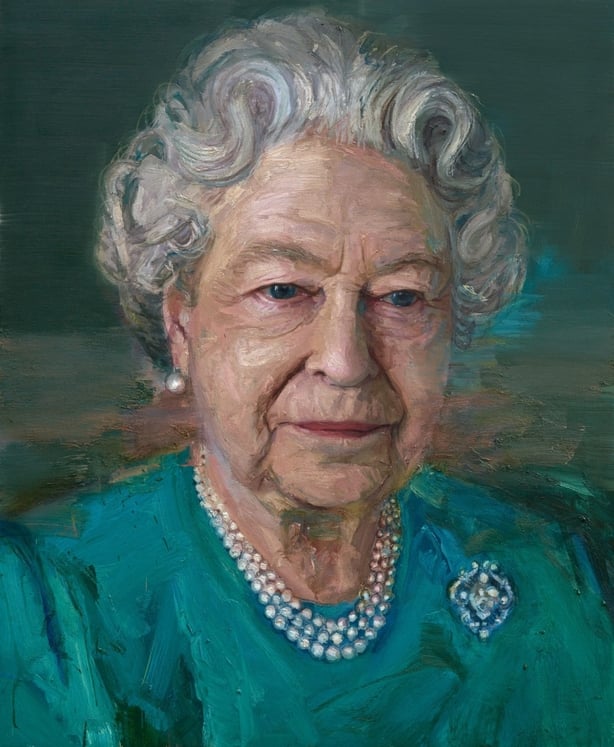 He lets his subject choose their own attire. The Queen wore pearls, but no crown. Davidson chats, sketches and takes (remote controlled) photographs, as source material, using a camera on a tripod, during sittings. His aim is to capture the subject in a moment when they are no longer consciously posing, when they have slipped into a less public version of themselves. The result, when it works, it a painting that is honestly intimate, and powerfully vulnerable.
In 2011, Queen Elizabeth II became the first British monarch to visit Ireland since Independence, and the first to step foot in the south of the island in a hundred years. Martin McGuinness, the late Sinn Féin deputy First Minister of Northern Ireland, described that visit as "premature", and declined to attend official events. But in 2012, the Queen and the former IRA commander McGuinness shook hands, on another visit, to Belfast. It was the same day she saw five of Davidson's portraits at the Lyric Theatre in the city.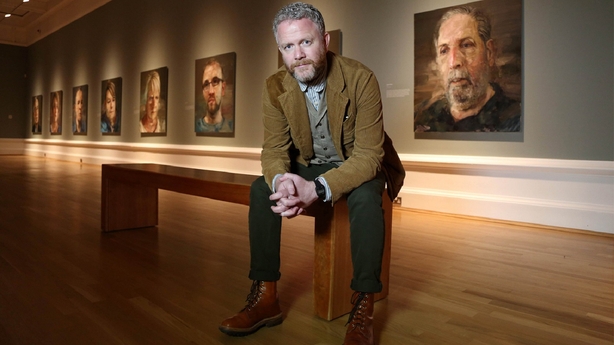 Davidson's aim is to depict the subject as a human being, without the public mask. Perhaps wary of the celebrity portraitist tag, he had already shifted towards more overt political statement with a 2014 portrait series of people who live or work in Jerusalem. His 2015/16 Silent Testimony portraits of 18 individuals who have experienced loss during the Northern Ireland Troubles have shown in Belfast, Paris and Dublin. His portrait of Britain's longest reigning monarch is a painting that captures a moment of maturity, for the artist, the sitter, and the country.