In an ongoing series of articles, critic and broadcaster Cristín Leach selects 21 artworks for RTÉ Culture that define Modern Ireland.
Number Twelve: Corban Walker - Grid Stacks (2007)
In 2007, Corban Walker exhibited five of his six Grid Stack sculptures at the Green on Red Gallery in Dublin. Like a beautiful iteration of the shimmering, enticing ambition of the Celtic Tiger, these glassy constructions sat, squat on the wooden gallery floor, architectural and almost bejewelled.
They are made from layers of two types of highly polished glass: diamante and clear float. From a certain angle, the clear float glass portions of each stack are practically clear, while the diamante take on a deep, dark bottle-green solidity. Placed at right angles to each other, the layers form towers in which other shapes emerge: columns, zigzags and diagonal lines held in suspension within the overall shape.
Grid Stack 2 is now part of the Irish Museum of Modern Art collection. It looks a lot like a scaled-down city building, a high-end architectural model of a tower block – for executive offices perhaps, not accommodation, at least not of the kind of accommodation generally found in buildings described as tower blocks. The Grid Stacks are like a corporate concept offering, a glittering set of skyscrapers for some precious Emerald city. None of them stands more than a metre tall.
When artists endure and keep making work, interpretation and meaning tends to come full circle. Five years later, Walker represented Ireland at the Venice Biennale with Please Adjust (2011), a room-sized installation of interlocking open-frame metal cubes. Please Adjust is also a self-supporting structure, this time messier, with apparently infinite potential forms and shape. It was intended as a visualisation of the instability inherent in the kind of interconnected, social, political and economic structures that can lead to a global financial collapse. After Venice, it toured to Lismore Castle Arts in 2012.
4pm this afternoon. Installed at Lismore. Come celebrate tomorrow 5.30-7.30 pic.twitter.com/2IN0gIMK

— Corban Walker (@corbanwalker) June 22, 2012
Walker's best work forces us to adjust our stance, to look from some other angle. His sculptures are made in cognisance of his own four-foot stature, using 'Corban-scale' - the ratio between his height and the Western male standard of six feet, on which much design, and therefore most of the built world around us, is based. His sculptures make, often very formal, visual connections between materials, objects, viewers' perceptions and their experience of physical space.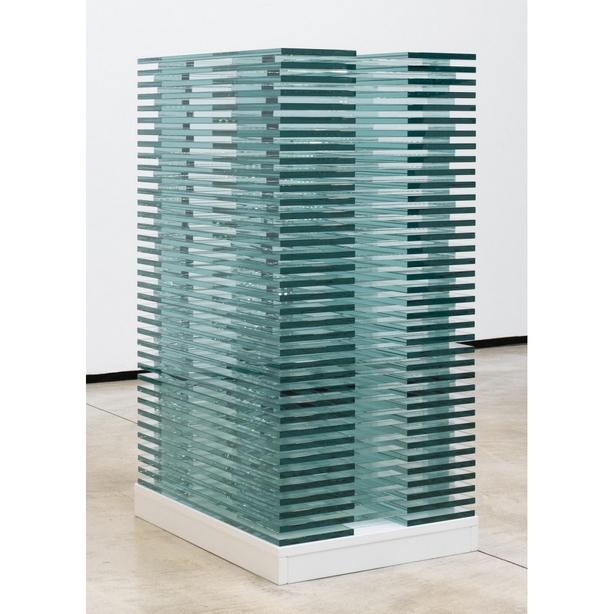 One of the key achievements of the Grid Stacks is that they give the impression of being somehow solid, although they are not. There is as much air as glass in the structure of each. They look like a single unit, but are in fact held together only under the support of their own weight. A pile of individual plates, they are fragile and industrial, precarious and beautiful, carefully engineered to be stable, until, and unless, something shifts.