Filmmaker Garret Daly talks about his new project, The Secret Market, which premieres this weekend at the prestigious Rhode Island Film Festival.
Throughout the course of my varied career of highs and lows I've been known to utter the words 'never again'. This was a committed resolution I had ring-fenced around the production of short films, simply because they are expensive to make and market with little or no return. You simply can't keep making them. I had intended to keep that promise to myself when along came a script, a very good one, and you think to yourself… well?  If i'm being honest, making films for me has rarely rooted itself as a viable business, which leaves me to think,  the only known explanation for such storytelling impulses, is a form of creative addiction.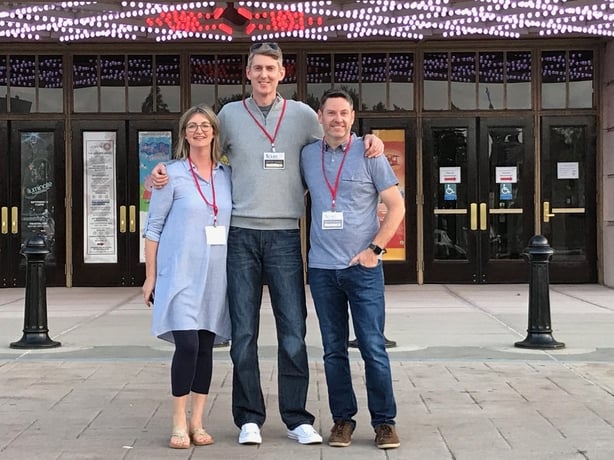 This recent celluloid fatal attraction presented itself as a terrific screenplay from Limerick writer Conor Ryan called The Secret Market. It's the story of surgeon who is left reeling from a revelation that could threaten everything she has built in her life. It's frightening because so much of what revolves around the story is happening in many different forms today, and we all felt that this fictional world created by Conor would have audiences examining their own past post-screening.
We need your consent to load this YouTube contentWe use YouTube to manage extra content that can set cookies on your device and collect data about your activity. Please review their details and accept them to load the content.Manage Preferences
It's a big story with big ambitions, so we knew assembly a great team was beyond essential. The we in this equation includes my partner Martina McGlynn. She too is inflicted with the desire of storytelling and once we set our minds to a project we see no barriers, making us an effective and focused team. 
The name Victoria Smurfit came to mind instantly on reading the script and without hesitation we sent it to her in LA. Victoria loved the screenplay too and was onboard straight away which was an amazing boost. From there, we set about casting through Irish agencies and we were blessed to assemble a who's who of Irish talent. Tadhg Murphy direct from Ballyturk and Vikings, Mark Huberman, Jonathan White and the wonderful Camille O'Sullivan. It was beginning to feel like the cast of an Irish feature film let alone a short film!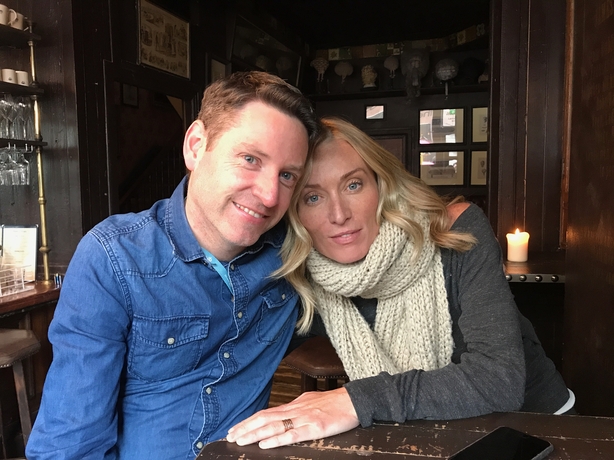 Shorts are always made with limited budgets. This forces you to produce with maximum efficiency, find great affordable locations, clever costumes and elaborate props. Limitations force the mind to become imaginative in ways you may not with a blank cheque mentality. Having an outstanding professional crew also greatly helps with realising creative possibilities.
A four-day shoot, one in Dublin and three in Offaly (our home county). One of the greatest joys in making a film is encountering the generosity of people when you go in search of the mundane in the pursuit of simple storytelling. From hospital staff, owners of homes, castles, offices and even the patience and enthusiasm of one hundred extras, hospitality knows no bounds on these projects!
Scene by scene, edit to sound, picture grading to mastering, we've now finally reached our goal of delivering an engaging film that will find its way to audiences over the coming months. It's also a reminder of why Victoria Smurfit came to mind in the first place. She's a wonderful performer, professional, a joy to work with, possessing a talent that constantly shines. This is now her film. A commanding powerhouse performance that needs to be seen. A strong female lead in a contemporary thriller which passes the Bechdel test with flying colours.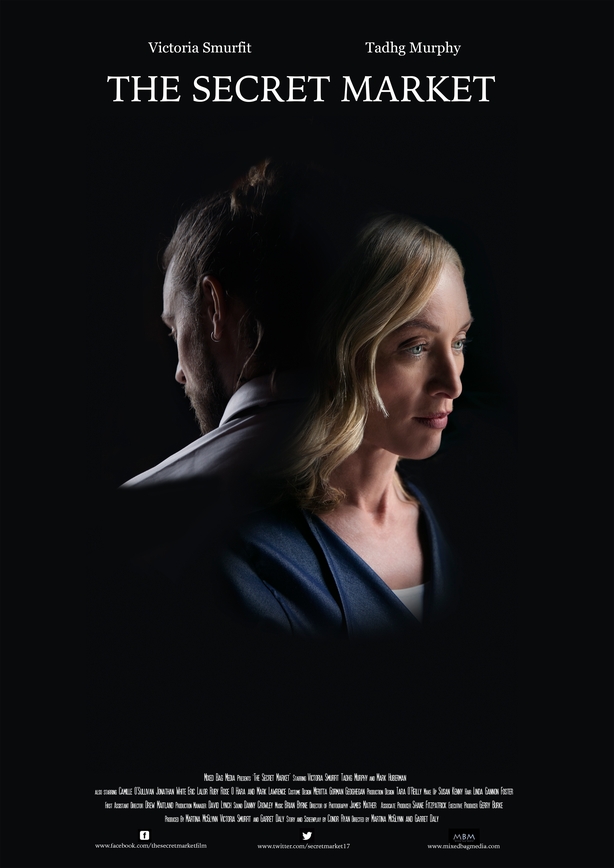 We are honoured that the Oscar-affiliated Rhode Island International Film Festival will hold the World Premiere of the film this Friday. Its the beginning of hopefully a long film festival circuit. That is the creative hit that makes it all worthwhile. A room full of unsuspecting genuine audience members waiting in anticipation.
The film festival -  rehab for creative addiction. And the reason I'll never say never again.
The Secret Market, directed by Garret Daly and Martina McGlynn will screen at The Rhode Island Film Festival on Friday 11th August at 9pm - find out more about the film here.