Monica McInerney hails from South Australia's Clare Valley but has lived in Ireland for 26 years now where she has written her twelve novels. "Everything I do as a writer is because I'm a reader," she tells Paddy Kehoe.
A gregarious type of woman, genial and chatty, Monica comes in the middle of a family of seven. Australian nephews and nieces have been over to visit her in Ireland and her eighteen-year-old nephew is staying with her and her husband at their home in Drumcondra at present, to be close to college. "We're used to having lots of people around," she says. "We're bringing this one (the nephew) out to Australia in December for the first time."
So the writer is a gregarious type, yes, but when she closes the door and sits down to writes an average of 2,000 words a day she is happy to be on her own. "I'm either really social or I'm really solitary," she says. The demarcation lines are clear? "It has to be," she says purposefully. "This is my twelfth novel and I'm about to start my thirteenth. And I've just been on a month-long book of Australia."
Indeed her website shows that Monica McInerney has been a busy woman publicising her latest novel, The Trip of A Lifetime in her native country. There were well-attended Monica McInerney occasions in lots of different cities, events like Lunch with... An Evening with . . In Conversation with . . .Morning Tea with... Monica at places like Hobart Book Shop, along with a handful of appearances at libraries throughout Australia. "It was pretty full on, I can feel the need to be back on my own again," she says. "I'm really feeling that urge to write again and to be quiet and just think." She loves the business of writing: "I'm really content."
Her new novel, The Trip of A Lifetime is the third to feature her character Lola Quinlan "It's the story of an unusual home coming, an 85-year old Irishwoman (Lola) who emigrated to Australia as a 20-year old and, for the first time in 65 years, she is going home. She has startled her family with this announcement, they have never known the full story of what caused her to emigrate. She's been very sketchy with the truth about quite a few parts of her life."
Lola came to Australia as a newly-wed with her Irish husband; they had a son, Jim, but the marriage soured very early on. She raised Jim on her own and has told him an account of her early life and his father which, it becomes clear, may not be true.
"She is a flamboyant character, larger than life and confident and yet they see her getting more and more nervous as she gets closer to coming back to Ireland. It's about working out where home is for her. It's an emotional story about family life, the family you are given and the family you create for yourself. "
A 444-page novel, with a difficult family story at its core - it can't have been that easy to write. Were there knots in the story that had to be teased through in the writing process? "There are always those moments but I don't plot my books beforehand, I write them exactly as you read them. At the start of this book, I didn't know what was going to be waiting for this 85-year old when she got home."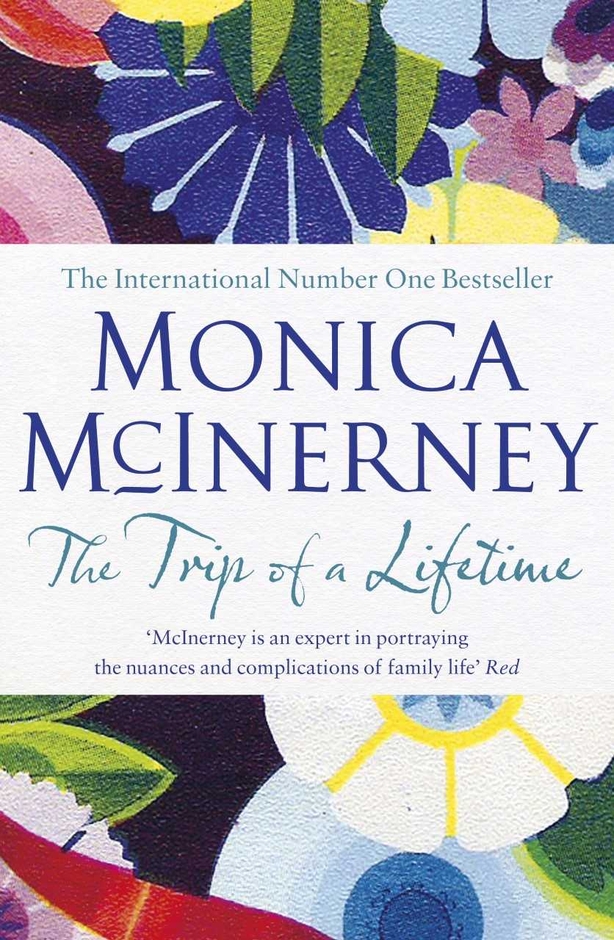 "That made it interesting for me, there would be days when I'd come up the stairs – because I work in the attic at home – and I don't know what's gonna happen for her (Lola). Then I thought, `that's what that trip would have been like,' there'd be days when she would think `is this gonna work, should I not have come?' If there were tricky moments writing it (the novel), they became part of the plot."
We didn't get into favourites, but suffice to say the one-time book publicist reads two or three books a week when she is not promoting a book of her own, "and talking too much about myself."  For her the writing process is akin to the reading process. "Everything I do as a writer is because I'm a reader. I met a cousin of mine from Tipperary at the weekend, and she reads the last page of a book first. The idea that you would do that first!" she reflects, still taken aback. "Whereas for me, it's the way you can be surprised by a plot twist or a character's decision - as a writer, I enjoy that same process."
She also writes a tasteful scene when Lola and Edward make love for the first time. "An 85-year old woman was a 20-year old woman once and felt the passions and the desires and the misguided decisions that every young woman does," she says. "It was really important for me to make that realistic."
A regular number one bestseller in her home country and in the top ten in Ireland with her novels, the 52-year old novelist has sold millions of books. She has been translated into 13 languages, including Lithuanian, Latvian, Spanish, Italian, German, French and Portuguese. She has done regular book tours in America too where she is a popular entity.
Her latest novel - involving as it does Australia and Ireland - arises in part from her very real feelings now of being torn between two continents. The novelist's trip back to Australia in December will be her fourth visit in sixteen months and she is at notable half-way point - 26 years of life in Australia followed by 26 years of living in Ireland.
Most of the second half of her life has been spent with her Irish husband John, who she met in Melbourne. He was working on a newspaper where a friend of Monica's also worked – "she match-made us". The couple are currently writing a drama series for TV together.  She figures she could have maybe 30 years of life left, "if I'm lucky."  Her Irish father-in-law is 101 and similarly Irish mother-in-law is 92. "They are interested in life still," she observes admiringly.
At one point we get philosophical, as one tends to do in interviews with writers. "I wish I could get to that point where I'm less anxious about things, I keep waiting for that moment to come when the world is clear," she reflects, matter-of-factly," - and it's not gonna come." The world may not be totally clear but one thing is clear  - Monica McInerney is here to stay as a writer of hugely popular fiction.
The Trip of A Lifetime is published by Penguin/Michael Joseph.