Space is the place - filmmaker Emer Reynolds writes about her acclaimed documentary The Farthest - watch it here now via RTÉ Player.
The beginnings of The Farthest - which tells the tale of the amazing Voyager spacecraft and its Golden Record – can perhaps be traced back to 1979 in Dublin's Savoy Cinema, where I saw Star Wars - my very first film - and in the process sparked a lifelong obsession with space.
Many moons later, Producer John Murray and I were delighted to discover in each other this same love, and a mutual fascination with Voyager. In 2013, when Voyager became the first human-made object to reach interstellar space, we felt the moment had come to tell this wonderful story on the big screen. I wrote the proposal in a flurry of intense activity, and after two years raising the budget, we started pre-production proper in May 2015.
Producer Clare Stronge and I knew we needed to find a great cast of characters to tell the story, and we went on a whistle-stop tour of American cities - 14 cities in 12 days- to track down the great personalities who would tell this epic adventure with humanity, honesty and humour. We met spacecraft engineer Frank Locatell at his home in Northern California, where he now creates giant granite sculptures; Project Manager John Casani, who chose to meet us at a BBQ ribs restaurant and was crushed to learn I was vegan; the irrepressible Carolyn Porco, a whirlwind force of science and nature; and the gentle and awe-inspiring Ed Stone, Voyager's Chief Scientist. We laughed so much- there were a few tears too, but that was more the fault of an irrational Sat. Nav.- and I knew if we were lucky enough to capture their spirit on camera, that the film would sing.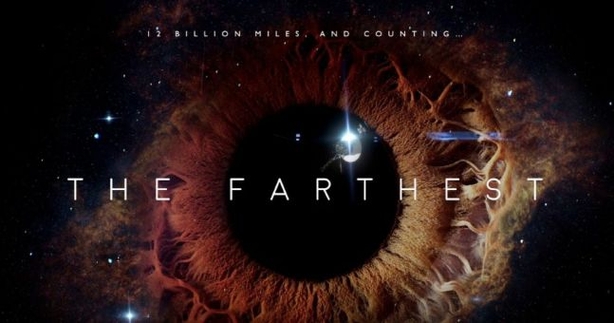 Back home, as archive researcher Aoife Carey swung into action, Cinematographer Kate McCullough, Production Designer Joe Fallover and I began to design the look and feel of the film- I wanted beautiful, modern, detailed and epic, in chromes, blues and oranges- and having found a nebula-inspired look for the interviews, we headed to Pasadena, California with a very curious kit of sparkly material, Christmas tree lights and silver and blue gels. Going through customs was interesting to say the least.
We filmed for six weeks with just a tiny crew, including Line Producer Zlata Filipovic, Camera Assistant Joseph Ingersoll and Sound Recordist Kiwi Horgan, who happily tamed the Sat. Nav.; obligingly carried all the sandbags (although 'bringing sandbags to a desert??!!" was overheard); and kept us laughing.
Our home in L.A. was a studio that was once an ostrich farm, where over 25 of Voyager's original engineers and scientists dazzled us with their warmth and generous stories. We filmed at The Very Large Array in New Mexico, where radio telescopes are laid out for miles on a dewy mountain plain; at dawn on Cape Canaveral to the sound of thousands of mosquitoes dining on us; and were humbled into silence in a majestic Redwood Forest.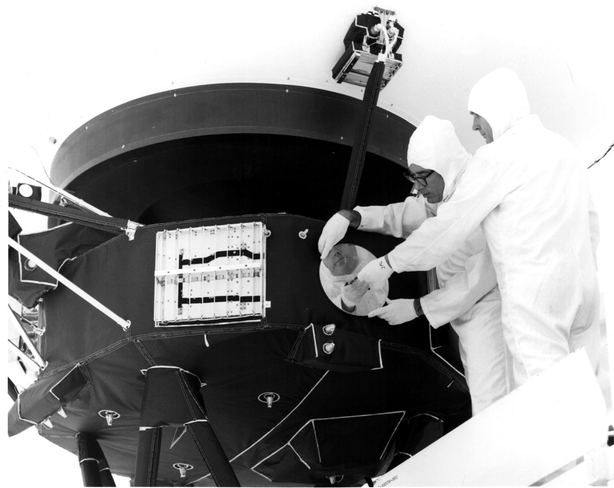 In another studio in Dublin 8, we filmed all the intimate, macro details that form the lush visual palate of the film, including instruments from the Dublin Gamelan Orchestra, paintings from schoolchildren in Killester, and our very own Gold Record.
The edit began in earnest with film editor Tony Cranstoun; long months of piecing together the vast swathes of material and story, and the film of brave Voyager and its spectacular era-defining discoveries began to emerge. In time, our team grew with the arrival of composer Ray Harman, sound designer Steve Fanagan, and Ian Kenny, who single-handedly created all the beautiful CGI in the film from his studio in Monkstown.
For over a year, we imagined never before seen time-lapses of Voyager's original images; licensed iconic '70s music from artists as varied as Pink Floyd and The Carpenters; riffed on the Golden Record's mind-bending attempts to communicate with aliens; and explored the primal, cosmic questions that the contemplation of space evokes in us all; Why are we here? Are we alone? How will it end? In the process we discovered a film that's about much more than space, it's about the nature of being human.
In February 2017, I found myself back in Savoy One at the World Premiere of the film at ADIFF, where it won the Audience Award. It has been travelling to film festivals worldwide ever since, including Tribeca, Sydney, Seattle, L.A and Edinburgh, and is coming back home soon, to open in Irish cinemas on July 28th.
Star Wars has a lot to answer for.