Following its acclaimed revival at the Abbey this spring, Michael West's play Dublin By Lamplight is heading to this year's Galway International Arts Festival. The playwright previews the production for Culture.
Our initial inspiration in making Dublin By Lamplight in 2004 was the celebration of two centenaries — and cultural touchstones — that loomed large that year: the founding of the Abbey theatre and the setting for James Joyce's Ulysses.
One commemorated a real event which involved the telling of made-up stories about ourselves; the other was a fictional day, embedded in detailed authentic period reconstruction that is treated as if it really happened.
We wanted to collapse these myths of origin together and tell the story of an amateur drama group trying to establish a National Theatre, and tell it as the story of a single day.
Early 20th century Dublin seemed uniquely suited to this challenge. From the poverty to the politics, the literature to the excrement, the period is fetid with mythmaking and obsessed with the Birth of a Nation. Theatrically it was like imagining a silent movie with dialogue.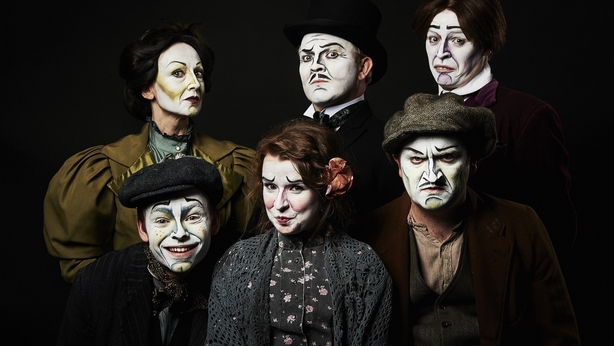 Dublin By Lamplight began life as an exploration into combining styles of performance — in this case Story Theatre and Commedia.
We played with various texts and research, including Goethe's Faust — which gave us Willy's lease and the name of Maggie — and a couple of stories from Joyce's Dubliners — which, as well as giving us the idea for the show we made for the Dublin Theatre Festival in 2012, also supplied the title and some of the linguistic colour.
There's an enormous amount of rich and often hilarious research material for the period, but what struck us again and again was Yeats' stubbornness in persisting with his dream of founding The Irish National Theatre Society, which became the National Theatre of Ireland, or The Abbey.
It was fascinating to revisit the many opportunities Yeats could have taken to walk away from what was often a thankless task, and certainly one that took up a huge amount of time and energy for little obvious reward. As someone who's always been fairly allergic to his plays, I found this obstinacy hugely encouraging and rather endearing. Why on earth did he stick at it?
Private letters and public spats between Lady Gregory, the Fays, Maud Gonne, the Yeats brothers, Arthur Griffiths, Annie Horniman — and anyone who could be bothered listening — detail insults and betrayals and high-handed denunciations that are both passionate and outlandishly petty.
There's Yeats himself, delicately accepting money and refusing costume designs from the benefactress Annie Horniman. And Maud Gonne, who'd created the role of Cathleen ni Houlihan, refusing to hand over the 'vital wig for the name-part' to Fay and Gregory, only relenting with extreme reluctance after Yeats intervened. As well as the intrigues and counter-plots and all of WBY's talk of 'high ambition' there are the familiar scrambles for money, rehearsals in leaking buildings, the tales of disasters, rewrites, late arrivals and grandstanding exits.
It's wonderful, human stuff and it offers great scope for a comedy of artistic and political hubris — but the whole rag and bone shop is flushed with genuine and passionate conviction that is as inspiring as it is eye-watering. It felt at the time, and has continued to feel, a real gift.
Dublin By Lamplight is at the Galway International Arts Festival from July 25-30 - details here.