In a new series of articles, critic and broadcaster Cristín Leach selects 21 artworks for RTÉ Culture that define Modern Ireland.
Number Nine: Siobhan McGibbon - What's between our legs ain't no bodies business but ours (2013)
The work of Siobhan McGibbon first came to wider attention when she was selected for inclusion in the Dublin Contemporary exhibition of Irish and international art in 2011. Her disturbing, but exquisitely-made human hair and wax sculptures were among the really worthwhile finds in that show.
Two years later, Haemangioma, her fantastic blob on legs in fibreglass resin and white enamel paint won a prize at the RHA annual show. What's Between Our Legs Ain't No Bodies Business But Ours appeared at the RHA the following year, having been seen at the Galway Arts Centre and the Talbot Gallery in Dublin as part of McGibbon's first Irish solo show in 2014.
Working again in resin and fiberglass, McGibbon produced a sculpture, which depending on the angle you view it from, is either raunchy or demure. From behind it offers an almost sexually aggressive, leg-over pose; from the front, it closely resembles the lower body part of a woman sitting neatly and waiting - except for that extra leg.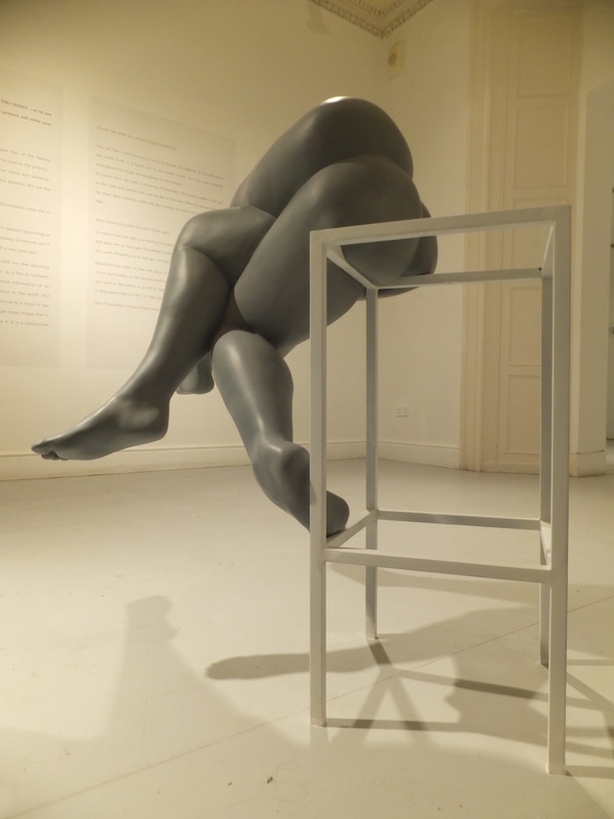 A 2009 GMIT graduate, McGibbon's strongest work explores anatomy and autonomy, and stems from her interest in the intersection between art and medical science. This piece sparks thoughts about bi or homo-sexuality, female desire, pro-creation, and gendered expectations and perceptions. Depending on how you approach it, any two of the three legs could be paired. It may be a depiction of two people, or one in motion or in flux. It can be read as representing a fixed point in time or as a layered amalgamation of snapshots of movement, like an Eadweard Muybridge series of motion capture photographs.
McGibbon's 2014 show, Existing on the Edge of Anatomy, included pairs of tiny skeletons made from toenail clippings, which were connected at the pelvis to represent conjoined twins. Her work pivots on her ability to sensitively and cleverly explore the line between the macabre and the medical. It engages viewers in mixed feelings of revulsion and attraction. It is also, in this case, about female bodily autonomy.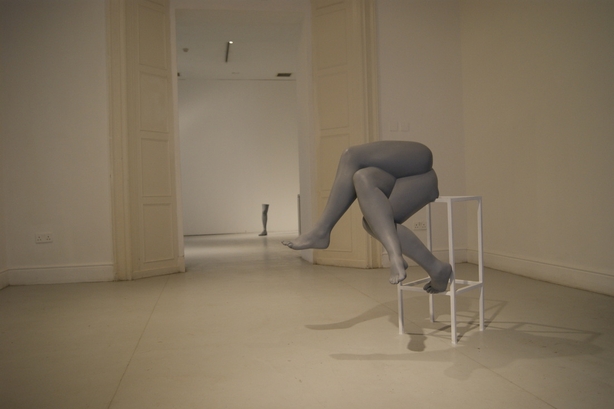 What's Between Our Legs Ain't No Bodies Business But Ours is an artwork made as the legal issues of abortion access and the 8th Amendment come up for repeat debate. McGibbon was born in 1986, the year the High Court ruled that provision of information to women in Ireland about abortion outside the State was in breach of the Constitution. It was also produced two years before Ireland passed its same-sex marriage referendum. This is a political sculpture for our times.