Meet BARQ - the high energy four-piece (Jess Kav, Neil Dorrington, Stephen McHale and Tommy Gray) shoving groove into the belly of the rock-beast and creating their own unique brand of 'agro-soul'.
Over the past couple of years, they've become one of the most acclaimed - and dynamic - live acts in the country. With a new single Optimus Prime on release, we decided to find out what makes BARQ tick...
When did you start?
Stephen: We all played together for a while in a hip-hop cover band, we did that for a couple of years, enjoyed it a lot but always had to play hip hop songs - so we developed a sound of our own, and we were like 'We should definitely be writing music as well...' We started doing that just over two years ago, but we wrote and recorded and got everything ready long before we did gigs. We released our first single just a year ago.
Jess: Myself and Tommy were in a funk band, 10 years ago, called Creamy Goodness. Next door there was a band called Leopold, in which these two guys (Stephen and Neil) were playing. But Stephen and Tommy went to college together a couple of years later together. So we've all played together in various kinds of ways for about 10 years.
Where does the name BARQ come from?
Jess: It's actually Arabic, and it means 'lightning'. Our original idea was to call the band Laika, which is the first dog that went into space , and somebody had already taken it. So when I was on the internet looking for inspiration, the name BARQ came up, and it works because Laika was a dog. There were actually two words, 'Barq', and 'Bareqeth', which is actually Hebrew for emerald, and also worked really well because Ireland and emerald, you know... We liked the word but there's nobody in the band with an Arabic background - we just thought the name was lovely.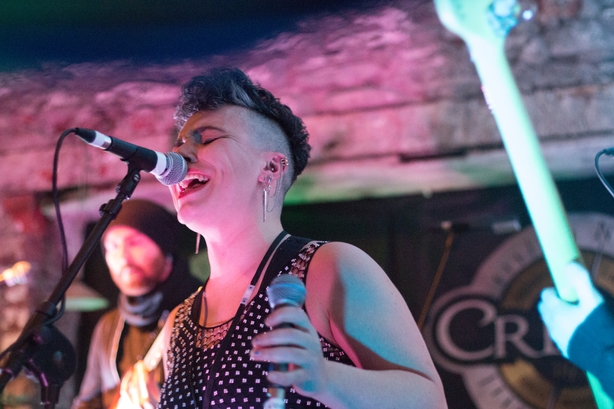 Tommy: Short name, long story.
You define your sound as 'agrosoul'. What is it?
Jess: Our music is a collaboration of all our influences, I love things indie and aggressive like Radiohead, but I love afro beats as well - the stuff is very dirty and the sound is really interesting. It'd be a big influence of mine. We're also influenced by Little Dragons, and obviously the people we grew up listening to as teenagers like Rage Against The Machine and Radiohead.
Stephen: There are hip hop influences as well, we all definitely listen to a huge amount of Kendrick Lamar right now, and we were growing up listening to a lot of Dr. Dre and Snoop Dogg, all that stuff. As we were originally playing in a hip hop band, that definitely influenced our music as we started to write - the sound had that kind of energy to it.
Stephen: Agrosoul is like 'aggressive'.
Tommy: It has soul, especially the way that Jess sings, which is much more aggressive than soul music - so that word was the simplest, condensed version of our style.
Jess: Too aggressive for soul music!
Tommy: Too soul for aggressive music!
What's your message?
Jess: We are very much the products of our environments, so what's coming out of me is to be angry at certain injustices in society, and the way that women are treated or people of color are treated, or the way that people of certain classes in Ireland or in the world are treated. It could be something that trickles into the lyrical content, but it's not something that I think about first, it's just something that happens very naturally.
Sometimes our music is very much about conflict - conflict within myself with another person, issues that I have with certain people or numerous people. I guess it's about catharsis, the way to find an emotional catharsis and expression through the music that we're playing, and also connection within the band and also with other people that are connected with our music.
How do you find the music industry in Ireland? Is it tough to break through?
Jess: I mean it's difficult, but you treat it like a job. Stephen is brilliant doing the administration stuff. We all have our different ways in which we contribute. I try to implement all the connections that I've made over the last couple of years, and maintain those rapports with people, just being good with fans, and setting up meetings, keeping people excited about what we're doing... that's a full time job!
Tommy: Managing your time is one of the biggest things that you learn, becoming organized in a way that you don't really associate with bands. That's the modern way, and that's really cool. Nowadays, bands are getting organized with social media and just the way they manage themselves... It's very structured - they become like entrepreneurs.
Jess: We all have other gigs, because we have to live, too. People are like 'Are you still doing that?' and we're like 'We're in a band in 2017, dude, this is how it works!'
BARQ's new single Optimus Prime is out now - find out more about them here.