We're delighted to present an extract from I Found My Tribe, the bestselling memoir by Ruth Fitzmaurice, published by Penguin. 
Ruth's tribe are her lively children and her filmmaker husband, Simon, who has Motor Neurone Disease and can only communicate with his eyes. Ruth's other 'tribe' are the friends who gather at the cove in Greystones, Co. Wicklow, and regularly throw themselves into the freezing cold water, just for kicks.
'The Tragic Wives' Swimming Club', as they jokingly call themselves, meet to cope with the extreme challenges life puts in their way, not to mention the monster waves rolling over the horizon. Swimming is just one of the daily coping strategies as Ruth fights to preserve the strong but now silent connection with her husband.
---
Three- year- old Sadie says that Dadda talks with his eyes. An eye gaze computer sounds less romantic. I'll ask his eyes she says when she wants something. He loves me! she exclaims like a surprise present. Love like a present is the gift we share from him. I hold it fiercely. His magnificent heart.
My husband is a wonder to me but he is hard to find. I search for him in our home. He breathes through a pipe in his throat. He feels everything but cannot move a muscle. I lie on his chest counting mechanical breaths. I hold his hand but he doesn't hold back. His darting eyes are the only windows left. I won't stop searching. My soul demands it and so does his. Simon has motor neurone disease, but that's not the dilemma, at least not today. Be brave.
I am sitting in my car in Wicklow town, looking out on the harbour. I'm watching these yacht masts dancing. Their heads are swaying to and fro, warbling along to Joni Mitchell on the radio.
Wicklow harbour is nice. It's vast and full of blue. It has a higher, wider reach than the Greystones view. I feel as though I can't breathe in Greystones right now, so Wicklow is good. Maybe Greystones is like all great loves. You either marvel at every familiar dancing step and soak it into your bones or, like today, the familiar edges trip you up and annoy the shit out of you. Too claustrophobic – a rat in a cage, a lift with no panic button.
Here's the dilemma. My house is full of strangers. I have painted it bright colours and surrounded it with love, but strangers step through it at an alarming rate. Well-meaning Muhammads make tea. So many Helens and Marys and Jackies and Michaels and Deirdres and Claires and Sams and Franks and Graces smile and leave mops in weird places. I sidestep them in the hall and at the dishwasher. Our house is filled with nurses and carers and they are hurting me. It's not their fault.
Some stay a while, but most are passing through. Some stay longer. I grow to love them and then they break my heart and leave anyway. It's nobody's fault. This is agency work. Some wear overbearing perfume. It attacks olfactory emotions I didn't even know I had. I feel irrational hatred towards them because they make my house smell like them. Most of them smoke but I don't mind the smell of that. At least it's a universal smell, like fire or Fairy Liquid or Persil Automatic or petrol. A lot of them try and turn our home into a hospital, and I fight like a tiger against that and bare pointy teeth.
They all leave eventually, except for Marian. Marian believes in angels and blood moons. She lives purely through her emotions, and a good day always starts with this night nurse. We drink tea together on dark mornings. I wish I believed in angels. Marian believes everything happens for a reason and that people have colours and swirling energy around them, positive or negative.
If you hang out with her for long enough, you could be laughing or crying or both and you can almost see a faint outline on the walls of angel wings in the shadows. She is, of course, my angel. 'I'm not going anywhere,' she said to me once. 'I'm here for you.' I look into her eyes and I believe her.
There was a blood moon last night and the sea is agitated. My soul is agitated. The full moon gets a red glow during a lunar eclipse, says Marian, so watch out. Blood moons belong to moongazers, dreamers and to Marian. For them, the night sky is a realm of intense feeling and romance. I'd never heard of such things, so I lean in closer. We are up to eighty per cent water, Marian says, and that is why the moon and the tides affect us. That is why I jump in the sea, I say. I am trying to find a home, make a home, be a home for my five children. Sometimes I succeed and sometimes I fail.
Some people understand that the small things make a difference. A nice pen to write with that slides perfectly on the page. Hot coffee in a particular cup. These things matter when your soul is on the edge. It fills you full of holes, this life. My search for Simon is a lonely pursuit. I hope he looks for me too. Great love has brought me to the sea and I am trying to be brave. It's important, when your soul just might need saving.
We have lost many things. But sometimes I find my husband: lips on the curve of his temple, a crawl space in the crook of his arm. Some things are lost and found again. I email him words of love, and he emails back. A mad moon tidal wave. Screen to screen, we're holding hands at last. Two souls. It's a marvellous, familiar dance. Great loves are for the brave.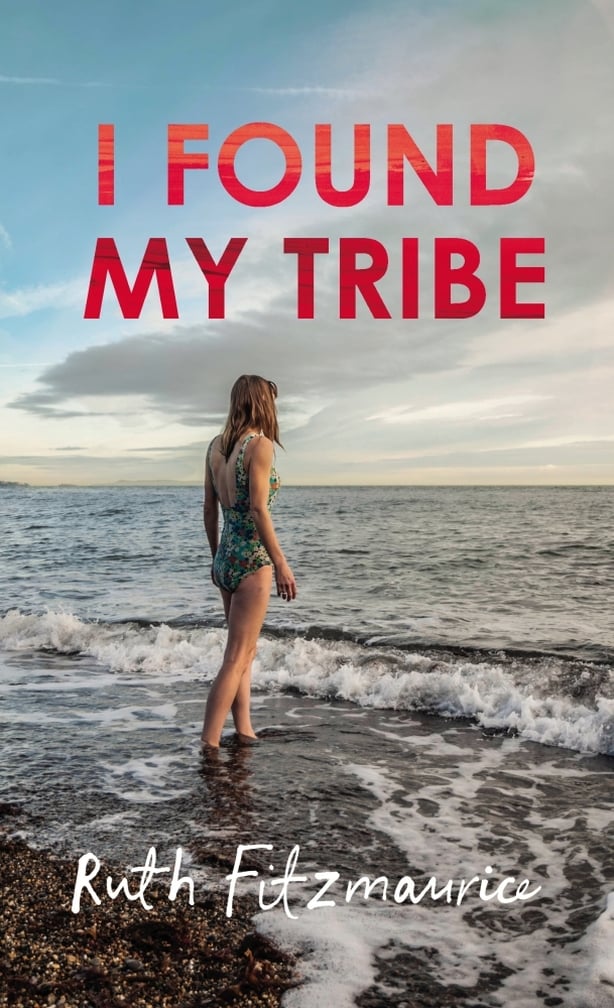 I Found My Tribe is out now. 
---
About The Author: Ruth Fitzmaurice was born in 1976 and grew up in Co. Louth, Ireland. She was a radio researcher and producer when she married film director and writer Simon, in 2004, and had three children. In 2008, Simon was diagnosed with Motor Neurone Disease and given three years to live. Simon went into respiratory failure in 2010 and was accidentally placed on a ventilator during an emergency procedure. He decided, against medical advice, to keep the ventilator; Ruth and Simon went on to have twins in 2012. In January 2016, Ruth wrote her first piece for the Irish Times about family life and a new passion, sea swimming. She lives in Greystones, Co. Wicklow, with Simon, their five children, Jack, Raife, Arden, Sadie and Hunter, and a team of nurses and carers.