Al Pacino's obssesion with Oscar Wilde's Salomé led to him performing the role of Herod in an LA stage production of the tragedy, the actor captured this performance and his fascination with Wilde's work in a drama-documentary called Wilde Salomé.
Watch Wilde Salomé here, via RTÉ Player.
Pacino is one of the most recognisable actors in Hollywood. Thinking of him we immediately conjure the iconic roles he has played: Michael Corleone in The Godfather, Tony Montana in Scarface, Lieutenant Hanna in Heat, Coach D'Amato in Any Given Sunday, and the many more striking portrayals of machismo that he has delivered.
Full of menace, glory and humanity ("Say hello to my little friend!"), these seminal performances are the screen archetypes we hold for mafia dons, suave psychopaths, inspirational speeches and cops who are looking to disrupt epic bank-heists.
Over a 50-year career, Pacino has remained coy in the media about his own personal life, so that the characters he plays remain the focus.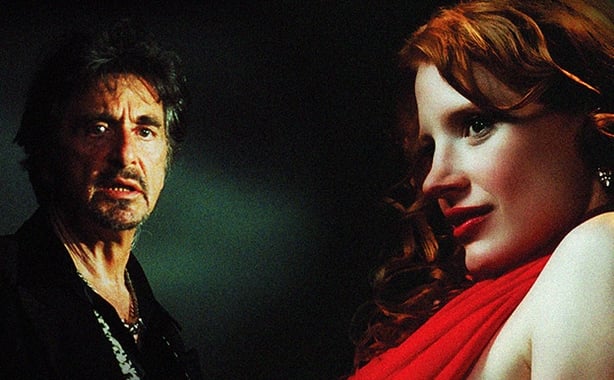 However, when Pacino came across Oscar Wilde, he offered up a little more of himself by documenting the process of how he came to play Herod and his obssession with the work. Drawn to the sacrifices Wilde made for his art, the actor turned the camera on himself and relinquished his cherished privacy for once.
"It is not a movie about a play, it is a movie about inspiration…" he tells in the opening credits. "Why Salomé? Salomé is something I am familiar with and I have an idea for a movie that intermixes the life of Wilde and the life of the play and the life of me trying to make the play.
"This is about a journey I'm going to take."
Al Pacino stumbled across Salomé when he dropped into a London theatre to catch his friend, actor and director Steven Berkoff, playing King Herod in his own celebrated production of Wilde's play. Having been grabbed by the immediacy of the prose, and the tragedy that was unfolding on stage, he checked his programme only to discover that it was Oscar Wilde who had written it.
"I looked at my programme, I don't know why I didn't look at it before the play started…" he told a BBC Four documentary. "I looked down and saw it was Oscar Wilde. Then I knew this was something different. All during the play, I wanted to know who this writer was because I felt connected in a way to something that I hadn't been connected to in a long time of going to the theatre.
"There is nothing recognizable in the play, nothing Wildean. It's like a new playwright… There's something in this play that mesmerises. It keeps you attentive, even if you don't like it."
Pacino's documentary works in a threefold fashion: as an introduction to Oscar Wilde, an insight into the process of staging a theatre production and, lastly, as a revealing portrait of how this era's finest actor gets embroiled in a project..
"This one is certainly Al in a way that you haven't seen me before… I try to use the celebrity as a part in the movie. But soon Oscar Wilde takes over, Salomé takes over, this great performance of this girl takes over, and that's good…"
Wilde Salome screens on RTÉ One on Tuesday, July 11th at 10.35pm, followed by a screening of the production of Oscar Wilde's Salome, starring Al Pacino, at 12.55am