On July 12, music presenter Carl Corcoran steps down after ten years presenting The Blue of the Night on Lyric fm. The good news, however, is that the programme - an eclectic blend of music from all eras - will continue.
Listen to Carl Corcoran's Blue of the Night farewell here.
Christy Moore live in studio with Carl Corcoran. What a guest for our last live Blue of the Night Session pic.twitter.com/nIM97zIrGj

— Aine Fay (@Ainerosie) July 11, 2017
Blue of the Night presenter Carl Corcoran recently told this writer that I was whatever the nightly equivalent of a "daily communicant" was. He was referring to my obsessive habit of requesting songs and tunes from the poor man, any or all nights, between Monday and Thursday.
I'm not the only daily or nightly communicant, and there are one or two other Paddys out there who tune in regularly, if not religiously - it's hard to avoid the religious terminology, that sense of a hushed congregation of faithful devoted listeners.
Carl is like a magician. You ask the long-time Lyric Fm presenter for something and, if nothing else is in the way and he is in the humour – and he such a gentleman that he makes himself be in the humour anyway - he locates it. Then he plays it maybe two minutes later. Or you might have to wait until tomorrow night, but he will certainly play the request.
The programme finishes each night at 1 am, having commenced at 10.am. "Don't touch that dial" is the phrase with which Carl regularly instructs his communicant when something is requested and he means to play it, either side of midnight. And midnight is usually the time to touch that dial, if you have to get up the next morning bright and early. Yet you might be listening in Vancouver or Edmonton - as indeed two listeners were lately doing - in which case, your sleep situation is different.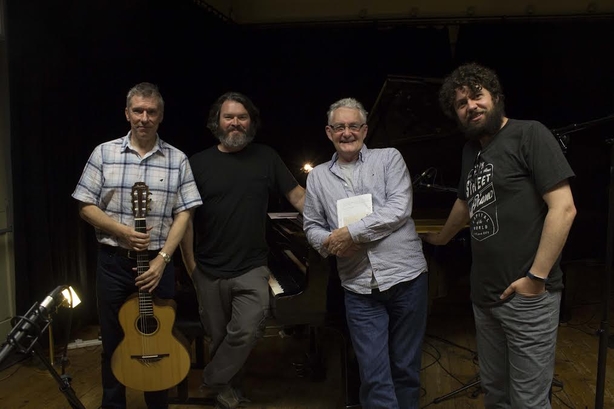 As a consequence of lost Blue of the Night hours – in search of lost time - I have sometimes mused upon what I missed between midnight and 1.00am. Occasionally, I have even looked at the playlist on the programme website and read the list of music played - you could call me a fan, I suppose.
Carl's enthusiastic, husky voice still bears traces of many years spent living in New York state, where he worked as a musician and radio presenter. And so the genial Dubliner gently introduces us to yet another slice of Bach or Scarlatti, by way of John Adams and Philip Glass, the music of Tony McMahon and Séamus Begley, the singing of Eithne Ní Uallacháin or Anúna, via medieval Spanish song or Flamenco stylings. Then magical voices from every imaginable corner of the globe: South American, Cuban, African, Balkan, French, French-Canadian, Greek, Russian, Appalachian, with copious, heady jorums of jazz.
On any given night, you might hear Mississippi John Hurt, Rory Gallagher, John Martyn, Johnny Hartman or Billie Holiday. Irish musicians are of course prioritised, and one of Carl's personal favourites is a fine Dublin singer named Aoife Doyle, who has two albums to her credit.
He is the only man I have ever asked to play Peter Frampton and won (three times, in fact). Then there are the things he likes to play every so often, the regular chestnuts: Andy Bey singing Angel Eyes, a man with a rare gift, a four-octave baritone voice; The Dublin Guitar Quartet playing Arvo Pärt's haunting Summa; Paula Morelenbaum singing Jobim's Bossa Nova classic, O Grande Amor, with husband Jaques on cello and Ryuichi Sakamoto on piano. Delicious stuff.
Another song he used to play regularly but not so much lately – because, well, I haven't been pestering him for it – is Alas de Plata, sung by the Argentinian Silvia Iriondo and set to an exquisite arrangement. Your writer must have asked Carl about 100 times to play Mark Murphy's curiously off-hand, yet deeply felt reading of the Johnny Mercer/Michel Legrand ballad, Once Upon a Summertime.
The Blue of the Night will soon welcome a new presenter. Don't touch that dial.