Nan Goldin takes frequently explicit, occasionally disturbing, always visceral photographs.
Among a cast of international names that included Dali, Abramovic, Bourgeois, Picasso and Duchamp, Goldin's joyous, golden-hued, naked-in-bed couple and baby images were among the most memorable works selected for the What We Call Love exhibition which ran for five months at the Irish Museum of Modern Art in 2015. Now a solo show of the American artist's work is set to open at IMMA.
Sweet Blood Call will feature never before shown photographs taken by Goldin in Ireland in 1979 and 2002. It will also include her ground-breaking 1985 slideshow The Ballad of Sexual Dependency as well as images of friends, family, lovers and a selection of sixteen recent, rarely exhibited drawings.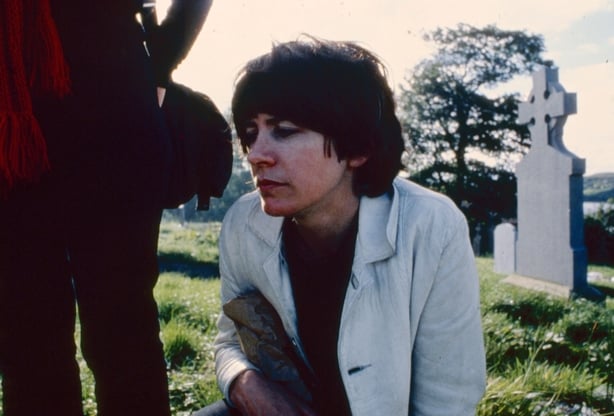 Goldin was born in 1953 and currently lives and works in Berlin and New York, where she tells highly personal stories in her intimate, bluntly honest work. This exhibition will run concurrently with Irish artist Vivienne Dick's solo exhibition, 93% Stardust. Goldin and Dick spent time in New York together in the 1970s and became close and enduring friends. Each influenced the other's art. Many of the same faces, and bodies, appear in Goldin's photographs and Dick's films.
"A lot of the people that Nan photographed are also in my films because we knew the same circle," says Dick in a preview video made for the IMMA website. One room at the museum will feature photographs taken by Goldin of people who appear in the work of both. This is the first time the two artists have shown together.
Goldin's photographs taken around Galway, Donegal and Dublin include portraits of Vivienne Dick, land and seascapes, as well as images of animals, sky and rocks. Sweet Blood Call promises a mix of new and iconic works by one of the world's most significant contemporary photographers.
(Visitors are advised that both exhibitions contain adult themes and explicit imagery that may not be suitable for all audiences.)
Nan Goldin, Sweet Blood Call runs at the Irish Museum of Modern Art from 16 June - 15 October 2017 - more details here.