Actress Lisa Dwan has been internationally acclaimed for her interpretation of the works of Samuel Beckett - in June, she performs No's Knife, a selection of Beckett's texts, at The Abbey Theatre.
'All you had to do was stay at home. Home. They wanted me to go home.'
You'd be hard-pressed not to hear all the political resonances in these words, written when Europe was trying to come to terms with herself as she is again now. As I learned the lines, images flashed before me of all the drowned unnamed refugee souls. Who would they have been if they were allowed to be? I think of all the women who are still 'down in the hole the centuries have dug'  I think of all the babies in Tuam and wonder what would they say if they had a voice? I think of 'the screaming silence of no's knife in yes's wound'.
We need your consent to load this YouTube contentWe use YouTube to manage extra content that can set cookies on your device and collect data about your activity. Please review their details and accept them to load the content.Manage Preferences
But Samuel Beckett offers no history lesson, no sermon… only the wound. No's Knife cuts through the historical context to the human condition and it is this, as an actor, that I must try to embody. Beckett creates a very raw, human, visceral, deeply accessible poetry of consciousness and it needs a deep rigour and discipline to convey it. 
I am more alone with No's Knife than I have been with Beckett's other work. It was never intended for the stage and I have none of his rigid stage directions to anchor me. So I seek to stick to his music, rely on his score as a guide and follow the tradition handed down to me, from Billie Whitelaw and Walter Asmus, to arrest each phrase and lock it to something deeply personal.  
Beckett has shown me that sentimentality isn't truthful – it is the language of gangsters.
Once again, I put on my black mask from Not I. I must, in that blackness, weave in my own landscape and memories with Beckett's poetry. In intimate darkness with Beckett's words, I must try to summon my own instruments that will play his score in the raw and in the real. Notes that might ostracize, oppress, tickle, shame, deaden, defy… I must invite all the old wounds to hum off Beckett's taut tempo.
And each night I must take this same discipline into the bog. And I can't afford to scrimp. I can't select the off-cuts of feelings. I can't regurgitate last night's order. It must be the meat itself. I must summon the weapons that will cut it fresh.
I can't offer up a dose of the 'sads' or an intellectualised memory. I can't chicken out here and become sentimental… Beckett has shown me that sentimentality isn't truthful – it is the language of gangsters.  
Beckett has exposed me to my own potential and he exposes us all to our own potential.
One of the great gifts from my 12 years of sensory deprivation in Beckett's play, Not I, was that as time went on I increasingly stopped feeling like a human being. Hovering eight feet above the stage with my blindfolded head tied into a vice, my arms in brackets, was ultimately just so damn liberating. To have your body removed, as a woman, was one of the greatest gifts I've ever known. I got to play a consciousness – a trillion voices – not one consciousness but consciousness itself, a continent of consciousness.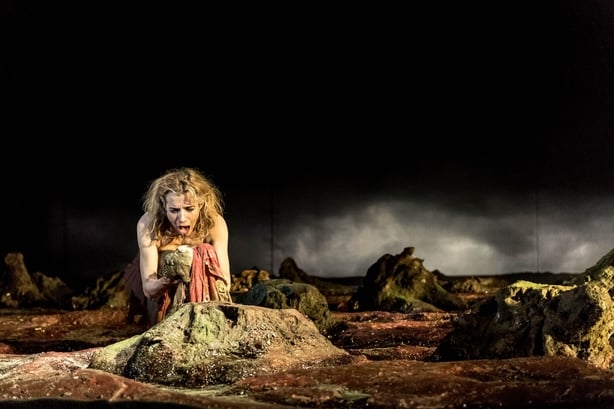 And with No's Knife I get to do so again.
We tend to view ourselves and our world in bite-sized chunks – what we think we can cope with. I get to peel away the trappings and entrapment of a woman, of what society does to us as women, go beyond the limitations we set ourselves, the little palatable realities shaped by our fears.
Beckett blows all that up and offers instead the most enormous landscape imaginable. His voices are much more than characters – they are more elemental than that, more like creatures, ghosts. In voicing them, Beckett has exposed me to my own potential and he exposes us all to our own potential. The truths he tells, and the picture of us he puts before us, strip away false comforts. They are deeply challenging, but they make a very adult space for us all to sit together with our fragility and look at ourselves, to see his creatures as slices of the universe and to see ourselves as slices of the universe. 

To see that we are much greater and richer than our paltry ideas of identity can stretch to, that we are 'of one mind, all of one mind… deep down we're fond of one another'.
No's Knife, Abbey Theatre Dublin, 10 – 17 June - click here for details.