When researching Jolyon Jackson's life for a new lyric fm documentary, an archive article from 1972 in the Connacht Tribune caught my eye.
Listen to Hidden Ground: The Story of Jolyon Jackson above.
Lamenting Irish music fans fickle taste and their attitude to experimental musicians like Jolyon, the journalist noted that his band Supply, Demand and Curve are 'the type of group who will in the future be raved over by mums and dads, idolised by intellectuals and immortalised by pop historians'.
And here we are, 45 years after that article was written and almost 32 years after the death of Jolyon; celebrating this extraordinary musician's contribution to Irish music. Jolyon was born in Malaya but moved to Ireland (where his father was from) in the late 60's to study at Trinity College. With his flamboyant Jimi Hendrix style hair and extravagant dress sense of loud coloured bell bottoms that actually had bells on them, Jolyon would certainly have been noticed around Dublin. The progressive music that he began to write and perform with his group Supply, Demand and Curve meant he was also most definitely being heard as well as seen.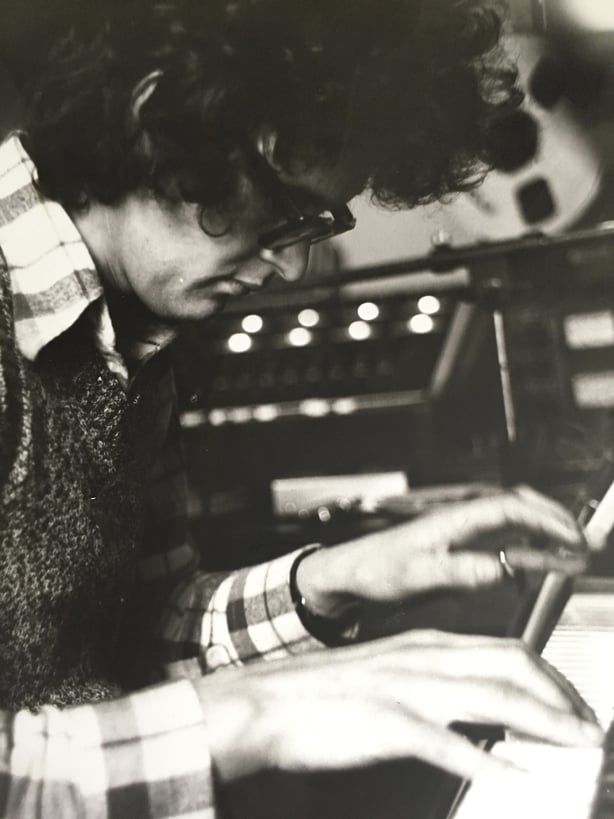 At a time when Ireland was regarded as a bit of a musical backwater and it was difficult to get good quality instruments, Jolyon was embracing new equipment such as Monophonic and Polymoog synthesizers. Drawing on the styles of jazz fusion and prog rock, Jolyon wrote and recorded the eponymously titled album Supply, Demand and Curve. While influenced heavily by different genres of music, the album was Jolyon's unique vision and remains one of the few examples of fusion music recorded in Ireland in the 70's.
Jolyon also featured on other progressive albums such as Taylormaid by Rosemarie Taylor and Camouflage by Sonny Condell playing synths, keyboards and cello. The advent of the punk scene spelt the death knell for the progressive jazz scene in Ireland and frustrated by a lack of opportunities and a record deal, Jolyon began to record more solo work. Showing great initiative and once more a willingness to embrace technology, he set up a home recording studio in his front room in Spencer Villas. The 8-track recorder that he bought from Keystone studios would apparently dim the lights in Glasthule when switched on!
It was in his home studio that Jolyon developed as a composer and recorded music for theatre productions such as Twelfth Night and the soundtrack for the television series Hands and Concepts in Travel. Jackson recorded numerous pieces for RTÉ, including a jingle for the news. The home studio afforded him the time to play and record all the instruments for these pieces, unburdened by the financial strain of studio rental.
It was also in his home studio that Jackson recorded the seminal cross-over album Hidden Ground with traditional fiddle player Paddy Glackin. An innovative album for its time, it fuses traditional Irish music with more contemporary sounds and synthesizers.
Jolyon was diagnosed with Hodgkin's disease and died in London in December 1985. His music lives on…
Hidden Ground: The Story of Jolyon Jackson broadcasts this Friday evening June 2nd on the Lyric Feature on RTÉ Lyric FM at 7.02pm.