Read the latest blog from celebrated illustrator and Children's Laureate PJ Lynch...
The annual Towers And Tales Book Festival at Lismore castle in Waterford was dreamt up by the second Laureate na nÓg, Niamh Sharkey, along with Children's Books Ireland's director Elaina Ryan and the owner of the castle, William Lord Burlington.
The festival is now in its third year and it has been steadily growing into a very important and special YA and children's literature event.
I was very excited when Niamh and Elaina asked me, along with Ryan Tubridy, to present at this year's Towers and Tales. Ryan and I have just published a children's book about President Kennedy's visit to Ireland in 1963. It's called Patrick and the President and it tells the tale from a little boy's point of view. We are both excited to talk about our book at Lismore especially as JFK had stayed there when he was a young man. My first events are on the Friday but unfortunately Ryan couldn't join us until the Saturday… he always seems to be busy on Fridays for some reason.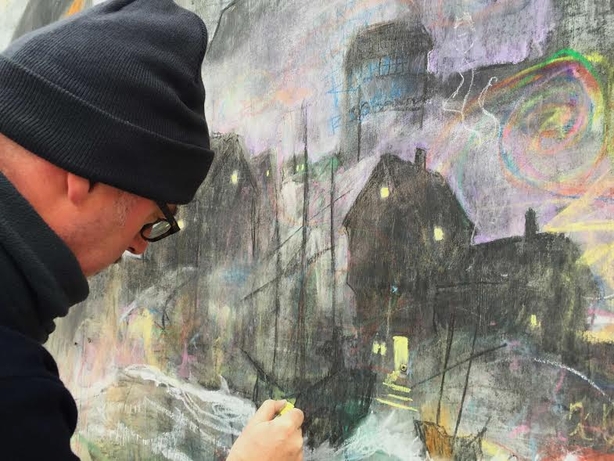 For once my wife and children are keen to come along to an event. It might be something to do with the fact that it's being held in a beautiful old castle, and that some of their favourite authors and illustrators are going to be there. We have also roped my son Sam into playing piano while I am drawing one of my Big Pictures nearby. Turns out there is a lot of live music. Niamh's children are all musical and they bring an orchestra with them.
It's a real treat for me to hang out in the company of British artists and authors like Michael Morpurgo, Lauren Child and Brian Conaghan as well as home grown talents like Niamh, Yasmeen Ismail and Sarah Crossan, who won so many major prizes for her novel One last year.
.@PJLynchArt was up with the birds to start the Big Picture at @TowersandTales - eyes posted for later when festival-goers fill in the rest! pic.twitter.com/njTMIqbcZ8

— Laureate na nOg (@LaureatenanOg) April 29, 2017
I have a busy schedule starting with a visit to a local school on the Friday afternoon. The children are wonderful. Full of chat and good questions. A dash back to the castle to get changed in time for my Laureates In Conversation event with Michael Morpurgo, chaired by Elaina. It is so great to see Michael again, to chat with him about our love of stories, and to hear him speak so passionately about our shared belief that every child should be entitled to have books in their lives, and how the short-sightedness and mean-spiritedness of some politicians is robbing many children of that entitlement through shortfalls in funding.
Later, after a long day travelling and presenting, the authors and illustrators retire to the dining room for a very fine dinner in true Downton Abbey style. The bookish gossip goes on until the early hours, interrupted on one occasion when William leads us on a midnight trek through narrow corridors and up a spiral staircase that eventually brings us to the top of the castle's highest turret for moonlit views over the whole castle and Lismore town.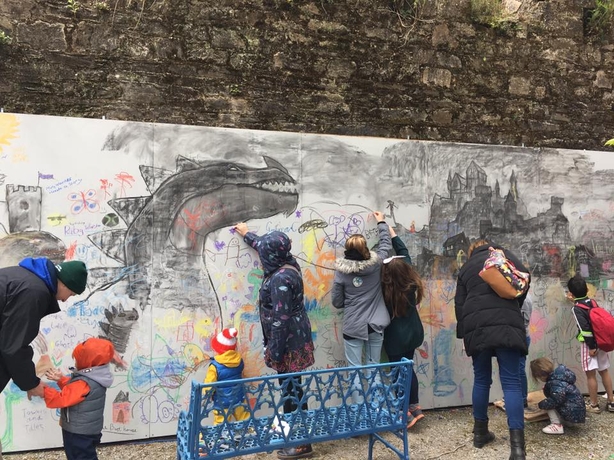 The next day is a whirlwind. I start drawing my Big Picture at 7am to get a start before the children will arrive to help. It's going to show lots of dragons laying siege to a castle… Towers and Tails - geddit? I continue working along with the kids between my other events all day.
Ryan is in great form for our afternoon presentation in the castle's beautiful Pugin Hall, and afterwards I grab another chance to work on the Big Picture. It has been rained on and is looking a wee bit the worse for wear.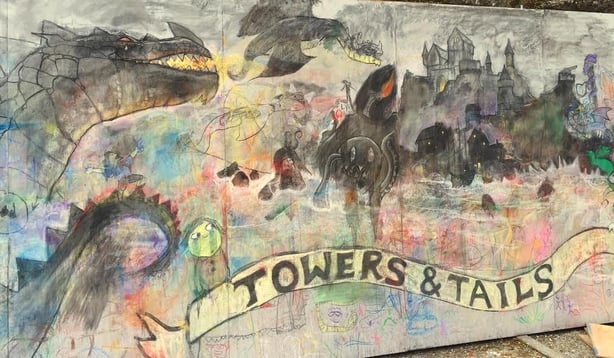 Sunday morning comes too quickly and it's time to start getting ready to leave. I decide to have a last look at the Big Picture and find that Niamh's children are already out working on it. Before long everyone joins in, and between Niamh, Lauren and all our children, we get it looking pretty respectable before we finally have to say our farewells.
A great way to end our magical weekend in a fairytale castle!