John Kelly writes for Culture about the Albums That Will Save Your Life... This week, he's celebrating a forgotten rhythm king.
The influence of Memphis piano-man Rosco Gordon is all in the rhythm. And on his biggest hit - No More Doggin' - it was all in the emphasis. An irresistible shuffle with a stress on the downbeat and, much like some of today's dance music, it was insistent. But there was more to Rosco Gordon's story than simply getting people to dance to a new groove. No More Doggin' turned out to be the catalyst for of a whole new music.
Here's what happened. Towards the end of the '50s, American rhythm and blues was very popular in Jamaica. Artists like Jimmy Beasley, Marvin & Johnny, Jesse Belvin and our man Rosco Gordon were constantly on the radio, and Rosco's No More Doggin' was a big favourite. Jamaican bands, latching onto the infectious lope of Gordon's rhythm, began to play it - only slightly differently. To today's listener, it's pretty obvious that it was no great leap from Rosco's Rhythm to what would be called Bluebeat or Ska - one listen to Laurel Aitken's Boogie in My Bones and you'll have your proof that these early tracks were basically American rhythm and blues with a Caribbean shift in feel. Something had arrived over the airwaves, was adopted and then adapted. And from there we moved to reggae.
Gordon of course, hadn't seen any of this coming. He started out in Memphis along with Bobby Bland, Johnny Ace and BB King and was first recorded by Ike Turner for Modern Records in 1951. Also in Memphis, he recorded for Sam Phillips at Sun Studios – a place usually in the thick of something new. And it was from there came the hit Booted – the master of which Phillips allegedly sold to two different labels and yet still managed to make it a number one. No More Doggin' was the follow up. It moved to much the same rhythm as Booted and it too was a hit. Rosco's rhythm had immediate purchase and the groove spread.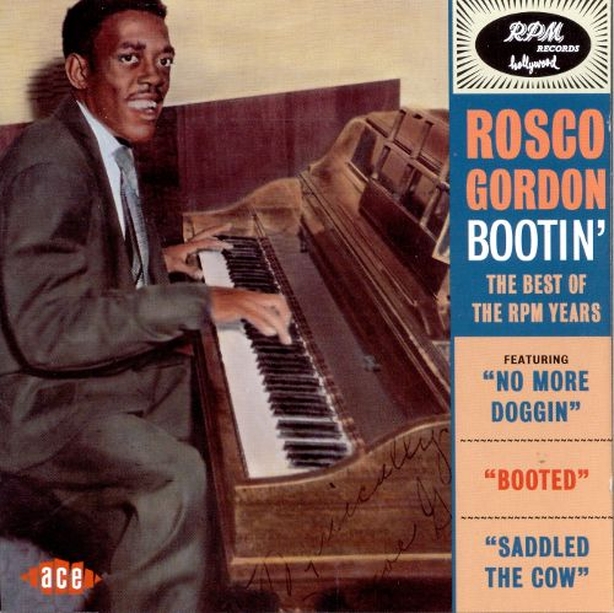 Like many musicians of the period his name has largely been forgotten, but to give this hugely influential performer his proper place, Rosco Gordon can truthfully be said to have been present at the births of rock n' roll, ska and reggae.
Rosco Gordon - Bootin' The Best of The RPM Years is on Ace Records.