We're delighted to present an exclusive extract from When Light is Like Water by Molly McCloskey, published by Penguin Ireland.
---
Alice, a young American on her travels, arrives in the west of Ireland with no plans and no strong attachments - except to her beloved mother, who raised her on her own. She falls in love with an Irishman, marries him, and settles down in a place whose codes she struggles to crack. And then, in the course of a single hot summer, she embarks on an affair that breaks her marriage and sets her life on a new course. Years later, in the aftermath of her mother's death, Alice finds herself back in Ireland and contemplating the forces that led her to put down roots and then tear them up again. What drew her to her husband, and what pulled her away? And how do we know when we've found our place in the world?
---
How do people do it, I used to wonder. Well, I learned. That sort of secret feels like an illness, the way the world slows to a crawl as though for your inspection. So much clarity and consequence – it was like enlightenment, it was like being in the truth, which is a funny thing to say about deceit.
One afternoon at the close of that sweltering summer, when Cauley and I were still in our trance, I found myself travelling west with him by train. I say I found myself not to suggest some condition of passivity – I was the one who'd insisted we make the journey – but because when I look back, I have the sense that I'd come suddenly to conscious- ness right there, on that bockety old orange-and-black train, as it made its clamorous way across the countryside. We were standing between carriages, jostled by the train's motion. A wheaten light streamed through the open window, fresh air was flooding in, too. The day's heat was fading to a sweet residue. We braced ourselves against the wall, drinking bottles of cold beer and sharing a Silk Cut. Those were the days when no one minded if the air was fouled with smoke, the days when you could slide down the window in the door and hang your head out, happy as a dog.
I pressed my lips to Cauley's neck, which was cool and sticky. Cauley was fair, and in the heat his skin got clammy as a baby's. Together we watched the country slide past in frames. The fields, green and empty, or full of sheep who didn't stir when we whooshed by. Then patches of weedy, cracked tarmac surrounded by chain-link fences. Then the back gardens of houses, with their propped bikes and their coal bunkers and the flotsam of family life. And then all was green again, and there were cows where sheep had been, and a breaker's yard, and a bungalow sitting proud on a hill. We leaned out the window and the wind whipped over our faces, and I felt as alive and unencumbered as if we'd hopped a boxcar.
I was married at the time, but not to Cauley.
I found our old house, Eddie's and mine, on the internet not long ago. It's for sale. I track him, on occasion, through the vast electronic undergrowth, imagining who we'd be now if things had gone another way. The first time, I'd only meant to look around the neighbourhood, to get a glimpse of the façade. I wanted to see the mountain, and the view of the Atlantic, the fuchsia that grew at the corner of the drive. But what came up when I searched were the property websites, and there was the house, listed by its name. I'd forgotten it even had a name.
I am doing it again, sitting in the third-floor bedroom of my temporary home in Dublin, clicking from picture to picture, a thin sense of omnipotence upon me. There are things I recognize. A standing lamp, a pair of leather armchairs, the dining table we chose together. Furniture surprises me with its betrayals, its easy migration between lives. What I didn't notice until today is something my mother gave us, the last time she visited. It's hanging on the wall in the spare bed- room, a print she bought in town and had framed – abstract and muted and thus somewhat out of character for her, which was why I had liked it: I couldn't figure out what had drawn her to it. Did I forget to bring it with me when I left? Or did it just seem petty to start taking things off the walls? My mother is dead now, she died eight weeks ago, and I can- not decide how I feel about the fact that some part of her has remained in that house without me.
Also on the wall, taped up in the kitchen, are drawings made by a child, or children. In the living room, a few framed photos that refuse to sharpen into focus. Otherwise, the interiors are oddly impersonal. Eddie remarried several years ago, but the master bedroom has been stripped of any- thing that might indicate the kind of couple who've been occupying it. It looks unlived in, like a bedroom in a B&B.
Eddie and I bought the house from a woman who suffered from anorexia. The estate agent said she was selling because she was too sick to look after it herself and was going to Dublin, where she had family. She wasn't there on either of the occasions we viewed it, though there was one photo of her on the kitchen windowsill, standing with someone who might have been a brother. Her skin was a strange nut-brown. She wore big, round glasses that made her face look small and childlike, and her neck was like a stick. Eddie said under his breath, 'God love her,' and I slipped my arm around his waist as though to earth us.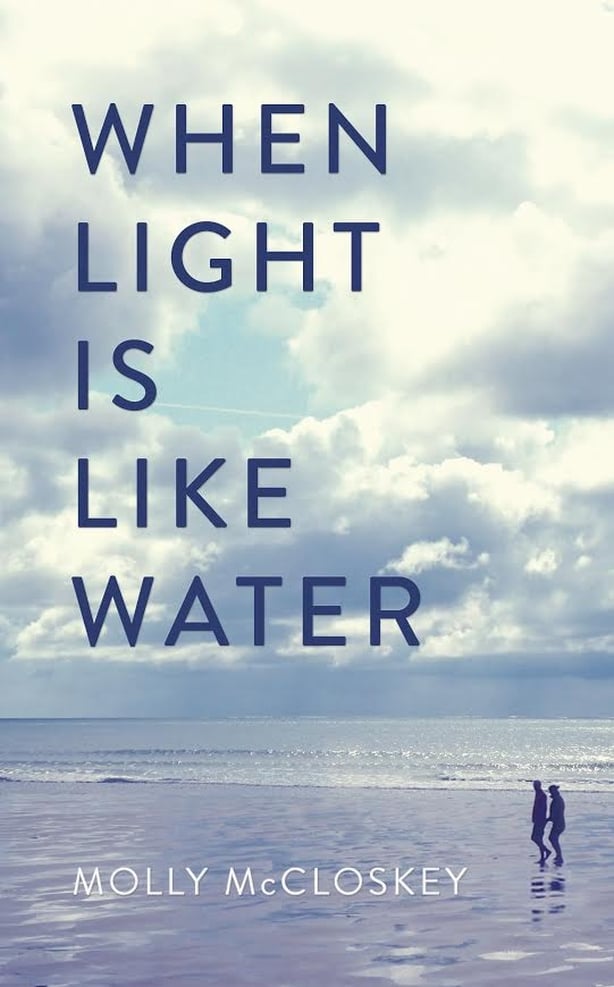 About the author: Molly McCloskey, a native of Portland, Oregon, is the acclaimed author of three previous works of fiction, and of a memoir, Circles around the Sun. After living for a number of years in Ireland, she now lives in Washington, DC.