Writer and director Tracy Martin writes about the inspiration for her acclaimed play Harder Faster More, which returns to the stage next week.
It basically all started with Jennifer Aniston's nipples.
Like everyone else on the planet – a large part of my televisual upbringing was spent watching the endless and hugely entertaining reruns of Friends. As I sat staring glassy-eyed at my New York pals, a soft smile pasted on my face, something started to niggle at my pleasure. Something seemed to stick out…and that something were the two peanut nipples that Jennifer Aniston had protruding up through her top for a number of episodes in a row. From what I can remember the nipples seemed to get more obvious, more eye-catching as the thrill of her amazing 'Jennifer Hairdo' faded. They appeared so often that I started to wonder were they going to start playing an integral role in an upcoming plot line.
I also started to wonder about the conversations that must have happened on set concerning Jennifer Aniston's nipples. If a T.V. addicted cailÍn in little old Oireland could see them then surely everyone else on the production had noticed them too? It must have been a conscious decision to have had her nipples protrude so much. Was it her decision? Did she come up with it and discuss it with her agent / manager and then approach the director? Was it the producers idea? Did costume designers love it or hate it? Jennifer was at her most famous at the time, was this just another way to keep all eyes on her in the show? What did Courtney Cox and Lisa Kudrow think? Did they consider it themselves or were they jealous that she had gone their first? Did they worry that if she turned quickly she could take someones eye out with them?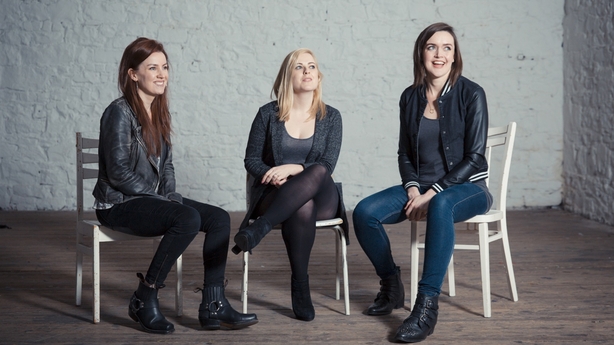 I'm not the only one who wondered this, an endless supply of online chatter was created and dedicated to Jennifer Aniston's nipples. And don't get me wrong, I see nothing wrong with a woman's body being all that it is. As a card carrying lesbian, I am an admirer of the female form in all its shapes and sizes. It just made me wonder about the conversations around it. I would of loved to have been a fly on the wall when studio execs talked about said nipples with Jennifer.
We need your consent to load this YouTube contentWe use YouTube to manage extra content that can set cookies on your device and collect data about your activity. Please review their details and accept them to load the content.Manage Preferences
It's these types of stories that I tried to replicate for my play Harder Faster More, which consists of seven intertwined phone conversations between women. Some hilarious, some heart-breaking. There's the sex chat line worker who needs to talk to her mother while taking a sex chat call, a lonely pole dancer missing home, a woman who rings the phone of the whoever her husband is having an affair with, a day time TV host who's considering surgery to stay in the public eye and other conversations that really need to be heard to be believed.
Though Jennifer Aniston's nipples might be considered to be 'titillating' (sorry) there is a more serious side to the theme of the play, and that deals with pornography. I listened to an interview once with a woman who had worked as a prostitute for many years. She talked about when access to hardcore pornography became wide spread – the requests that she got from her customers completely changed, and not for the better. I believe the image of 'woman as victim' is too prevalent in pornography, and if young boys are able to access these images on their phones for free, well then we have to talk about it.
Harder Faster More is playing in Project Arts Centre from 11th, 12th and 13th of May, and then in the Civic Theatre Tallaght on the 15th, 16th and 17th of May.