We're delighted to present an extract from A Dangerous Crossing, a new YA novel by Jane Mitchell, published by Little Island. Endorsed by Amnesty International, and based on the experiences of real Syrian families, A Dangerous Crossing is a story of bravery and solidarity in the face of despair.
Ghalib doesn't want to leave his home, but Syria has become too dangerous, and his family has no choice but to flee. Together they start out on a terrible journey that leads them through dark and dangerous places. They come under fire; they are fleeced by illegal border-breakers; they experience the wretched and hopeless life of a refugee camp. And they still have to face the perils of a voyage in a boat that is far from seaworthy.
---
We are the only humans in a dark and salty world. We pitch and dip on a heaving sea. We cling to each other and the slippery rubber. I never thought a sea held so much movement. I never thought a sea held so much fear. All I can think of are the bones of drowned refugees, of our brothers and sisters who went before us, lifting and turning on the sea bed below, drifting like bleached ghosts pulled by moon and tide. Fish and octopus and coral make watery homes in their empty eye sockets and tooth cavities. Up above them, our little boat rolls and plunges.
'We are all going to drown!' Bushra says.
'Shut up,' I say. Her words make me more frightened than I already am.
Black waves loom over us and roll beneath us, dark and shining. We lurch between cloud and water. Every wash over the side adds more to the water sloshing in the boat. Men with sea-water streaming from their hair scoop up handfuls to toss over the side, but their efforts make no difference: the water still rises. It is past my ankles now. The man steering the boat fights to keep the engine in the water.
'Turn into the waves,' one man says.
'Keep sidelong to the wind,' another man says.
'Head straight across the water,' a woman says.
But nobody knows for certain. Nobody knows anything about steering boats across open sea in the middle of the night. The engine splutters and coughs and whines.
'It won't hold up,' a man says.
Men with paddles sweep them through the water. It changes nothing. The Turk said we would see the lights of Greece as soon as we rounded the headland. We have been plunging and rising a long time. There are no lights. I don't know if we have rounded the headland. I see nothing of land or sea. The water, the sky, the air are all made of the one blackness. It seeps into my heart and crawls through my blood. Only this dark wet hell exists now. Wind whips my damp skin and hair, chilling me even though the air is not cold.
Apart from men shouting instructions to the engine man, nobody talks. We are too busy clinging on, willing Greece to appear. But we are not silent either. Noise fills our boat and none of it is a comfort. People moan and cry out and vomit. They shriek when we dip beneath a trundling wave, gasp when we crest its top. They send salty prayers up to Allah or the contents of their heaving bellies down to the fish. Aylan has thrown up twice already. Because he is strapped to me, everything he throws up is down the front of our lifejacket. We are wet through from salty waves washing over the side. His whole body shivers.
'Are we going to drown?' I say to Baba.
'Stay strong, Ghalib.'
Baba was never one to sugar lemons. We can only cling on and wait.
'Lights!' someone says.
I strain to see in the dark but there is only black. We heave over a wave. There! A sprinkle of lights strung along a distant shore. We roll into the next trough; they vanish behind a wall of sea-water.
'Did you see them, Bushra?' I say.
'Alham dulillah!' Bushra says.
The sight of land gives hope to everyone. Brightness wells inside me. This will end. With a direction to aim for, the engine man hunkers down and grips the controls, motoring our little dinghy through choppy water. Even though I only see lights when we crest a dark wave, it gives me something to live for. Perhaps we will get through after all.
'Greece, Baba?' I say.
'Looks like it,' Baba says. He grips Umi's hand.
'Look, Aylan,' I say. 'Greece.'
But Aylan doesn't look. He slumps low, head sagging. He is heavy against me.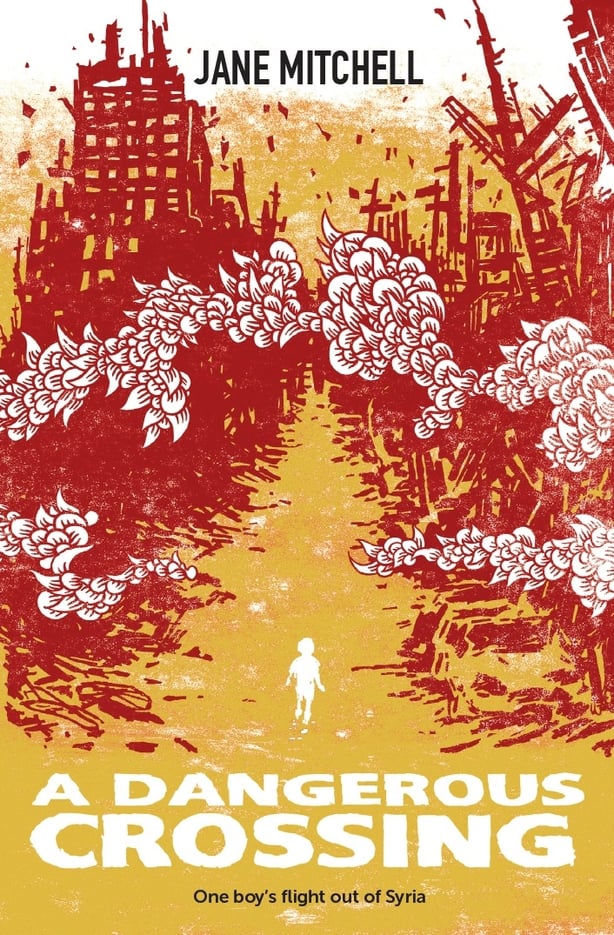 About The Author: Jane Mitchell has written several books for children and young people. Her first novel, When Stars Stop Spinning, was Bisto Book of the Year, and her more recent Chalkline won not only a CBI Merit award but also the Children's Choice award. She works in disability provision in Ireland and travels widely, including recently to the refugee camp in Calais.
A Dangerous Crossing (published by Little Island) is out now.