John Kelly writes for Culture about the Albums That Will Save Your Life...
The word spiritual was thrown around a lot in the 1960's. It was often no more than a cover for, at best, the shallowest of explorations and, at worst, it was just a handy label for guff. But when John Coltrane assembled his stellar band one December evening back in 1964, they really did hit the ballgame Divine. With Elvin Jones on drums, Jimmy Garrison on bass and McCoy Tyner on piano, Coltrane reached for, and arrived at, an extraordinarily spiritual place. The result was a mind-blowing prayer in four-parts – 1. Acknowledgement 2. Resolution 3. Pursuance and 4. Psalm – the whole suite was entitled A Love Supreme.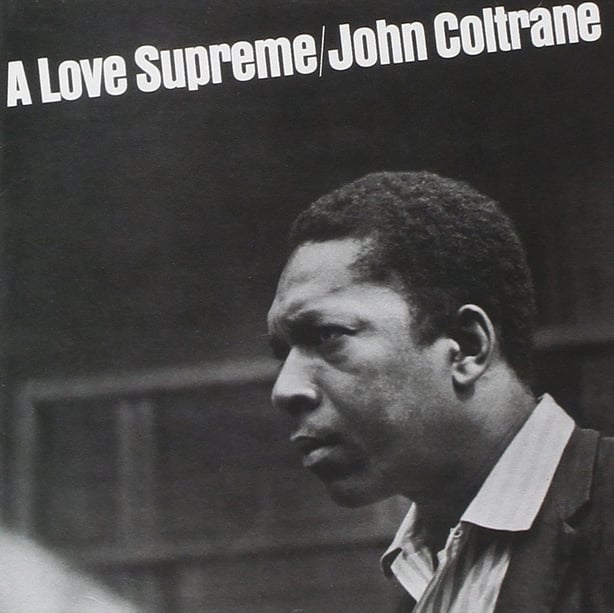 Coltrane had led his exceptional quartet for the previous three years but when A Love Supreme was released in 1965, it was clear that they had just entered a whole new dimension. When Elvin Jones said that Coltrane was an angel, he meant an actual angel. For him it was the only explanation for his extraordinary vision as a composer– and his unparalleled capacity to realize this vision as both a musician and bandleader.
We need your consent to load this Spotify contentWe use Spotify to manage extra content that can set cookies on your device and collect data about your activity. Please review their details and accept them to load the content.Manage Preferences
Whenever I'm asked in those "what's your favourite colour?" type interviews, to name my favourite album. I always declare for A Love Supreme and my consistent line is a follows. A Love Supreme is not an easy record. But in the right circumstances – in peace and on your own – you'll get something from this record that you'll never get from drink, drugs or dogma. When John Coltrane made this incredible piece of art, God (whatever you like to call him/her) was most definitely in the house. Here is the rare sound of staggeringly gifted musicians, transfigured by the music itself, heading for the greatest possible heights – and beyond that again.
A Love Supreme is on Impulse! in various formats and editions. The John Kelly Ensemble is on lyric fm, Monday-Friday @2pm.