In the first of our previews of this year's MusicTown Festival, which kicks off on Friday, April 7th, we present a piece by acclaimed percussionist Robbie 'Bongo Bob' Harris, creator of rhythmic extravaganza Globe, coming to this year's MusicTown bash.
We all have a drum machine inside us, our heartbeat.
I've always had a lifelong passion for rhythms from around the world and have been attracted to cultures that have rhythm and dance at their core. We know that the first instruments on the planet were percussive instruments; it all started with the human body and the objects that were found in the surrounding environment.
Back in 1991 when I was eighteen, I was at Féile - Trip to Tipp when I got my first real high from drumming and experienced how relentless rhythms could drive people into a frenzy. I went to Thurles to the three-day festival to see Happy Mondays, Elvis Costello, Van the Man and loads of other bands performing in Semple Stadium.
While I was blown away by the acts on that year, my stand out moment happened that night back in the campsite. Myself and fellow Bray man Conor O'Regan, who was also a budding drummer, found two oil barrels - campsite bins and used tent polls as drumsticks. We created our best funky drummer groove and attracted the festival goers who responded by dancing and encouraging us to keep going. In fact they wouldn't let us stop.Our oil barrel drums had whipped the tribe into an immersive and unifying frenzy of dance. As a pipe band drummer, I was able to keep a relentless beat. I was hooked on drumming. I now knew the power of rhythm.
With the groovy @ACSSofficial supercool live visuals by @PatrickMoMedia pic.twitter.com/Rs6tdpZOYD

— Robbie Harris (@robbiebodhran) April 5, 2016
I'm also interested in the journey that instruments take through different cultures and genres of music. The humble snare drum started out in the 14th century as a military drum and then found it's way into the classical symphony orchestra. It is now the centrepiece of the drum kit and one of the great driving forces of the modern music. Our own native drum, the bodhrán, is the heartbeat of Irish music and was quite a simple instrument until the 1960s, when people like Johnny 'Ringo' McDonagh and Dónal Lunny added a whole new level of modernisation to the instrument.
In 2011, myself and fellow drummer Dave McFarlane created Globe, a show that explores and celebrates rhythms that are universal to the music, dance and singing in many cultures.
Globe is a celebration of our rhythmic commonality, and creates unique meetings of cultures onstage. We place different performers together, many whom you wouldn't usually see combined - for example, a bodhrán player with a flamenco dancer. We wanted to create a show that has a deep respect for different cultures, but also to make it a joyous celebration of the emotions they share.
Rhythm is the only truly international language.
I've been very lucky in meeting wonderful musicians on my travels, so it was easy picking the performers for the show. It's a given that they are masters of their craft, but they are also open to creating some new culture clashes!
For our Musictown show in Smock Alley, we a have Punjabi drummer Johnny Kalsi, Tuareg guitarist and singer Anana Harouna from the Sahara, the expressive vocals of Guinean Nene Mansaré, innovative Spanish flamenco from dancer Marita Martinez-rey Jimenez, the hypnotic rhythms of Japanese taiko drummer Kumiko Suzuki and the Capeoira stylings of Brazilian Kleber De Sousa Andrade. The cast will also feature local favourites Niall Murphy on fiddle, Seána Davey on Harp and myself (Bongo Bob Harris) on the goat-skinned bodhrán.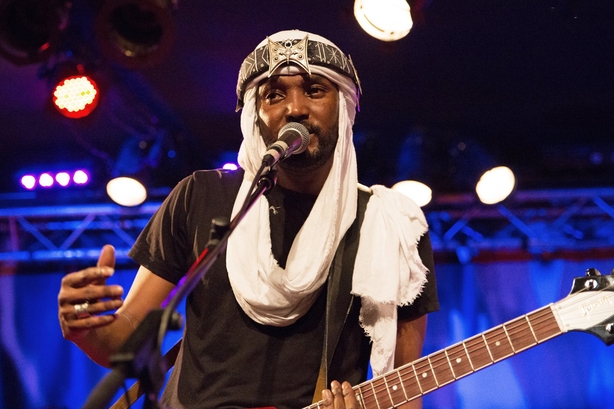 I see Globe as a multicultural street party. We are deeply connected through music and dance, rhythm is the only truly international language.
A heartbeat, rhythm and the dance – I believe that these are central to our human experience here on this globe called Earth.
Globe is at Smock Alley Theatre on Thursday, April 13th, as part of this year's MusicTown Festival - view the MusicTown programme here.