Award-winning documentary maker Ross Whitaker (Unbeakable, Bye Bye Now) writes for Culture about his latest acclaimed film, exploring twelve months in the life of popular surf destination Lahinch, Co. Clare - watch Between Land And Sea here via RTÉ Player.
Our film Between Land and Sea played in selected theatres around Ireland last year, and we were blown away by the response.
We need your consent to load this Vimeo contentWe use Vimeo to manage extra content that can set cookies on your device and collect data about your activity. Please review their details and accept them to load the content.Manage Preferences
The Irish Times called the film "Brilliant." TheJournal.ie said "Thrilling."
And who could have known that a low-budget but highly ambitious film about an Irish seaside town would sell out eight times in a row at venues in Dublin, Waterford, Cork and Ennis?!
It all started on January 7th, 2015, the first day in a year spent chronicling the surf community in the seaside town of Lahinch.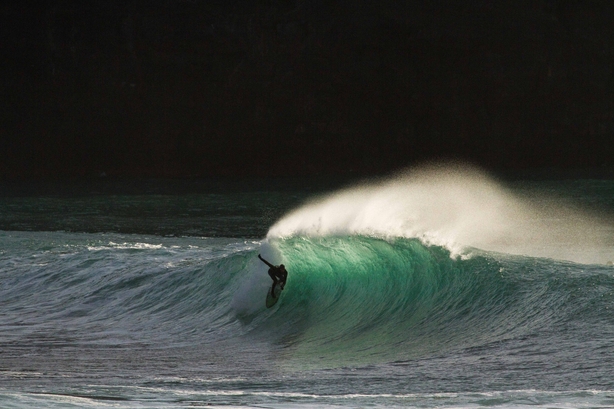 On that day in January 2015, it's raining so hard that I can't see my own hand outstretched in front of my face. There's hardly a soul to be seen in Lahinch and I'm wondering how the hell I'm going to make the documentary that I've been hired to make. I don't know any surfers, and I've never been to Lahinch before.
A massive storm is hitting the west coast and the position of Lahinch makes it particularly susceptible to damage. A year earlier, in 2014, the town was almost wiped out and now they've built reinforcements. I stop off in a car park above the town to try to get shots of the storm. I have to try to film something, after all.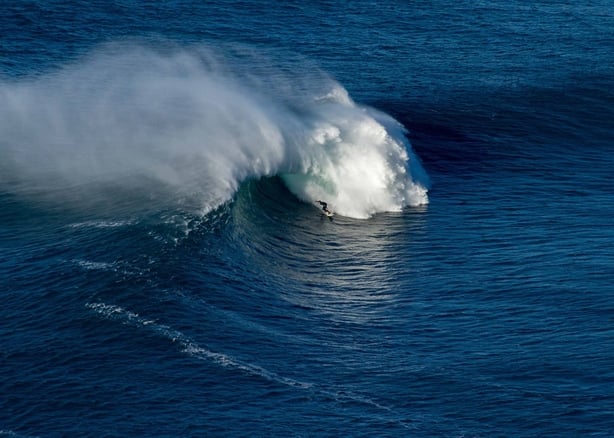 Within a few minutes, a van pulls up beside me. I knock on the window and hop into the passenger seat. Within ten minutes, I have my first interview for the film – the guy in the van is Dexter and he has a great story. One year earlier, he bought a surf school and a few days later the vans and equipment were destroyed by that monumental storm. Over the year, I follow his attempts to make the business work again. Dexter turns out to be wonderful on camera – so natural and so funny. At a recent local screening, a question was asked, "Dexter, when are you starting your stand-up comedy career?"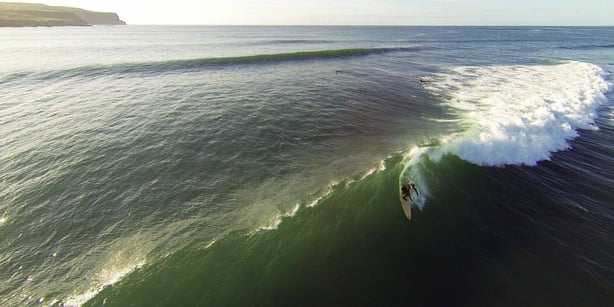 For this film, I wanted to tell the story of the surfers on land as well as the sea. But I knew the film would be nothing without extraordinary surf footage. Thankfully, one of our main characters Fergal Smith suggests that his brother should help out with the filming - and it turned out his brother is a brilliant surf videographer. Throughout the year, we make sure that every time there are great waves, we are there. We discuss the best and most unusual angles, and we work hard to make sure we miss nothing. It's hard work and requires a lot of commitment and concentration but the results are so rewarding and we really hope people will like it.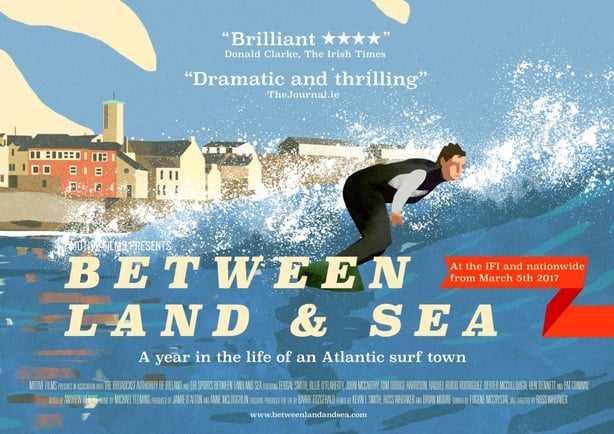 Watch Between Land And Sea here on RTÉ Player.
Photos: Kevin Smith