Thirty years ago in 1987 the Dublin composer and tenor Michael McGlynn formed a small group of singers into a vocal group that he called An Uaithne.
An Uaithne is a collective description for the three ancient forms of Irish music - Goltraí (song of lament), Geantraí (song of joy) and Suantraí (the lullaby). Initially, they gave a few concerts a year which mainly featured works by living Irish composers, early music and a few arrangements of traditional and medieval Irish music made by Michael. Very quickly this changed as audiences responded overwhelmingly positively to McGlynn's own original music and arrangements.
"It was quite startling at those early concerts" Michael recalls. "People appreciated the effort we were making to sing challenging music, but it was my own material that struck a chord deep within them. My background was not a classical one, and I have never placed barriers between genres of music, so it was not a leap for me to create an entire repertoire of songs that could transcend barriers of musical style. I used medieval drones under sean nós melodies or added guitars to seventh century texts in Latin. At the back of my mind was always the idea that the stories of these songs needed to be told, that the beauty of choral music should be something open to everyone, not just a privileged few".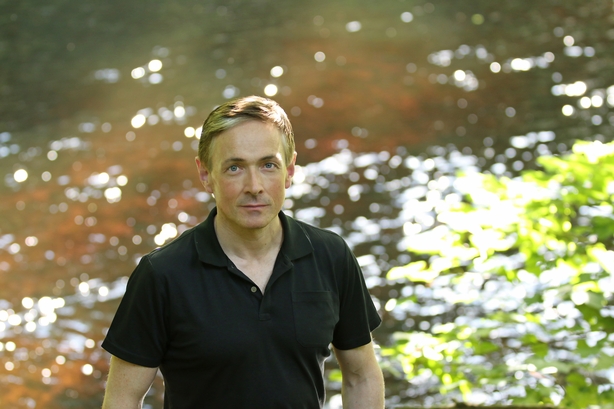 Michael's twin brother John joined in 1991, and together they began to explore the idea of having the group interact with the space and the audience in unexpected ways.
"The music appeared to generate the movement," says Michael. "Tokenistic wandering around a venue never appealed to John or I. There is nothing worse than having people walk around aimlessly in a concert. What I tried to do was get the singers to invest in the ritualistic aspects of performance, harkening back to the earliest Christian and non-Christian traditions of worship and song".
At this point the name An Uaithne became ANÚNA, and Michael's music developed and grew. Today, they travel all over the world and have become the defining voice of Irish choral music. Their unique nature has allowed them to collaborate with hugely diverse artists and musicians. This February alone, they collaborated with a Japanese Noh theatre company in Tokyo for a hugely successful presentation based on Yeats' At the Hawk's Well featuring a full score written by Michael. The same week, they provide the haunting vocals for the latest iteration of the highly anticipated video game Xenoblade Chronicles.
"ANÚNA in 2017 may be little evident or understood at home," says Michael. "Today, our singers are drawn from ten countries and our education work and annual Summer School in Dublin in June have placed us very much into the international arena. I know that what we have achieved is astonishing considering that we were created from nothing but passion. Passion for our wonderful music and literature, and a strong desire to transmit that passion on to others, both singers and audience. Its a wonderful journey to be on".
ANÚNA's 30th Anniversary Concert takes place at the National Concert Hall, Dublin, on March 16th - details and booking here.