Dublin playwright Conor McPherson has always looked to the future - the next project, the next play or film, whatever is his latest idea – that is what keeps him going as an artist.
"Most writers tend to refocus on the future… You are always thinking about your next thing."
So when we discuss The Weir - which was written two decades ago when McPherson was starting out as a playwright in his early twenties - it is as if a different person wrote the rural Irish pub drama which launched his theatre career.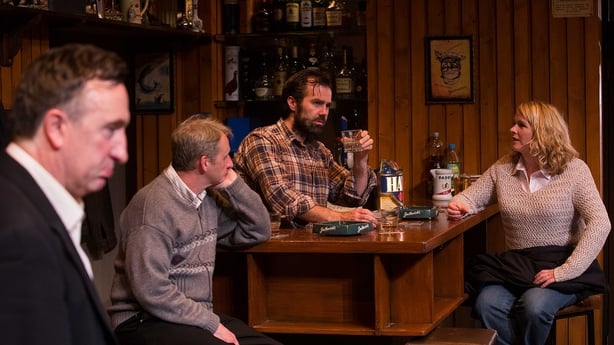 Yet, he remembers vividly the scene that inspired the play, which he saw as a teenager:
"I was quite young and I was visiting my granddad in Leitrim. Sitting in the local bar with my Dad and Granddad, I saw this farmer come into this little tiny pub in this tiny hamlet in Jamestown, County Leitrim.
"He just went in behind the bar and poured himself a pint of Guinness and there was something about that image that stayed with me.
"That's the opening of the play – it sort of says everything about a place that you can just walk in and walk behind the bar, pour your own drink and put the money in the till. It says everything about the community."
***
Rather like how Harold Pinter used to receive his, McPherson's ideas come to him as fully formed scenes or as dreams. These glimpses entice him to explore what is offered by his subconscious.
"Inspiration like that is almost a nostalgia for something that hasn't happened."
"It is not that you're seeing an image, it is that you're seeing a world. That room that Harold Pinter saw for The Caretaker, that was a world. It is there already - it exists and it's fascinating. You feel that you can control and explore it, and can find out more by spending time with it. It is something within yourself that you are trying to articulate, so it's strange.
"Inspiration like that is almost a nostalgia for something that hasn't happened. It's a very, very comfortable place for you to go and that's why you keep going in order to finish the play."
However, that period doesn't last. He talks of how you must get in there and write the play while it's fresh in your mind.
"When you write the play and it's done, and you move on, you don't have that anymore. And the play is actually of far less interest to you because it's not filled with all these strange sensations that you were having during the time it took to write it.
"If you don't write the play in that time you'll never write it because that moment is gone, that inspiration is gone. So it is a very mysterious process."
***
Why has The Weir, ostensibly a ghost-story lament for a sense of rural community lost during the Celtic Tiger, why has that story resonated with so many international audiences?
"I suppose because it's about very basic, universal things in many ways. You don't have to know anything about Ireland to really enjoy it. You don't have to know anything about politics to enjoy it. You don't have to know anything about Irish history.
Listen to Playwrights in Profile - Sean Rocks talks to Conor McPherson:
We need your consent to load this rte-player contentWe use rte-player to manage extra content that can set cookies on your device and collect data about your activity. Please review their details and accept them to load the content.Manage Preferences

"Because the things they are actually talking about are supernatural things. People are interested in that. The stories told are about those questions, the big mysteries in life, and they resonate across all cultures.
"It is something to do with all of that. But then, at the same time, I can't really answer the question because there is just a little bit of whatever the chemical explosion was within that moment, with that play.
"And that is probably something that is beyond me, sometimes it just happens and it works."
Set in a cozy Leitrim pub, a number of local male characters are joined in the bar by Valerie, a young woman who has just moved down to the village from Dublin to get over her divorce.
They start regaling her with tales and ghost stories about the area. As the night goes on, and Valerie is enjoying the company, she opens up and it is her contribution that is central to the play's drama.
***
When The Weir first opened in London in 1997, in the Royal Court Theatre, it played in front of audiences of just sixty people.
"There wasn't even banks of seats, it was actually just chairs," McPherson remembers fondly of that first production. "They were in two rows in an L-shape around this bar. There was a table and an old stove. It was artfully designed, but there was very little there. It was intimate, it was just like sitting in a bar and watching what was happening."
"When you're on your next thing, you're just starting all over again and The Weir can't help you."
Soon critics got a hold of this new monologue-based play, and as a result it started out on a journey that would see it split into three separate productions, with three different casts, which travelled to London's West End and Broadway in New York, while that initial run carried on in a bigger theatre - all this happened simultaneously.
The buzz around The Weir lasted two years or more, and by the end of it McPherson was a world-renowned playwright. He held the keys to the stage, but during this time he realised that one successful play was no guarantee of the future.
"Time teaches you that what happened The Weir was very unusual… But the interesting thing is, when something is successful it doesn't actually teach you anything. I didn't learn from it.
"We did it, and it was great, but it's no use to you as a playwright. Because when you're on your next thing, you're just starting all over again and The Weir can't help you, in fact it probably inhibits you. You've just got to move on."
Twenty years after that first success, Conor McPherson is still focused on his next idea.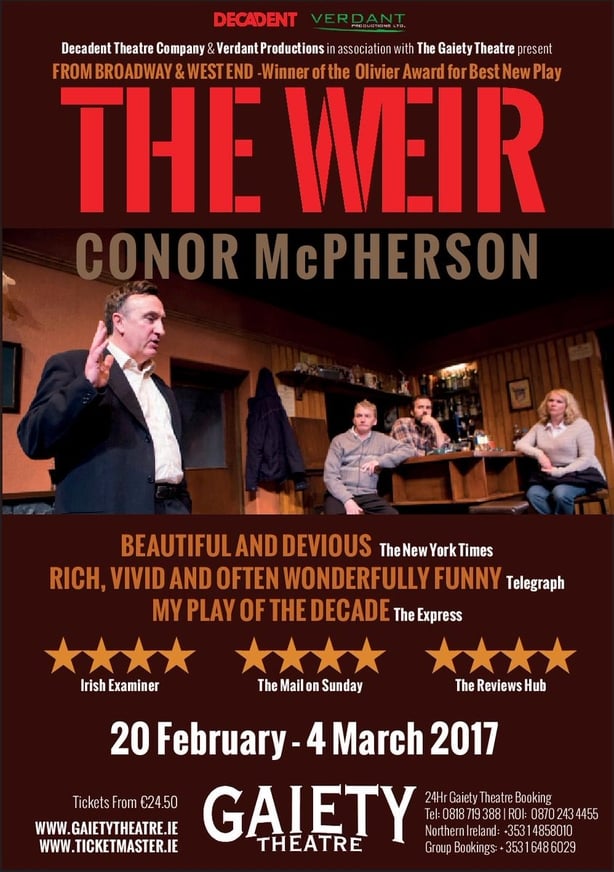 Decadent Theatre's production of The Weir runs until March 4th at the Gaiety Theatre, Dublin; tomorrow, in the second part of RTÉ Culture's interview with Conor McPherson, you can find out what the playwright is doing next.