Our Poem Of The Week, presented in association with Poetry Ireland, is Safe House by Leanne O'Sullivan.
The poem is taken from the new pamphlet 10 Poems from Ireland, published by Candlestick Press and edited by Paula Meehan. This selection of ten landmark poems also includes work by Michael Hartnett, Moya Cannon, Brendan Kennelly, Leanne O'Sullivan, Tony Curtis and Nuala Ní Dhomhnaill, and miraculously encompasses Ireland's myth, folklore and recent history, alongside enduring themes of childhood, love and ageing.
---
Safe House
When they were beginning to build a country
some of the men came to hide in a house
where there was a family, and a child upstairs,
listening. They told him what to say if anyone
ever asked. Say they were never there.
Say there was only a family in that house.
And during the night the boy went to the room
where their bags and belongings were hidden.
He felt along the canvases, the mouldy wet
and sag of the straps. His fingers touched on
papers and coins, and lifted out the revolver,
its coolness and the weight of it in his hands.
Then he felt nothing. His blood crept slowly
and dark along the floorboards, underneath them,
and the room shook, and stood still,
and seemed to hang for a moment in that night.
When they found him they cleaned him,
his face, gently and quickly, and his mother
wrapped him in a blanket and took him
out to a corner of the farm and buried him.
Back in the house they gathered his things,
and built up a fire again in the kitchen,
burning his clothes, his shoes, all the signs
and small, clumsy turnings of a child.
And afterwards, in the freezing dark, the father
went out to find the doctor and the parish priest
to tell them what had happened, and what they
should say if anyone ever asked.
Tell them there was never a child.
Say they were never there.
There was never a home
or the found, easy measures of a family.
There was never a map that could lead back to
or out of that place, foreknown or imagined,
where the furze, the dark-rooted vetch, turned
over and over with the old ground and disappeared.
Originally published in The Mining Road (Bloodaxe Books, 2013)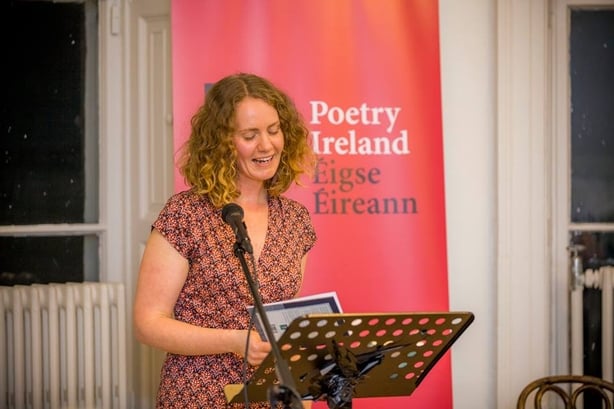 Leanne O'Sullivan was born in West Cork in 1983 and has published three poetry collections with Bloodaxe. The first, Waiting for my Clothes, appeared when she was only 21. Her work has been included in various anthologies and she received the Ireland Chair of Poetry Bursary Award in 2009.