My name is Kevin Brew, and I work as a radio producer with RTÉ Drama On One. Over the next few months we're trying to address contemporary social issues more directly, especially in view of the frightening reversals and humanitarian crises appearing in daily news headlines.
One of these projects is a piece I wrote and devised called Flight Risk which is told from the point of view of a woman seeking asylum, adrift and asleep on a flight bound for Dublin. The piece combines monologue, dramatic scenes, archive and location recordings to explore the thoughts and fears of Elizabeth – a woman seeking protection in the land of one hundred thousand welcomes.
Listen to Drama On One: Flight Risk below:
We need your consent to load this rte-player contentWe use rte-player to manage extra content that can set cookies on your device and collect data about your activity. Please review their details and accept them to load the content.Manage Preferences
As we know, the Irish bounty of welcomes is delimited by the International Protection Act, with some 4,279 people currently seeking asylum in Ireland accommodated in over 30 Direct Provision centres (RIA 2016). Asylum seekers in Ireland are not allowed to work; they're not allowed to cook for themselves (in the vast majority of cases) and adults are granted a weekly allowance of €19.10 a week – the amount hasn't changed since the system commenced operation in 2000. Some have spent in excess of five years in the system.
I was very fortunate to be able to invite Ellie Kisyombe to play the role of Elizabeth in Flight Risk. Ellie is an activist with Our Table, the inspirational project that uses food events to connect communities and to campaign for the end of the Direct Provision system.
Our Table was founded in 2015 by Ellie with Michelle Darmody and Fiona Corbett. Their events bring people in Direct Provision together with the general community, raising awareness, creating friendships and having fun at the same time. A companion programme we made about Our Table will be broadcast directly after Flight Risk.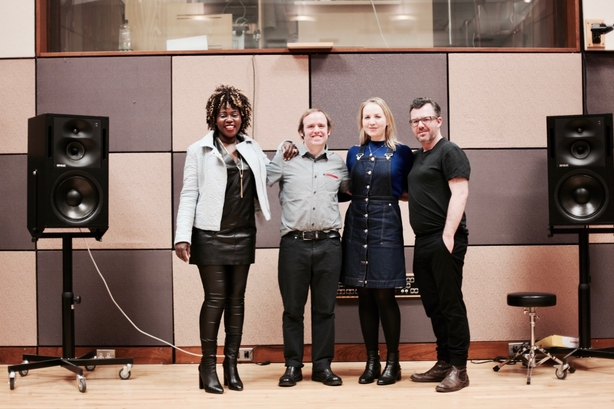 Ellie is also seeking asylum status in Ireland, and she was able to take my words and rearrange them in her way of speaking, while drawing on personal experience for the role. As she is a great storyteller, she also improvised and helped to make this play speak in an authentic way. Actor, musician and theatremaker Dylan Tighe has previously created a host of multidisciplinary pieces like Record and No Worst There Is None. He's our suave pilot on this flight. And Kathy Rose O'Brien used her incredible focus to play a stewardess whose short replies seem to embody the impersonal world of immigration that jars with our daily imaginings of Ireland as the land of welcomes. Sound Supervisor Damian Chennells worked his usual sonic mastery on the desk, revving up the engines of a virtual Boeing 737 for our benefit.
A key concern of this project was that the community of people in direct provision would speak through this programme. So there are recordings of testimonies made on Liveline with Joe Duffy; recordings I made at rallies; and excerpts from a particularly uplifting night at the Our Table pop-up café at Project Arts Centre. Neltah Chadamoyo spoke with great eloquence that evening, to an audience who had just learned the name of the next American president: "To me this is a wake-up call - to those of us who believe in equality".
RTE Drama On One presents Flight Risk by Kevin Brew, with Ellie Kisyombe as Elizabeth, this Sunday Jan 29 at 8pm on RTÉ Radio 1. The programme is followed by a feature on Our Table and a reading by Thomas Kinsella of his poem Butcher's Dozen.