Roseanne Smith is a member of the board of Dublin Youth Theatre and the online producer for their annual 24 Hour Plays fundraiser. Here, she remembers why DYT was so important to her teenage self - while inviting you to a rather unique event at The Abbey Theatre on January 29th...
When I look at the picture below, a wave of memories hits me.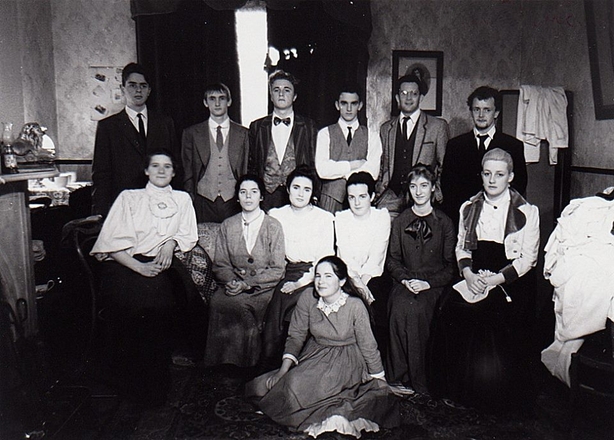 It reminds me that the me in that picture - I'm the one at the front, sitting on the ground - had just snogged a boy (not pictured) for the first time around the time it was taken. That thought opens a whole lot of doors in the memory palace.
It reminds me about fainting on stage. It was a warm summer. That was a heavy costume.
It reminds me about my parents' admiration for the fact that I was working with Gerry Stembridge on that play. They were big Scrap Saturday fans. I remember the pride on their faces when they met him and he praised their eldest daughter.
It reminds me of showing my own children that photograph and having to explain that it wasn't me in the olden days, that I was wearing a costume. I explained I was playing a part in my first Big Show (note capitals) with Dublin Youth Theatre. It was the part of a young girl called Eva Joyce, growing up in a North Inner City Dublin tenement, at a critical moment in her life when her eldest brother and sister, James and Poppy, announced their intentions to leave, for Europe and the religious life respectively.
It reminds me of all the songs that we learned and sang together in that production. It reminds me of the cleverness of the Dublin Youth Theatre production team, led by co-directors Gerry Stembridge and the late, great Eilis Mullan and their crew who turned 23 Upper Gardiner Street into the Joyces' home for two weeks from Bloomsday 16 June 1991.
It reminds me how important Dublin Youth Theatre was for me, a teenager from Rathmines. Dublin Youth Theatre helped me find a creative outlet that let me express myself as part of an ensemble. To this day, I reach into the pocket where I keep those memories, anytime I have to do anything that makes me nervous. I remind myself that, during my five years as a member of Dublin Youth Theatre, I have performed on stages all over Dublin city, big and small, that I have performed and worked with theatre professionals who treated me as an equal at 15, asking my opinion and encouraging my expression.
We need your consent to load this YouTube contentWe use YouTube to manage extra content that can set cookies on your device and collect data about your activity. Please review their details and accept them to load the content.Manage Preferences
I remember to this day a phrase I read during my subsequent studies: 'Drama is the education of the feelings'. Every time I join the audience for a Dublin Youth Theatre production, I am reminded of this phrase. I have been on the board of DYT now for three years. I have seen members go from their first-ever production as part of the First Year One Act Festival in the Spring to confidently stepping onto the Smock Alley, Peacock or Project stages the following autumn in DYT's annual 'Big Show' - productions to rival any professional production in the city.
Each year, Dublin Youth Theatre welcomes 35 young people as new members, offering creative experiences that promote artistic, personal and social development for young people aged 14 to 22 in Dublin City, drawn from every imaginable walk of life. Each member pays a fee of €100 for a year-long programme of activities that not only 'educates their feelings' but teaches them the value of responsibility, resilience, organisation, teamwork and timekeeping. Back in the day, as a middle child and a teenager, it was just what I needed: something that I could call my own.
2017 is a very special year for Dublin Youth Theatre. The organisation is celebrating 40 years. The organisation is planning to move to a new home.
We need your consent to load this Vimeo contentWe use Vimeo to manage extra content that can set cookies on your device and collect data about your activity. Please review their details and accept them to load the content.Manage Preferences
Celebrations kick off with the 6th Annual presentation of The 24 Hour Plays: Dublin in aid of Dublin Youth Theatre (and kindly supported by BNP Paribas Real Estate). This gala fundraiser takes place in The Abbey Theatre on Sunday January 29th 2017. It features stage and screen actors from Ireland and further afield, supported by a production crew of over 30 theatre professionals assisted by interns from DYT.
Six short plays will be cast, written, directed, rehearsed, lit, costumed, propped and produced between Saturday 28th January and the time you sit in your seat in the Abbey Theatre on Sunday January 29th. It's a unique theatrical experience, and then some; this year's talent includes Fair City stars Clelia Murphy and Claudia Carroll from Fair City, Keith Duffy (Coronation St. and, you know, Boyzone), Aidan McArdle (The Duchess, The Fall, Mr Selfridge) and Seána Kerslake (A Date for Mad Mary, Can't Cope Won't Cope) among many others.
Think of it this way - every penny of your ticket price is going to ensure the education of another young person's feelings. 
Find out more about (and books tickets for) The 24 Hour Plays: Dublin in aid of Dublin Youth Theatre here..