A true warrior with words, spoken word artist Hazel Hogan tackles wide-ranging societal issues in her work – from the housing crisis through to mental health. As part of First Fortnight festival, challenging mental health stigma, Hazel will join OutStraight – a concept based show combines spoken word with visual art graffiti – and which will take place in The Bernard Shaw, 11-12 Richmond Street, Dublin on January 7.
Art has always been one of the first resources that I reach for when times are testing. When I'm down and need a laugh, I watch my favourite stand-up comedians. When I need to feel something, I read poetry. When I need to feel free, I play my favourite musician's songs and let their music blare from the radio and dance around the kitchen without a care, when no one else is home of course.
Poetry has always been my outlet. It has been something I can focus on, when my life is chaotic. Through every experience that has challenged me, I have gathered words and attempted to make something of them. Words are the tool I use to create art and they can be beautiful, raw, hard-hitting, edgy or genuine. They are whatever I create with them.
'To truly be listened to is a sacred thing.'
When I struggled with mental health in the past, I turned to writing. It allowed me to process what I was going through. It allowed me to control how I reacted to what was happening. I found my voice and felt empowered in situations where previously I felt utterly powerless.
By allowing myself to create, I am giving myself the freedom of expression and I'm honouring myself and my experiences.
I have found connection and friendship through art. A poetry scene, especially in the spoken word form has exploded in Ireland in the last few years. I have formed many friendships and met new people through this. There is a real sense of community and togetherness, within the scene. To truly be listened to is a sacred thing; it is healing. The poetry community in Ireland has fostered an environment where we can do just that, listen to each other and have our voices heard.
The point of art is to allow us to feel things and we must first feel and understand how we are, to process and overcome difficulties.
Art allows us to tackle tough topics that may otherwise go unnoticed; it gives us an access point to talk and it opens up conversation. Opening up and talking is vital to ending the stigma around mental health issues.
I found my voice and felt empowered in situations where previously I felt utterly powerless.
That is why I am so excited to be part of First Fortnight; it offers another chance to listen to people, to express ourselves and to connect through an artistic medium we find most suitable. It gives us a chance to open up about mental health and to end the stigma surrounding the topic.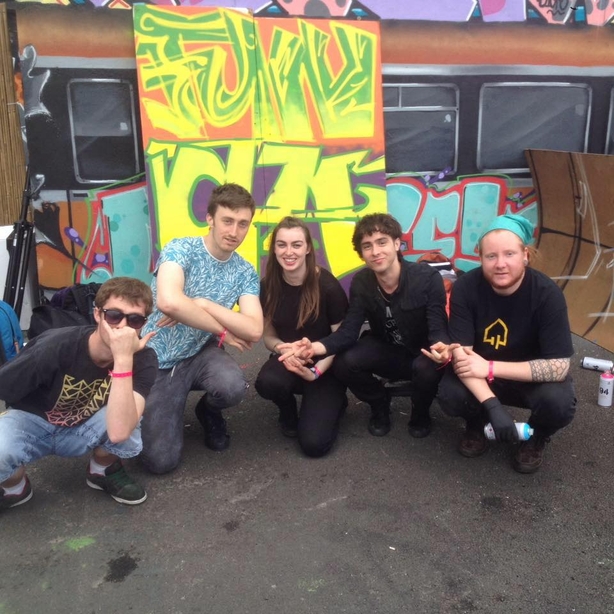 OutStraight is a concept based show combining spoken word with visual art graffiti - along with our usual live poetry and graffiti, the artists will be doing some graffiti workshops and the poets will be writing personalised poems for the audience, using old typewriters.
I will be performing alongside other members of OutStraight, on the 7th of January in the Bernard Shaw from 12pm to 5pm, as part of First Fortnight festival - details here. Join us as we bring some warm spoken word and live graffiti to the Bernard Shaw.