Eva O'Connor on why the power of the arts to heal, inspire, and change should never be underestimated.
Playwright and actress Eva O'Connor takes part in next month's First Fortnight festival for the third year running. As part of the award-winning Sunday's Child Theatre Company, Eva's one-woman show, My Name is Saoirse won the First Fortnight Award at the Dublin Fringe 2014, and was performed at First Fortnight 2015. Last year, Overshadowed, a play about a young girl's struggle with anorexia, ran during First Fortnight 2016 having won the Fishamble New Writing Award at the Dublin Fringe 2015.
---
I have a reputation among my friends for writing plays about 'depressing issues'. Some one asked me recently how many more skeletons I have left in my closet from which to draw inspiration. In the past few years I've covered depression, abortion, anorexia in my plays. These days I am very happy in my life. Does that bode terribly for my art? Probably!
Writing about mental health related issues was never intentional. From as long as I can remember, I have been writing, and as an unhappy teenager I filled notebook after notebook with struggling thoughts (My mother recently burnt a black bag full of them - with my permission I should add!) It was only when I fell into playwriting - in an attempt to get myself on stage - that I realised how powerful theatre is as a medium to air things that we as humans so often struggle to talk about.
In 2014 my one-woman show My Name is Saoirse won the First Fortnight Award, at the Dublin Fringe Festival. The prize was a week long run in First Fortnight, a brilliant festival that aims to challenge mental health stigma through the arts.
Turning mental health experiences into art helps show others they are not alone
I wasn't sure what to expect from the festival initially - lots of serious, brow furrowing debates about the best way to treat depression perhaps? It turned out to be a highlight of my year. There were so many brilliant events on; poetry, music, theatre, film, talks and at every event there was this brilliant sense of openness and acceptance. Having spent many years struggling with mental health issues, mostly behind closed doors, it was so empowering to be part of a festival that gives people the freedom to laugh and cry and talk openly, to see their own struggles portrayed through arts and know they are not alone.
My Name is Saoirse is about a girl in rural Ireland in the 80s who gets pregnant and goes to England for an abortion. I wrote it after I had an abortion myself, but the play is about much more than that. It's about coming of age in conservative Catholic Ireland; it's about grief, sexuality, anxiety. Performing the piece in the context of a forward thinking mental health festival was a brilliant experience. The post-show discussions and conversations I had with people throughout the festival in 2014, made me realise how powerful My Name is Saoirse could be in terms of provoking compassion. It was also huge in helping me believe in my own work, and in my own voice as an artist. We're still touring My Name is Saoirse now, and I'll be taking it to Adelaide Fringe in February. I was chatting to someone in Australia recently and they couldn't believe we don't have legal abortion. It's weird having to explain from scratch the situation we are in Ireland in terms of the 8th amendment. It makes us sound like such an embarrassingly backwards nation.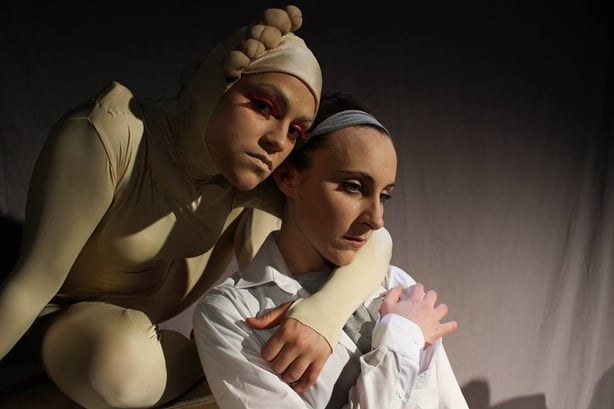 In 2015, we returned to the First Fortnight festival with a new play called Overshadowed, which was based on my experience of anorexia. I am fully recovered now, and in some ways I was reluctant to make a show about such a painful experience. Let sleeping dogs lie and all that.
Writing Overshadowed, and in particular performing it at First Fortnight, transpired to be incredibly rewarding. We got feedback from sufferers saying they never thought they would see their experience of anorexia represented so accurately. We spoke to parents of children (both boys and girls) struggling with eating disorders. We got the most heartfelt emails from psychologists, from friends, from people being treated in hospital. One woman wrote to me saying she had been bulimic for 20 years and Overshadowed inspired her to contact her mother who she had spoken to in years, to thank her for supporting her through it.
The arts were my lifeline when I was sick. Writing and performing gave me freedom when I was in very dark places in my mind.
Performing Overshadowed, and discussing my experience of eating disorders openly was huge for me. I had been recovered for a while, but this marked the point where I became an ambassador for recovery. First Fortnight gave me the opportunity to share the message of hope, to stand up and say freedom from eating disorders is possible for everyone. I think for some one in the grips of anorexia or bulimia, or whatever people might be going through, hearing some one say that it is completely possible to get better is huge.
This year we delighted to be returning to First Fortnight with a new piece called Pol na Mone. The play is an interactive show, and will be performed for one night only, on January 7 as a work in progress. It follows three women on a night out in Dublin. One of the characters is struggling with mental health issues, another is a sex worker, and another has a dark family secret. The audience has the opportunity to decide how the action plays out. At five crucial points in the story they will be asked to vote on what they would do in the characters' shoes.
I think as Irish people we are very good at passing judgment, particularly on women, and by challenging the audience to walk in their shoes, hopefully we will get people thinking about why we make the choices we do, and what, if anything qualifies something as a "good" decision.
I realised how powerful theatre is as a medium to air things that we as humans so often struggle to talk about.
Myself and Hildegard Ryan who is my director, dramatur and co-writer on this piece, are really excited about Pol na Mone. It's definitely our most experimental piece to date. It asks lots of big questions about free will, morality, about how our mental health effects the decisions we make, and how we judge other based on their life choices without understanding anything about what they might be going through.
I'm thrilled to be part of First Fortnight again. I am also thrilled to be well enough to make work, to think straight, to not hate my thighs so much I want to die. It's the small things! The arts were my lifeline when I was sick. Writing and performing gave me freedom when I was in very dark places in my mind. The power of the arts to heal, to free, to inspire, to change should never be underestimated.