So here's Testimony, Robbie's version of events, which can now sit on your shelf alongside This Wheel's On Fire, another perspective, arriving 23 years after its predecessor, on the colourful but doomed trajectory of one of 20th century America's greatest musical combos, The Band.
First published in 1993, Levon Helm's This Wheel's On Fire was a fascinating mid-career trip through The Band drummer and singer's life story, which began with tales of delivering water to cotton pickers and working on the family farm in Turkey Scratch, Arkansas.
Helm was all Southern drawl and drole, he was proud and tactful, as well being racy, risqué and fun-loving until his death in 2012 at the age of 71. One of the dismal after-effects of Robbie Robertson's decision to leave the outfit of which they were both part - The Band - was, well, some grumpiness, often accompanied by grudging respect, on Helm's part, for Robertson. He resented the fact that the talented guitarist and writer of The Night They Drove Old Dixie Down had, as he saw it, left the remaining four members to their own devices.
For it was in the year 1976 that Robertson called time on his involvement with The Band, astutely celebrated by Martin Scorsese in his marvellous concert movie, The Last Waltz, filmed in San Francisco on November 25, 40 years ago.
The remaining Band members appeared too to be calling it a day, but they would reunite without Robertson in future years, despite the absence of Richard Manuel who committed suicide.Two band members who later joined may have been fine musicians, but they did not quite look the part, being younger, fresh-faced and less battle-scarred. Aside from being exceptionally talented musicians, looking the part was also very much about what The Band were about. Robertson, like the other original members, always looked the part. The look was something sombre and dignified, something to do with heritage easily absorbed, connected with Americana, with pre-industrial values. The band looked like scholars who hadn't tried too hard to study whatever arcane thing they appeared to know well, an unshowy, decorous learning.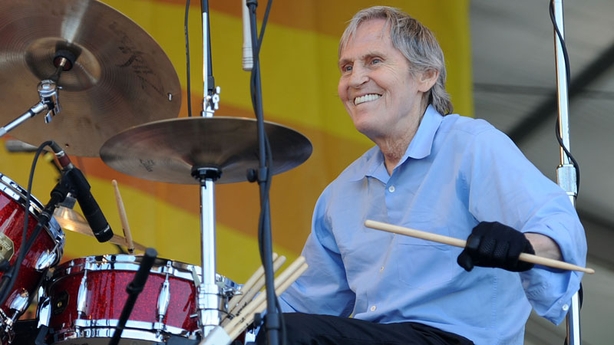 Levon Helm, drummer and singer with The Band
Thus, the reformed Band would make a couple of albums and tour, somewhat desultorily, it seemed. They played two gigs in Dublin's Olympia some 20 years ago, the first of which at least (I was there) was disappointingly shambolic. Much of it seemed a rather hollow echo of the greatness that this band could muster when the mercurial yet curiously-focused Robertson was the front-man.
In The Last Waltz movie, one might tentatively observe that the Canadian seemed to project himself differently from the other members of the Band. Robertson aside, their demeanour on the night suggested a kind of dull resignation that this final concert was not at all what they wanted, even if they seemed resigned to it. In contrast to Robertson, who seemed relieved that the endless touring was finally ending, the rest almost seemed shadowy anti-showmen - the film uses light and shadow beautifully anyway.
In a few choice segments of interview footage, Scorsese's movie reveal pithily and, it almost seemed with a certain directorial guile, each of The Band members' different personalities. Even Robertson's clothes seemed to look fancier in The Last Waltz performance sequences. He is certainly the charismatic one to whom the viewer is constantly drawn, as he knocks fire out of his guitar on a duelling guitar version of Further On Up the Road with special guest Eric Clapton.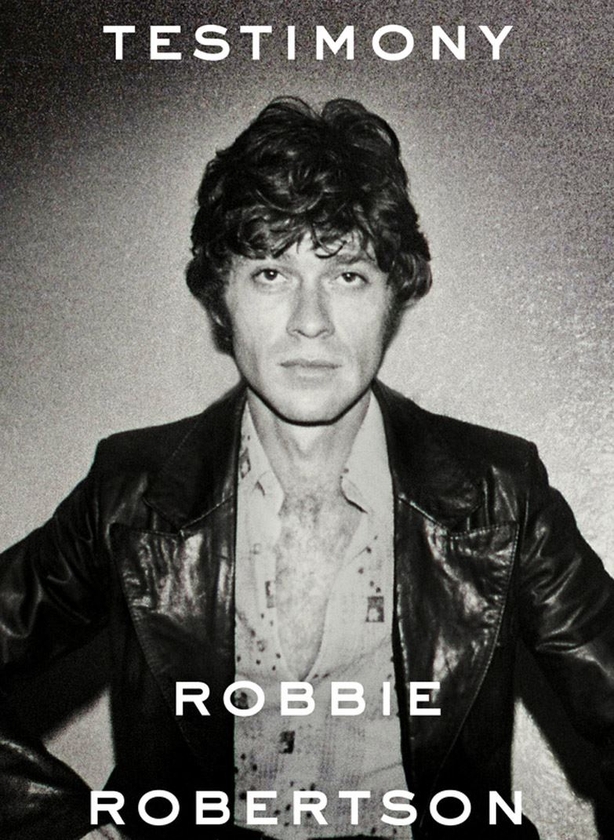 Any assessments must be cautiously expressed, but Robertson in retrospect seemed more au fait and more ready to engage with the music and film industries and its insiders, than the other Band members, Danko, Helm, Manuel and Hudson. He was perhaps more ambitious and, somewhat related to this, more open to the possibilities of pop and to commercial success than the others might have been. He might have been more of an intellectual too – that dreaded word – being an early fan of Jean-Luc Godard (while also adoring Brigitte Bardot.) Yet he derives salty humour in Testimony from Levon Helm's attempts to `get laid', as he puts it, one particular evening.
Martin Scorsese and Robbie Robertson at the 25th anniversary screening of The Last Waltz in 2002 in New York.
Suffice to say, that having produced Neil Diamond's Beautiful Noise album, which was also released in 1976, Robertson found himself engaged in a dispute with the other Band members about Diamond's appearance on The Last Waltz, as recalled in Helm's book. (Diamond did eventually appear and acquitted himself well with a commendable version of a song called Dry Your Eyes.) One cannot help but reflect all these years on, that if Robertson had not been such a valued member of The Band, would Levon, bless him, had felt so sore about his unexpected departure?
Of course, this 500-page book is only in part about The Band and playing with the irascible Ronnie Hawkins and The Hawks prior to all that. There is so much more to Robertson's musical adventures. He recalls formative experiences like his memorable trip as a 16-year old to the Mississippi Delta. There is too an inauspicious black-and-white photograph of him looking gawky and awkward while performing with his first band, The Rhythm Chords. Earlier pictures show him to be a happy looking little toddler. His recollections of playing with Bob Dylan in his contentious `gone electric' phase - when audiences proved on occasion none too amenable to the sound of, well, The Band – are compelling and vivid.
It is moreover, The Band reminiscences in the end that will absorb most readers, the checking in and out of motels, the Jarmusch-like late night escapades, memories of sharing rooms at the Chelsea Hotel with the Richard Manuel, meeting Lou Reed and The Velvet Underground, an amusing set-piece with John Lennon, involving, well, marijuana. We won't spoil it all, though, we will be reticent and dignified like The Band . . . .
Paddy Kehoe.