RTÉ The Works Presents continues with its new 10-part series in which John Kelly meets key figures from the worlds of film, literature, music, theatre and the visual arts.
In the penultimate episode of the current series, John talks with renowned Irish playwright, Marina Carr, famed for her dramatic character driven plays. Her work, such as Portia Coughlan, By the Bog of Cats and On Raftery's Hill, have been performed all over the world to critical and commercial acclaim.
You can watch the show in full via RTÉ Player here.
We need your consent to load this YouTube contentWe use YouTube to manage extra content that can set cookies on your device and collect data about your activity. Please review their details and accept them to load the content.Manage Preferences
From her earliest absurdist plays to her recent adaptations of classic stories, Marina has touched on the darkest elements of human kind but always imbued them with an Irish humour.
Raised in rural Co. Offaly, Marina's work is often written in the strong Midland dialect of her home county. Her ability to transfer the particular rhythms of this language to the stage has helped to embed her work with a unique and songlike cadence.
While her home has helped to shape the language of her plays, it is her fascination with the Greek tragedies that have given her work their powerful nature. Using tragic female characters such as Medea and Electra as inspiration, Marina has created a host of powerful female roles. Often raging at the world around them, her characters, although committing brutal acts, are decidedly human.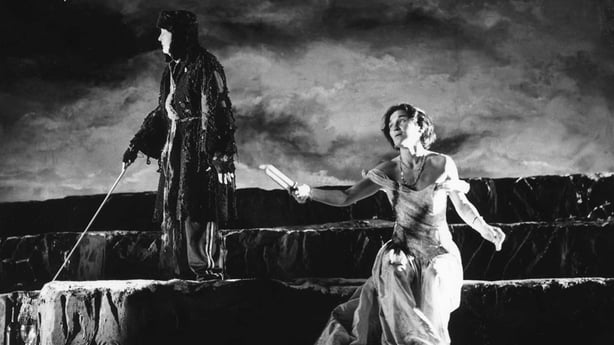 Olwen Fouéré and Joan O'Hara in 'By the Bog of Cats' by Marina Carr
Marina explains to John that although her characters do commit immoral acts, she is convinced that this is the reality of the world we are living in. She questions why the public can be shocked by things on the stage when they happen in real life.
Never one to take the easy road, Marina has branched out into new areas of work, such as her 'first real job' as an English lecturer at Dublin City University, to writing children's plays and even to writing opera.
RTÉ The Works Presents: Marina Carr - Thursday 24th November, RTÉ One, 11.15pm. Marina Carr's new adaptation of Leo Tolstoy's classic novel, Anna Karenina, opens at the Abbey Theatre in Dublin on Wednesday 7th December.