The winner has been announced of the Painting The Nation Big Picture competition, which invited amateur painters to share their images of beautiful places from across Ireland.
The response was absolutely incredible, and the quality of the work a vivid testimony to the sheer volume of talented painters out there.
In the end, however, there could be only one winner, and it's this city view from Corkman Keith Anderson:

Hi my name is Keith and I'm a 38 year-old self-taught artist from Cork. The name of my painting is "PURE CORK LIKE" It is 3.5 foot X 2.5 foot oil on canvas . For me this painting captures the spirit and beauty of Cork City .and I would be honored if it was to be selected.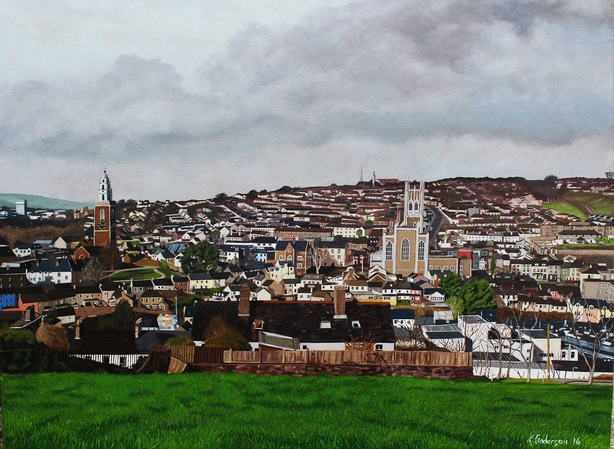 Commenting upon Keith's painting, Painting The Nation judge Una Sealy said:
What I look for in a winning painting is originality, good composition, drawing skills, and colour harmony.
Keith's painting is an ambitious attempt at depicting Cork city. His treatment of the buildings gives a good sense of perspective and distance, and his handling of the sky shows subtlety and good use of colour.
My advice to amateur painters is to work from life as much as possible, and to keep drawing as much as possible. Take a drawing class, and keep improving drawing skills. Everybody can learn, it just needs time and commitment.
Watch a Light & Colour masterclass from Una here.
Una's fellow Painting The Nation judge Gabhann Dunne had this to add:
I was looking for a painter who could really draw me into their piece with the choice of subject and how they used paint to make it work .
There's a great feeling of Cork city from Keith's piece. He hasn't tried to make it pretty, rather he picked an unusual but oddly familiar view. He painted it with great detail and has given us something eye catching and true.
Watch a still life masterclass from Gabhann here.
We need your consent to load this YouTube contentWe use YouTube to manage extra content that can set cookies on your device and collect data about your activity. Please review their details and accept them to load the content.Manage Preferences
A massive thanks to all those who took the time to share their work with us - it's been an absolute honour. Catch up with Painting The Nation here. And keep on painting!