John McSherry has been a major figure in Irish music for almost 20 years, and is hailed as one of the finest exponents of the art of uilleann piping in the world today. He is a composer, producer, arranger and established studio session musician of world renown, having recorded and performed with the likes of Sinéad O'Connor, Rod Stewart, Nanci Griffith, Gary Kemp, The Corrs and Clannad – gracing the latter's Grammy award-winning album 'Landmarks'.
A founder member of top traditional music bands Lúnasa, Tamalin and Dónal Lunny's Coolfin in the 1990s, McSherry has subsequently produced a string of critically acclaimed and innovative albums, both solo and collaborative, as well as co-writing 'The Wheels Of The World: 300 Years of Irish Uilleann Pipers' (Jawbone Press, 2015), a benchmark publication in traditional music history and appreciation.
He continues to push the boundaries of Irish music while remaining passionate about its ancient heart, with his current bands The Soma Band, At First Light, Ulaid and The Olllam.
The Seven Suns is his second solo outing and he describes it as "a musical journey into the heart of ancient Ireland, richly inlaid with elements both personal and national, mundane and mythical."
Full of original compositions from McSherry, and featuring musicians such as Sean Óg Graham, Mike McGoldrick and Niamh Dunne, the album explores Ireland from a global perspective, its key place in the ancient world, and the knowledge, wisdom and preoccupations of the people that inhabited it.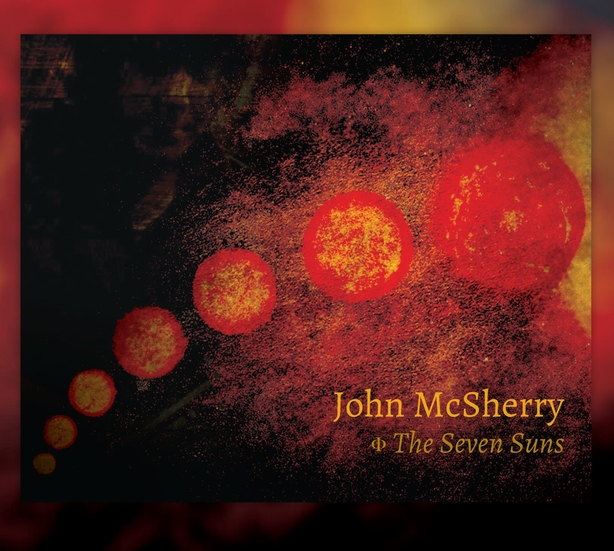 The King of Dál Buinne is typical of the album. On the background to this track John says: "Old Irish records from the 1600s refer to the 1130 A.D death in battle of Giolla Pádraig Mac Seiridh, King of Dál Buinne. Dál Buinne, a small kingdom in Uladh (Ulster), was situated on the borders of Down and Antrim. I always suspected we had royal Irish blood in our family. This is for the Kings of Dal Buinne and their Queens, Denis & Olive, Sean & Iris, Gabriel and Angela."
History and the natural landscape feed into his music, and he details his fascination with the ancient megalithic monuments of Ireland since a very young age. "Shrouded in mystery, these magical monuments have inspired so many artists over the centuries and continue to spur the imagination today," he says. "They are the remnants of an ancient civilisation that stretched all along Europe's Atlantic coast and into the Mediterranean, from The 'Ring of Brodgar' in The Orkneys to the Menhirs of Mzora in Morocco. The Irish monuments, in particular those of Brú na Boinne (Newgrange, Knowth and Dowth), Loughcrew and Carrowmore, are truly awe inspiring and invoke a deep sense of the spiritual."
Legendary musician Dónal Lunny says that John is one of the only pipers whose playing "embraces the ancient strangeness of music passed on to us from centuries before while also possessing the harmonic and rhythmic sensibilities of the best of rock and contemporary music. This album spans these great fields and conveys the depth and breadth of John's musicality!"
The Seven Suns by John McSherry is out now. For more of the latest trad music, news and tunes, visit www.tradconnect.com