In this week's episode of Painting The Nation - the watercolour challenge!
The six remaining painters visit the coastal town of Carlingford in County Louth where they face a watercolour challenge good enough to eat and they take inspiration from the beautiful Mountains of Mourne.
It's week two of the great Irish amateur painting challenge and the six remaining painters travel to the beautiful coastal town of Carlingford, County Louth.
Inspired by Percy French's watercolours and his famous musical ode to the Mountains of Mourne, our amateur painters must this week face the watercolor challenge – traditionally one of the most difficult mediums to master.
As always, there's a warm-up challenge where our judges get to see which of our 6 remaining amateur painters have the hang of this famously difficult painting technique – and who has a Mourne mountain to climb.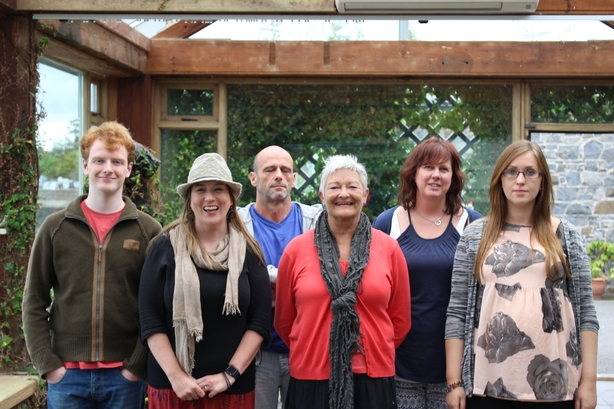 The six remaining Painting The Nation contestants
And to spice things up, they set a particularly tricky warm-up challenge: still life of Carlingford fish, chips and mushy peas, with ketchup and vinegar! So who will perfectly capture the ketchup – and whose fish supper will flop?
Warm-up challenge completed, our painters move on to this week's Exhibition Challenge. This is the challenge on which they'll be judged – and which decides which painters go onto the next heat, and which painter will leave the competition.
For this week's Exhibition Challenge, our six amateur painters must choose which view of stunning Carlingford Lough to paint – and capture it perfectly in watercolour.
Seascapes and costal scenes have been the subject of many a great painting. The Irish musician Percy French, who penned the lyrics to the much-loved song Where the Mountains of Mourne Sweep Down to the Sea, was also an accomplished watercolour painter. He spent time travelling the highways and byways of Ireland, painting mountains, lakes and seascapes, just like the one our amateurs will be painting this week.
Taking their cue from Percy French, our amateur painters have just two hours to capture the beauty of Carlingford Lough, the sweeping Cooley Mountains and the majestic Mournes.
As always, just one amateur artist will win the title of 'Painter of the Week' – and one of the six will leave the competition.
Who will impress the judges, and who will struggle? Which five will make it through to the next heat of Painting the Nation?
Painting the Nation, Episode 2 of 5, RTÉ One, October 9th at 7.30pm. Catch up with Episode One of Painting The Nation here, and enter the Big Picture challenge here.