The Works Presents continues with a new 10-part series in which John Kelly meets key figures from the worlds of film, literature, music, theatre and the visual arts.
You can watch the episode in full via RTÉ Player here.
In the third episode of the series, John meets with legendary front man of Dexys Midnight Runners, Kevin Rowland, to talk about his career to date and find out how his Irish roots inspired Dexys' new album, 'Let The Record Show Dexys Do Irish and Country Soul'.
After a long period without making music, Kevin reformed the new look Dexys in 2012 and this year, they released their fifth studio album, an album Kevin says has been in the works since the earliest days of the band.
Born in England to Irish parents and having spent many of his early years living in Crossmolina, Co. Mayo, Kevin has always been inspired by Ireland. From the references to the great Irish writers in his first ever single Dance Stance, through to this new album of Irish classics, Kevin has a unique way of interpreting Irish culture.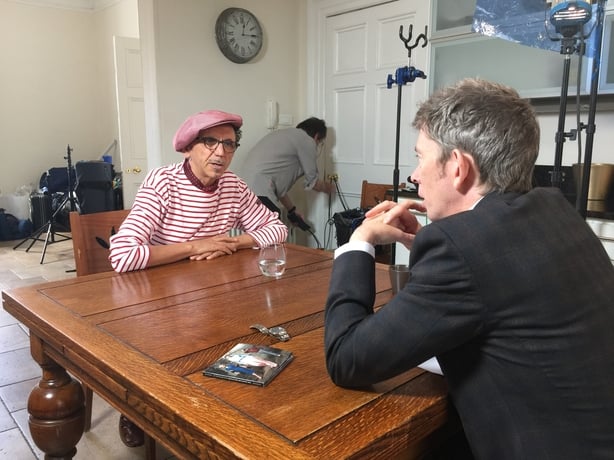 In this revealing discussion, Kevin tells John about the importance of music to his well-being and his disappointment at the commercial and critical failure of Dexys' third album, Don't Stand Me Down. Having spent many years out of the limelight, Kevin talks about his excitement at the success of their new album and his relationship to the ubiquitous Dexys' classic Come on Eileen.
With a flair for the theatrical, Kevin has always considered the 'image' as an equal partner to the music. From the early days of holdalls and leather coats, through the gypsy dungarees of 1982 to the modern retro look of today, Kevin tells John about his passion for creating these ever-changing and infamous styles.
You can watch the previous episodes in the series here.