Two weeks ago, while directing Joanne McNally in the Fringe, Una McKevitt focused a spotlight on the comedian munching her way through an entire carrot during their show Bite Me, a one-hander in which McNally tells of her manic decline into bulimia.
This carrot scene was there to allow the audience into the story. It went on for three minutes as the light held on McNally as she slowly, and with a concerted effort, chewed her way through the vegetable while a pop song blared, "Love! Love will set you free."
In that moment, watching her eat, the audience had time to digest what they had just heard about her addiction.
As she stood for what seemed like an age, the silhouette, created by her hair and the carrot, looked distinctly like Bugs Bunny. The wacky rabbit's catchphrase, "What's up Doc?", came to mind. It was apt, the show is partly a call for help, but there is no wallowing. Instead, the decline is juxtaposed with McNally's humour, she can make you laugh with just a facial twitch or eviscerate you with a searing, sarcastic glower.
"I wouldn't have done that show if it wasn't funny and neither would Joanne. It was about challenging her as a performer… An audience likes to feel they're going through a journey with somebody. That they're watching someone actually struggle on some level."
McKevitt's theatre has for years been about coaxing deeply personal anecdotes like this from friends and family and then presenting them in a way that is both relatable and compelling to an audience.
Subjects as serious as bulimia, adoption and mental health, as well as those as commonplace as friendships and singlehood, have formed the material for her theatrical exploration of everyday human experiences.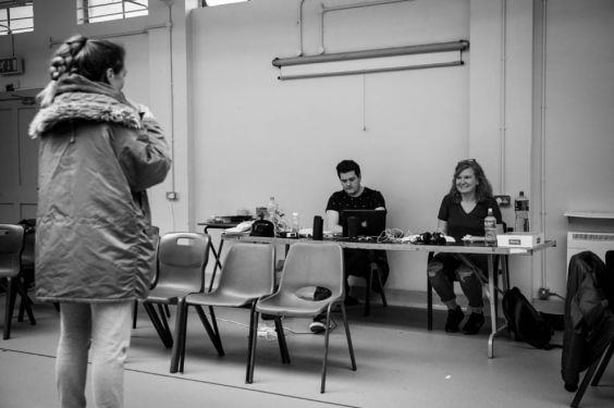 Una McKevitt and Joanne McNally in rehearsal for Bite Me
These stories have been anchored in first person accounts, she is a trusted listener able to translate that experience to the stage. But she is keen to move from rigidly adhering to other people's narratives into a more fictional exploration of the everyday.
"There does come a point of diminishing returns in terms of interviewing people… I'll probably look at ways of experimenting with placing things within everyday conversations going forward but it may not always be true life stories, they're a big responsibility.
"I want to try to be more inventive in the future. To find other ways, I don't know what it is yet, but my foundation has always been interpersonal relationships, or interviews with people, and I'd like to find a new way of creating."
***
Rehearsals are ongoing for the play Alien Documentary, opening in the Dublin Theatre Festival on October 6th at the Project Arts Centre, with preview showings on last night and tonight.
One of the main characters played by PJ Gallagher, better known as a newspaper-wielding comedian off RTE's Naked Camera, has spent the day learning a monologue about Griselda Blanco (who? She's the cocaine godmother of Pablo Escobar's Medellin cartel) with the help of assistant director Kaija Louise Kennedy, who says of the stand-up turned actor:
"It comes so naturally to PJ, the meaning of the words, and the nuances, he says it like he's saying it for the first time. He understands it, making it sound like he just thought of it there."
This naturalness is vital as the play is a series of conversations between three men who work together building and prepping stages for gigs.
"Ideally they'll look like they're going through the motions," explains McKevitt, "Then the conversations they have are really random things, talking about fishing, the roadworks at College Green, or the Hutch's and gangsters… These conversations, if you tried to put them in a traditional play, you'd be like, what are you talking about? It's small talk."
How men communicate with each other is central to the piece.
***
Within the play, there is a show on that night with avant-garde singer and performer Juno, played by the lead of the band Mongoose, Molly O'Mahony. Her coming in and out, sound-checking and testing the visuals, provides a contrast to these guys chatting away while doing their job of rigging the place up.
"There's two bigger stories that get dropped into it. And the idea is that those revelations…that there's not a big glitch between the small talk and the big talk.
"It's an idealised world where everyone's problems are discussed… Usually nine pints would be involved."
Alien Documentary, similar to Una McKevitt's other work, is about relationships. She focuses in on masculinity and how men support each other through their conversations. The small talk quickly veers towards taboo topics; this is where the play's heat is.
"There's an intimacy when you're talking with someone about something personal that's happened in their lives; It's a particular human experience to have that moment… Largely it's got to do with listening.
"A lack of communication is what perpetuates things."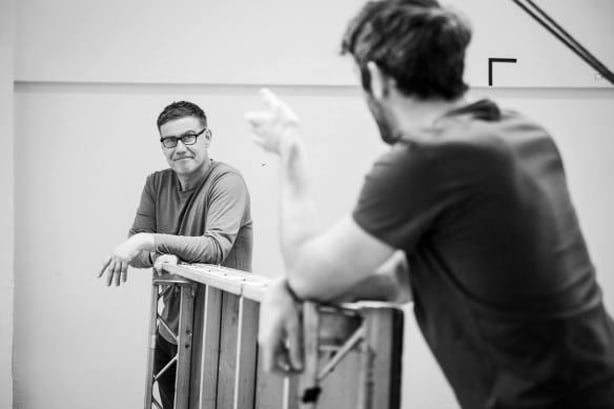 Actors James Scales and Barry McKiernan in rehearsals. Photo: Ste Murray
***
The title Alien Documentary is an oxymoron; how can you document the extra terrestrial?
This is a hint at the direction McKevitt is going with her theatre. While she is still rooting this play in source material – it is based on an interview she conducted and another overheard on the radio – it's also a departure as she has created a fictionalised world with characters springing from the collected snippets. What's been different in the fictionalising?
"Well, we started rehearsals with a script, making only minimal changes… There is some suspension of disbelief, which I've never really had before."
"There's actually a fourth wall here. It's not very thick, but it is there."
She had to curb the actors enthusiasm for backstory, this was done both to preserve the source material and to emphasise the characters' discussions.
"They are actors, so some of them have instincts to build a character with this information. I have to say stop. 'I think my character?' No. 'I think my…' No. The character is in the text, so just do the lines."
Clearly Stanislavski's method is not welcome here.
***
McKevitt has spent the last two years as an actor with Pan Pan theatre company in shows such as Seagull and Other Birds and Newcastlewest. Watching Pan Pan's artistic director Gavin Quinn working close-up was as much an apprenticeship as anything else.
Seeing how Quinn would assemble a large team around him for projects made her reflect on her own fledgling work, she felt some creative loneliness.
"Watching that company operate, watching them collaborate, so it's not just the director on his own, I really wanted to start having those relationships with people.
"I noticed with Gavin he always has a lot of people helping him. Whereas I was used to doing everything, not on my own, but sometimes I'd be writing, directing and producing the bloody thing. The more people involved the better the show is, I think."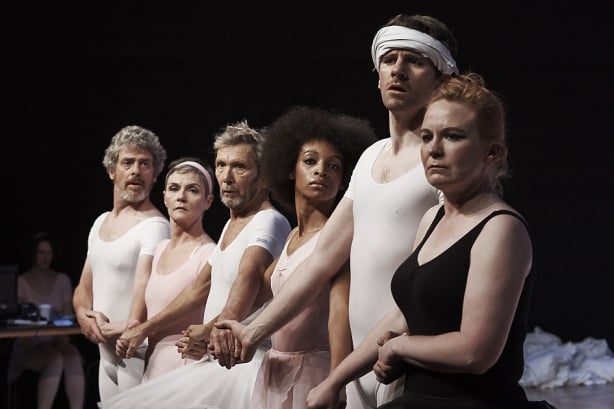 Una McKevitt (far right) in Pan Pan's Seagull and Other Birds
Surrounded by a bigger team, including longtime collaborating producer Rachel Murray, with Denis Clohesey on sound, John Crudden on design, as well as Kaija as assistant, McKevitt can focus solely on creating shows and getting the most out of the cast.
Her skill lies in the ability to sort and arrange material in a way that the audience can process, while constantly being alert to what can enhance the theatrical experience.
"I love looking at people. My favourite thing is the performer. Watching people be still or do nothing is interesting to watch." This close attention pays off in rehearsals, "You are just watching people, if they do something nice and naturally, then you try to incorporate that."
"[There are] many happy accidents in the rehearsal room, you couldn't come up with them just sitting down to write."
***
'Arts disguised as entertainment' is a throwaway quip McKevitt uses to describe her theatre, what is meant by it?
"Entertainment, yes. I have bored people in the past and it's awful. I'm trying not to… I feel the audience are at the heart of the experience.
"I'm not cutting-edge to the degree where I think what I'm doing doesn't have to be entertaining."
"Art feels like a bit of a massive claim. It just seemed like a good tagline at the time… What I'm trying to say is that I'm not esoteric, there's no big intellectual ideas behind what I do, but it's still creative."
Do you find art inaccessible?
"Lots of it is to me, yeah. If I go into a gallery, I'm like what the fuck's going on here? Unless it's a portrait. Part of me is quite traditionalist in that respect… I feel that things should communicate clearly. I don't put intellectualism on a pedestal, I just want to tell stories."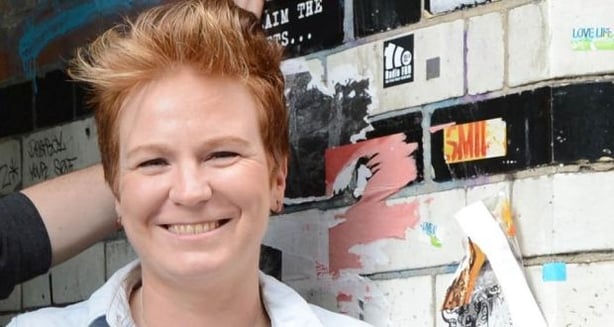 Theatremaker Una McKevitt
Alien Documentary opens Thursday the 6th of October in the Project and runs until the 15th as part of the Dublin Theatre Festival, tickets available here. Read more from Breffini Cummiskey here.